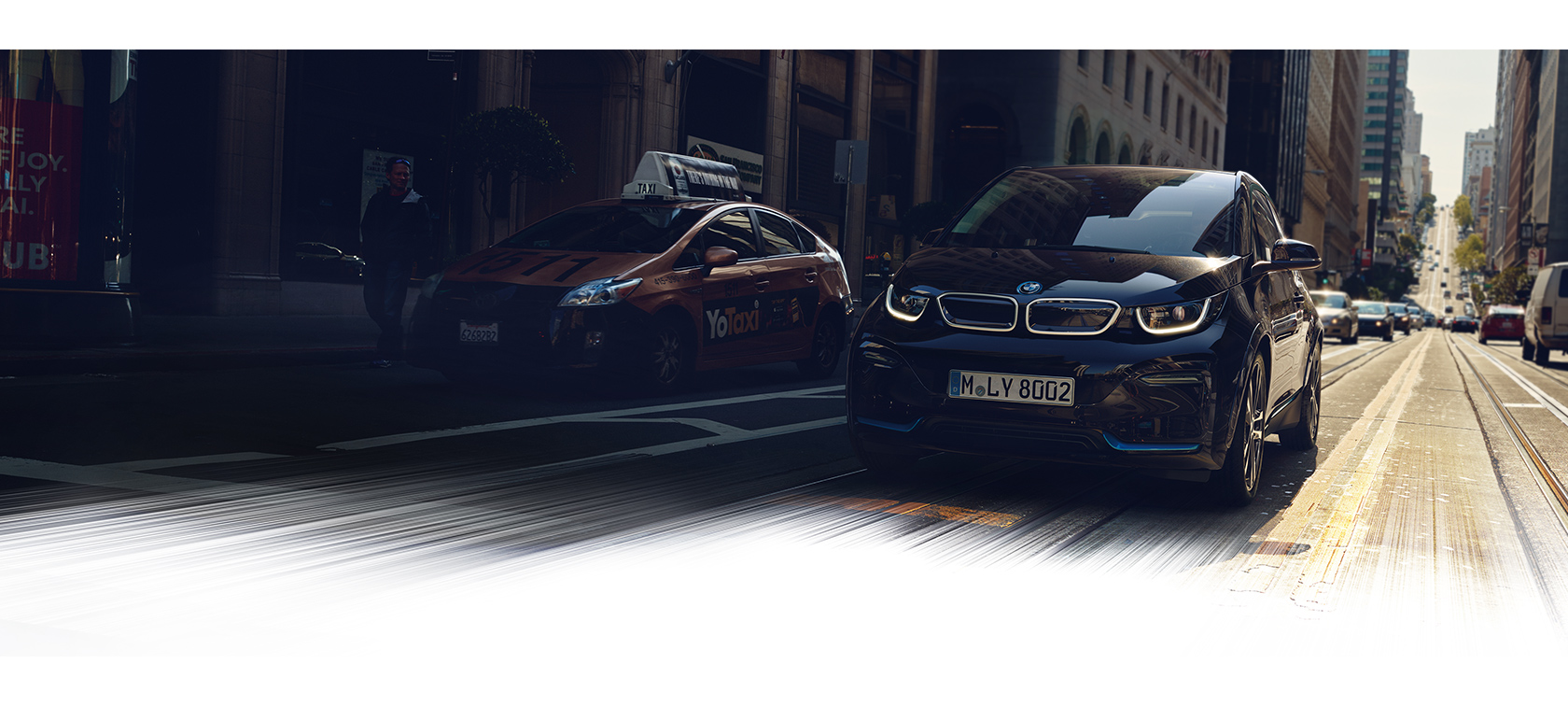 SHORTCUT SPORTINESS.
Wider: the front spoiler, including high-gloss bumper covering. More sporty: black wheel wells and exclusive 20" light alloy wheels with a new rim design. More characteristic: the rear, with sharpened contours and 40 millimetre-wide track. Even more fast-paced and emotional: driving in the BMW i3s.
Read more
6.9 SECONDS
From 0 to 100: the BMW i3s manages it in just 6.9 seconds. And opens up completely in just the first few metres. Thanks to the engine's maximum torque of 270 Nm and 184 hp (135 kW) of power. Thrillingly agile and powerful up to a maximum speed of 160 km/h.

Maximally sporty, maximally electrifying: The BMW i3s combines excellent driving dynamics with the most modern technology. The new-designed Automatic Stability Control (ASC) works more quickly and provides more traction and stability while acceleration and braking. The optimized Dynamic Traction Control (DCT) is now even available in turns and up to a speed of 100 km/h and more. More sporty driving dynamics offers the SPORT driving mode. If the driver steps on the accelerator, then the BMW i3s will react more quickly and more directly if the battery charge is sufficient. Furthermore, the sport steering with a correspondingly adapted steering torque and the sport suspension, lowered by ten millimetres, increase agility.
Read more
FULLY AWARE OF ITS STRENGTHS.
SPORTY AT THE PUSH OF A BUTTON.
DRIVER COMFORT: WITH SAFETY.
TRANSMITS POWER. INSTANTLY.
​
Fuel consumption and CO2 emissions.
The values for fuel consumption, CO2 emissions and energy consumption shown have been determined according to the WLTP test. WLTP has been used as the applicable fuel and energy consumption and CO2 emissions figure from 1 January 2021 for vehicle registration tax (VRT). The figures were previously based on the NEDC equivalent. Figures shown are for comparability purposes. Only compare fuel consumption, CO2 and electric range figures with other cars tested to the same technical procedures. These figures may not reflect real life driving results, which will depend upon a number of factors including the starting charge of the battery, accessories fitted (post-registration), variations in weather, driving styles and vehicle load. For plug-in hybrid vehicles these figures were obtained using a combination of battery power and fuel. Plug-in hybrid and battery electric vehicles require mains electricity for charging. More information on the WLTP test procedure can be found here: https://www.bmw.ie/en/topics/fascination-bmw/efficient-dynamics/consumption-emissions.html

A guide on fuel economy and CO2 emissions which contains data for all new passenger car models is available at any point of sale free of charge.