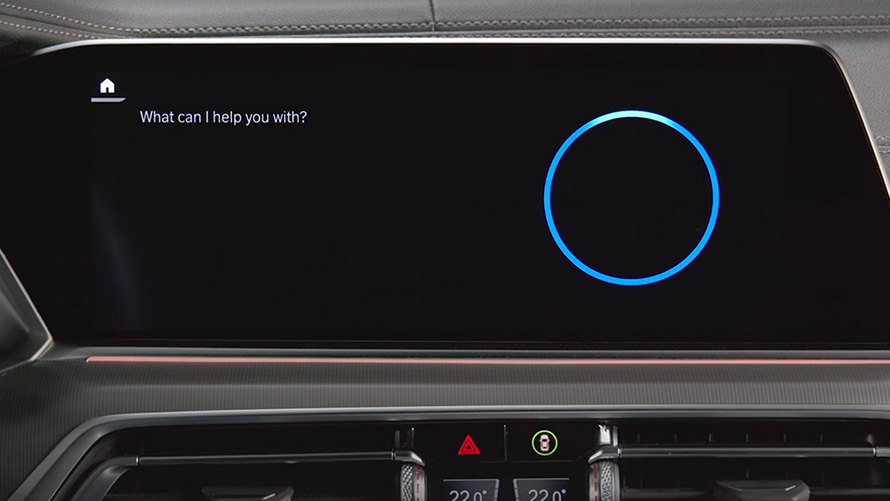 WATCH THE AMAZON ALEXA TUTORIAL VIDEO.
A PERFECT COMPANION.
The possibilities with Amazon Alexa are huge. From your BMW you can now stream music, make calendar entries or control compatible Smart Home devices. Alexa has thousands of skills that Amazon's voice-activated services that are designed to make your life easier.
"Alexa, play music."
Amazon Alexa lets you stream the latest pop hits, online radio or enjoyable audio books through services such as Amazon Music or Audible. To use music via Alexa in your BMW, the existing data tariff of the smartphone connected to the vehicle is used. Your mobile network operator may charge you for data transfer.
"Alexa, set the home to 22°C."
Enjoy taking control of your compatible Smart Home devices from your BMW. To get started, simply connect the Amazon voice service to your car via the My BMW App, and then you are ready to go.
"Alexa, what's on today?"
Whether you want to edit your calendar or create a to-do list, the Amazon Alexa Car Integration lets you do it from behind the wheel of your BMW. From shopping lists to adding new tasks, Alexa and BMW have well organised wherever you are going.
"Alexa, is it going to rain?"
With Amazon Alexa, you can ask about the weather at your next destination, find out what the weather is going to be this weekend or if you will need to bring an umbrella tomorrow. Discover the best way to be prepared while on the go.
REQUIREMENTS FOR AMAZON ALEXA CAR INTEGRATION.
To use Amazon Alexa in your vehicle, you will need the BMW Operating System 5, 6 or 7 with voice recognition and control along with one of the optional equipment packages Navigation (6UN), Navigation Plus (6UP), Navigation Business (SA 606) or Navigation Professional (SA 609) or Connected Package Professional (SA6C3/6C4).

Amazon Alexa can only be installed in your car in connection with the My BMW App, an Amazon account and a BMW ConnectedDrive account. Terms and conditions apply; refer to Amazon.co.uk/AlexaTermsofUse for details.

To keep the range of functions of Amazon Alexa in your car up to date, the iOS or Android software in your Smartphone as well as the Amazon Alexa App software should always be up to the latest standard.

Availability of Amazon Alexa can vary from country to country.

Read more