BMW 5 SERIES TOURING MODELS.
Freedom of choice.
In the M Sport package, the passion for dynamism is clearly at the forefront. Powerful air inlets, for instance, lend the front apron an eye-catching presence. The exclusive Aluminium Rhombicle interior trim and the BMW Individual roof liner in Anthracite add an extra athletic note to the interior.
Show Line Details
In the M Sport package, the passion for dynamism is clearly at the forefront. Powerful air inlets, for instance, lend the front apron an eye-catching presence. The exclusive Aluminium Rhombicle interior trim and the BMW Individual roof liner in Anthracite add an extra athletic note to the interior.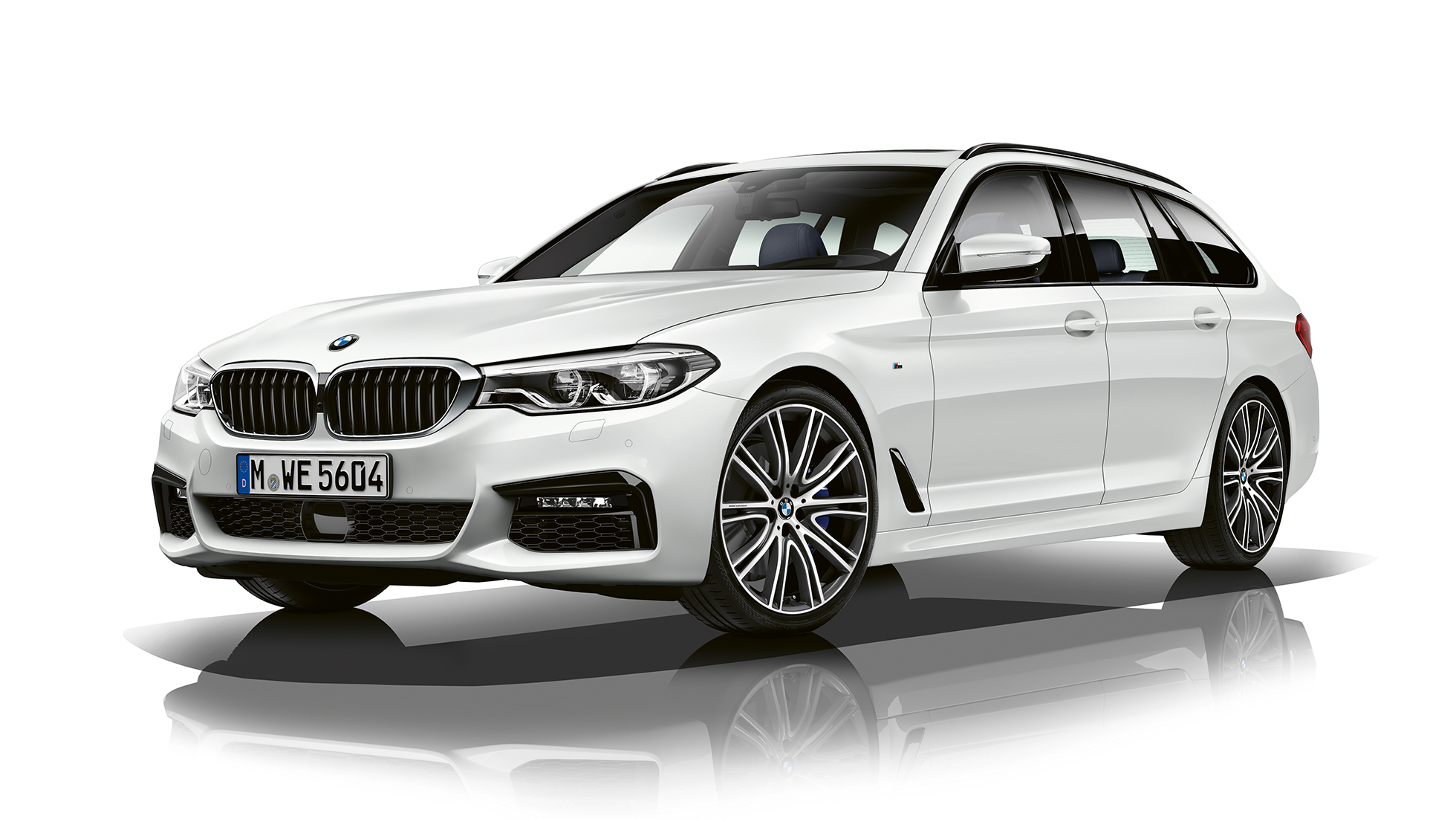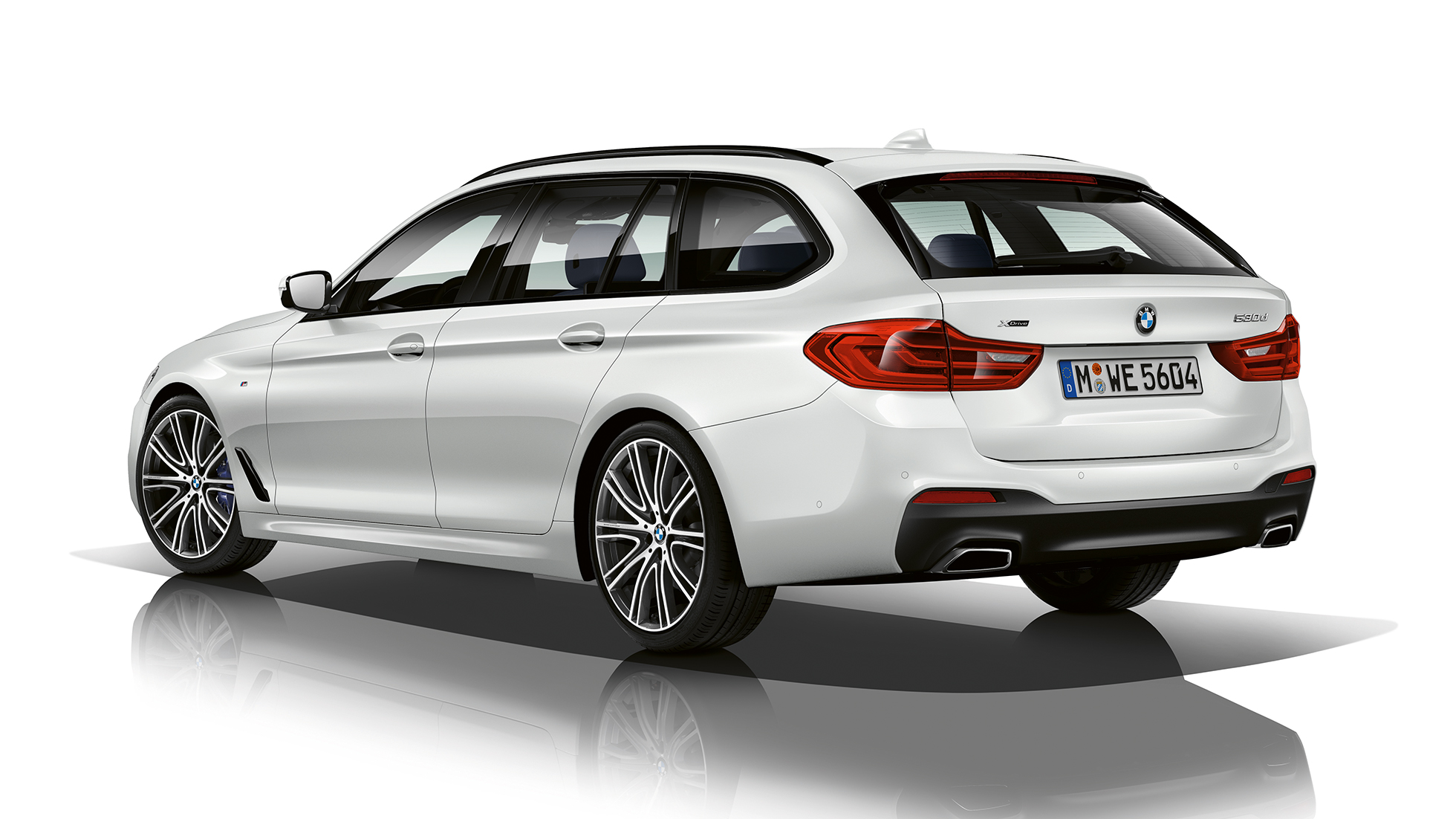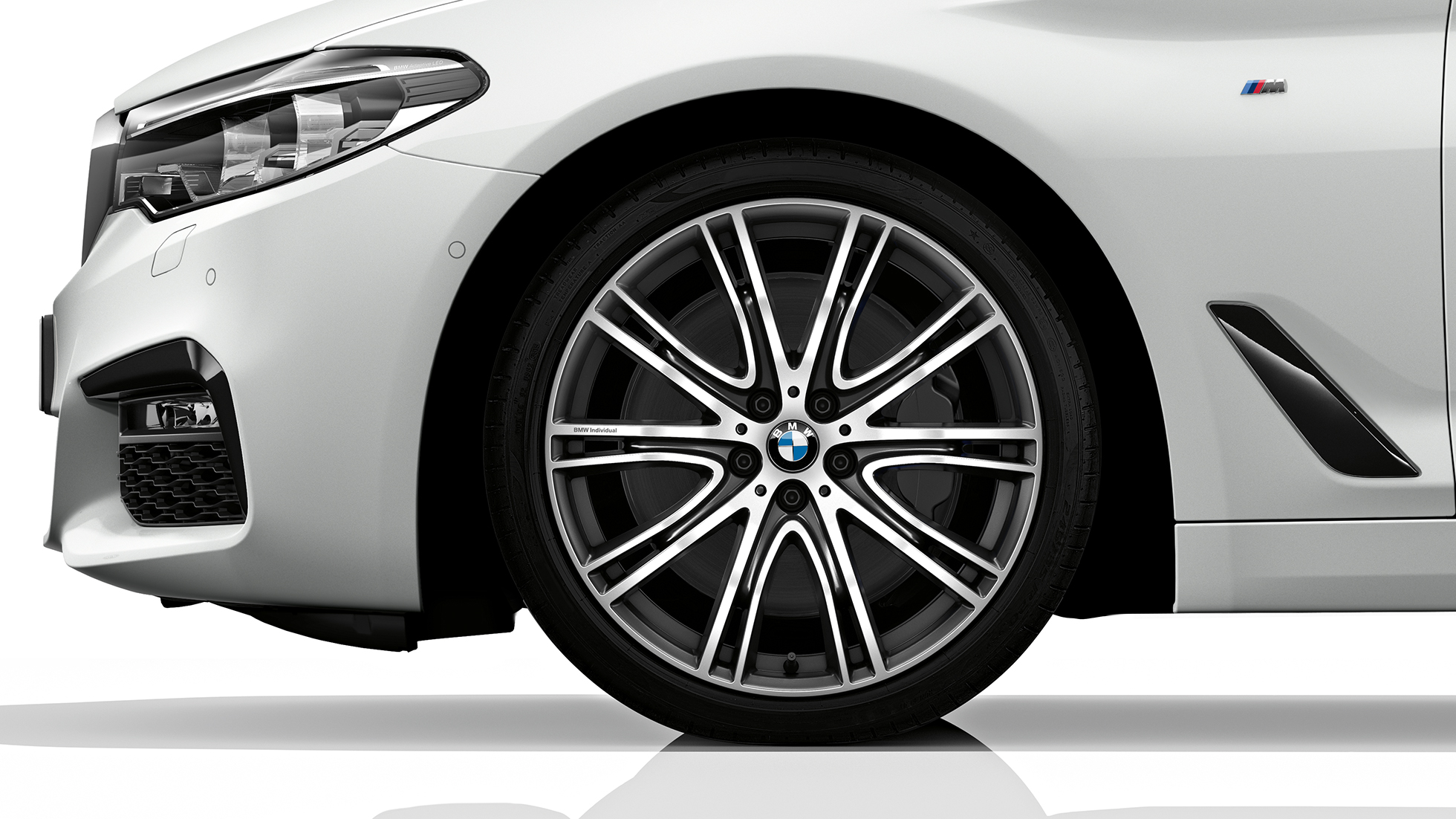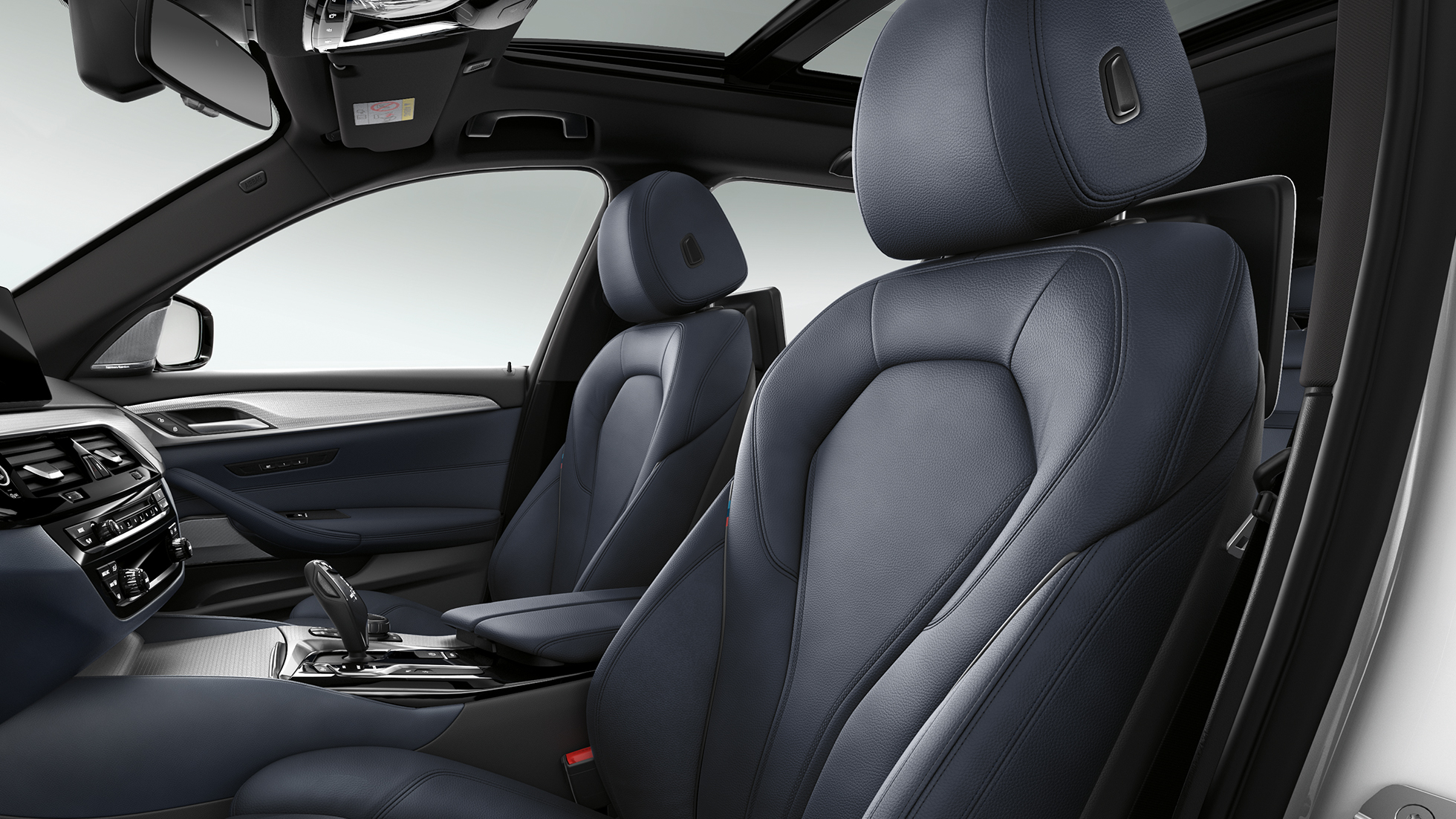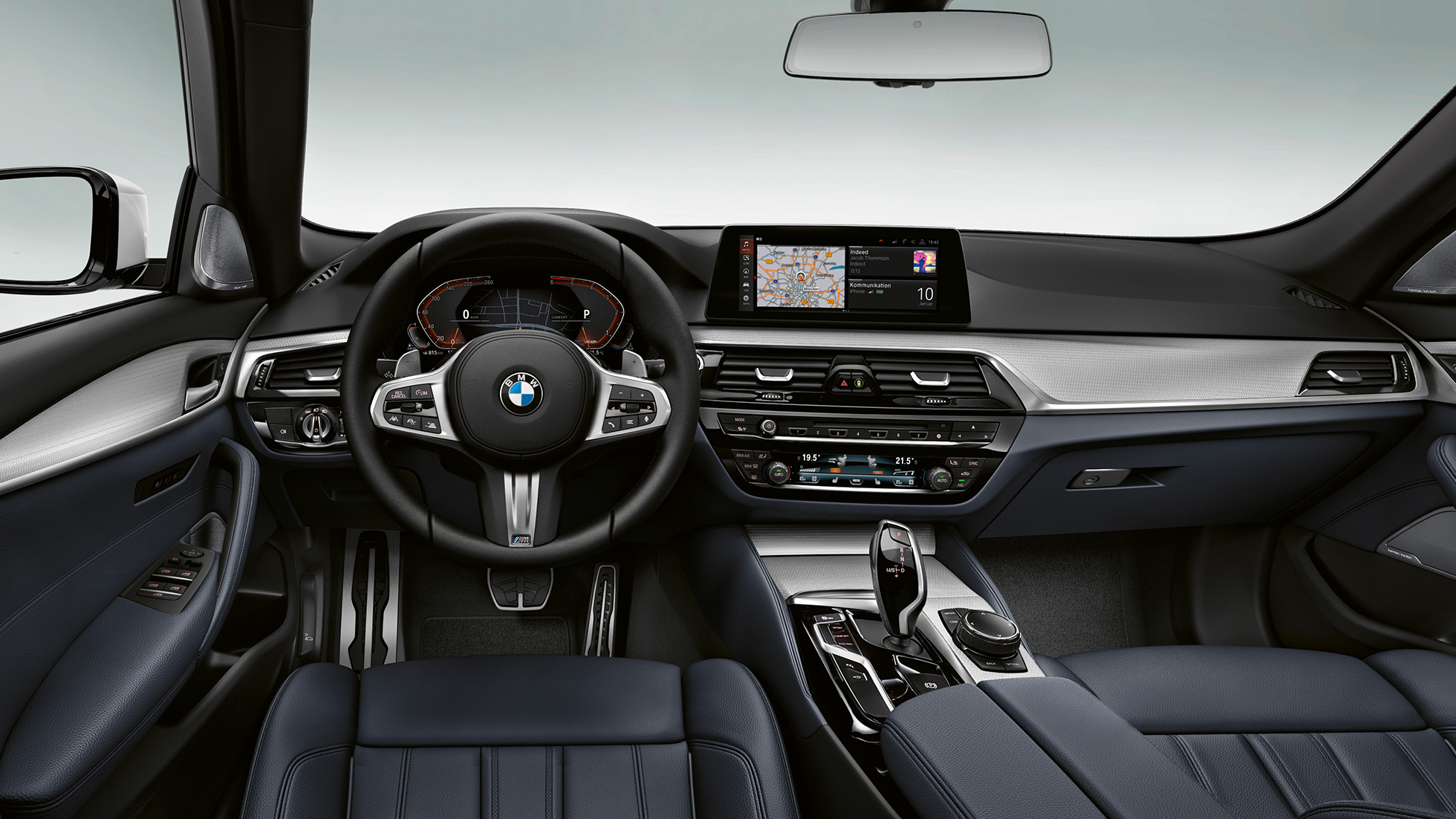 Exterior

M Aerodynamics package with front apron, side skirts and rear apron with diffuser insert in Dark Shadow metallic

BMW kidney grille with vertical slats in Black high-gloss and grille frame in Chrome high-gloss

LED fog lights

18" M light alloy wheels Double-spoke style 662 M with mixed tyres, other wheels available

M Sport suspension, lowered for sDrive and xDrive

M Sport brake with brake callipers in Dark Blue metallic and M designation

BMW Individual high-gloss Shadow Line

M designation on the front side panels

Exterior mirror caps in body colour

Tailpipe trim strip in Chrome high-gloss, on both sides

Exclusive paintwork in Carbon Black, other paintworks available

Interior

M door sill finishers, illuminated

M driver footrest with M-specific pedal covers

M specific floor mats

Sport seats for driver and front passenger in Cloth/Alcantara combination in exclusive M look, alternatively in Leather 'Vernasca' Black with exclusive M look and Blue accent, other upholsteries available

M Leather steering wheel with multifunction buttons, alternatively BMW Individual leather steering wheel finely structured

Vehicle key with exclusive M logo

Gear lever with M designation

BMW Individual headliner anthracite

Instrument cluster with M specific look in SPORT mode

Interior trim finishers in Aluminium Rhombicle with highlight trim finishers in Pearl Chrome, other trims available
THE OPERATING COMFORT OF THE BMW 5 SERIES TOURING.
Fit for every task.
Operating comfort has priority in the BMW 5 Series Touring. Innovative technology makes loading and unloading the luggage compartment extremely convenient. Whether for a short spin or long business journey, you will be impressed by how perfectly flexibility, spaciousness and driving dynamics combine.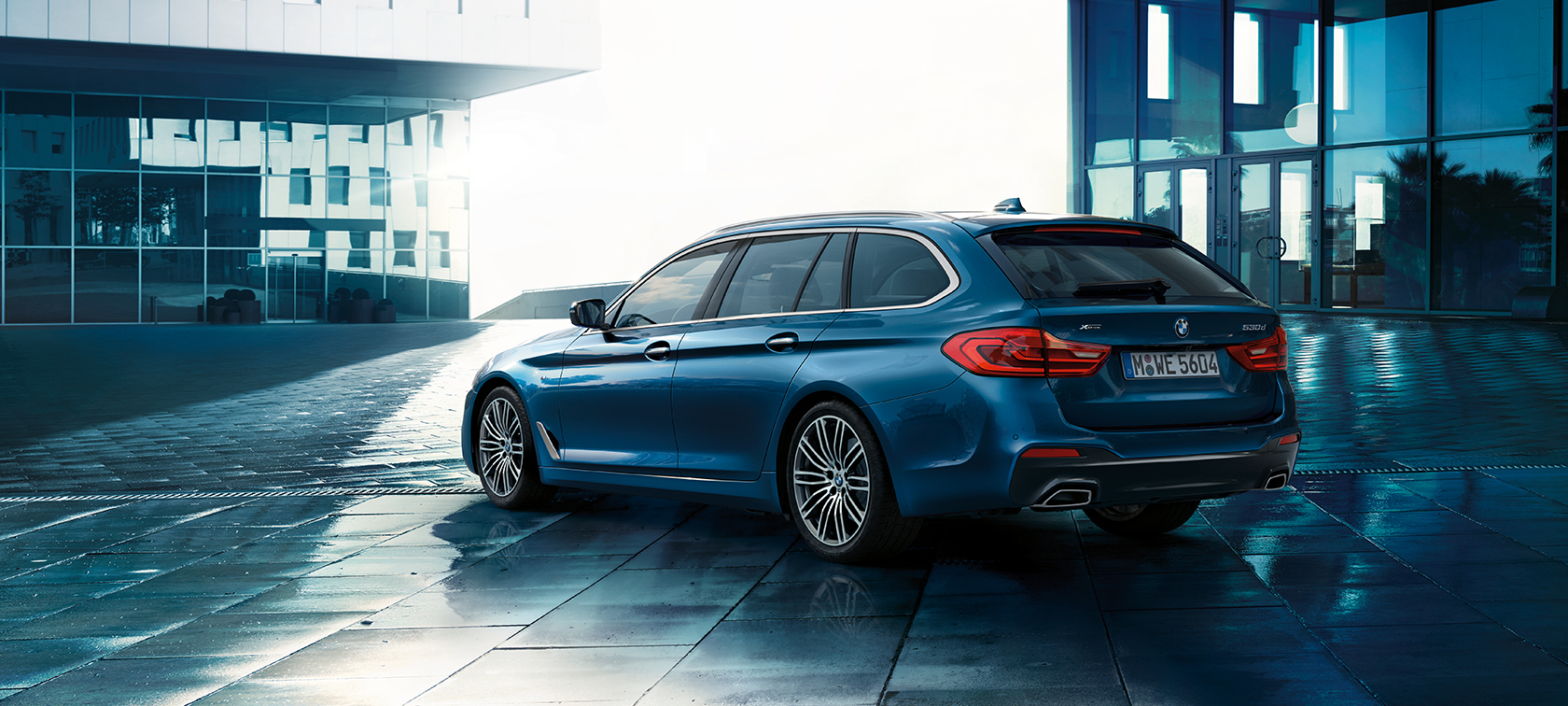 Automatic tailgate operation.
Automatic tailgate operation allows the convenient opening and closing of the tailgate by simply pressing the button located in easy reach in the door panelling or on the car key. The tailgate can also be opened in the conventional manner, using the outside handle, and closed pressing a button on the inside of the tailgate.
Rear window to be opened separately.
With a touch of the car key, the rear window can be opened up separately to put in or take out luggage. A particularly practical feature: When the rear window is opened, the roller cover goes up automatically and when manually closed, it automatically covers the luggage compartment.
Foldable rear seat backrest with a 40:20:40 split.
The rear seat backrest with its 40:20:40 split guarantees more flexibility when transporting passengers and objects. Thanks to the through-loading system, two passengers can sit comfortably in the rear while there is still ample space to transport long objects such as ski and snowboard bags. When the entire rear seat is folded over, the BMW 5 Series Touring transforms into magical space-saver with a luggage volume of 570 to 1,700 litres. For maximum convenience, the rear seat backrest can be easily unlocked by the vehicle key.
Luggage-compartment package.
The luggage-compartment package enhances the functionality of the luggage compartment with an almost infinitely variable backrest angle adjustment including cargo position, left and right lashing rails with two moveable fastening points, two tensioning straps with plastic frames on the left and right side panelling as well as a multipurpose hook.
Through-loading system.
The Through-loading system consists of rear seat backrests that are divided in a 40:20:40 ratio, guaranteeing more flexibility when transporting people and objects. For example, two passengers can be seated comfortably in the rear, while long objects such as ski and snowboard bags can be transported at the same time.
THE DRIVING CHARACTERISTICS OF THE BMW 5 SERIES TOURING.
Athletic. Dynamic. Efficient.
In perfect condition and with a high level of technical skill – the BMW 5 Series Touring is already celebrating the driving fun of the future in the present. Concentrated engine power and innovative lightweight construction merge with aerodynamic efficiency and intelligent technology to produce an unrivalled dynamic unit.
Integral Active Steering.
Integral Active Steering combines support that varies based on the steering angle on the front axle, and rear wheels that also contribute to steering. At lower speeds, it offers greater manoeuvrability and agility by turning the rear wheels opposite the front wheels. Beginning around 60 km/h, the rear wheels turn parallel to the front wheels, to increase driving stability and comfort.
Driving experience control with Adaptive Mode.
The Driving Experience Control offers the driver the choice between the standard COMFORT mode, ECO PRO Mode, geared towards efficiency, and SPORT mode, which enables even more dynamic driving. The new interactive function ADAPTIVE Mode continuously adjusts the Dynamic Damper Control, the steering and the Steptronic transmission to suit the current driving situation.
Active air stream kidney grille.
The Active air stream kidney grille represents the cutting edge of aerodynamic performance. When a cooling airflow is not needed, it electronically closes the radiator grille with its air vents and thereby reduces the amount of air flowing into the engine bay. This optimises both the aerodynamics and consumption rates.
Intelligent lightweight construction.
BMW EfficientLightweight stands for intelligent lightweight construction that contributes significantly to increased driving dynamics and efficiency. Weight reduction is the basis for the best driving dynamics and exemplary efficiency. Weight-optimised materials such as high-tensile steel, aluminium and magnesium are utilised when constructing various components.
Mild hybrid technology*.
The mild hybrid technology* serves to recuperate the kinetic energy during braking and supports the combustion engine during acceleration. This reduces fuel consumption and emissions while giving you a dynamic advantage. The mild hybrid technology also makes the Automatic Start/Stop function much faster and much more comfortable. *currently available for BMW 520d and BMW 520d xDrive Touring.
DIGITAL SERVICES AND DRIVER ASSISTANCE SYSTEMS OF THE BMW 5 SERIES TOURING.
Adapts to your plans.
Triumphing in every situation calls for one thing above all: first-class equipment. The countless digital services and driver assistance systems of the BMW 5 Series Touring guarantee seamless connectivity with the outside world while their intuitive operation ensures maximum comfort and safety with maximum productivity.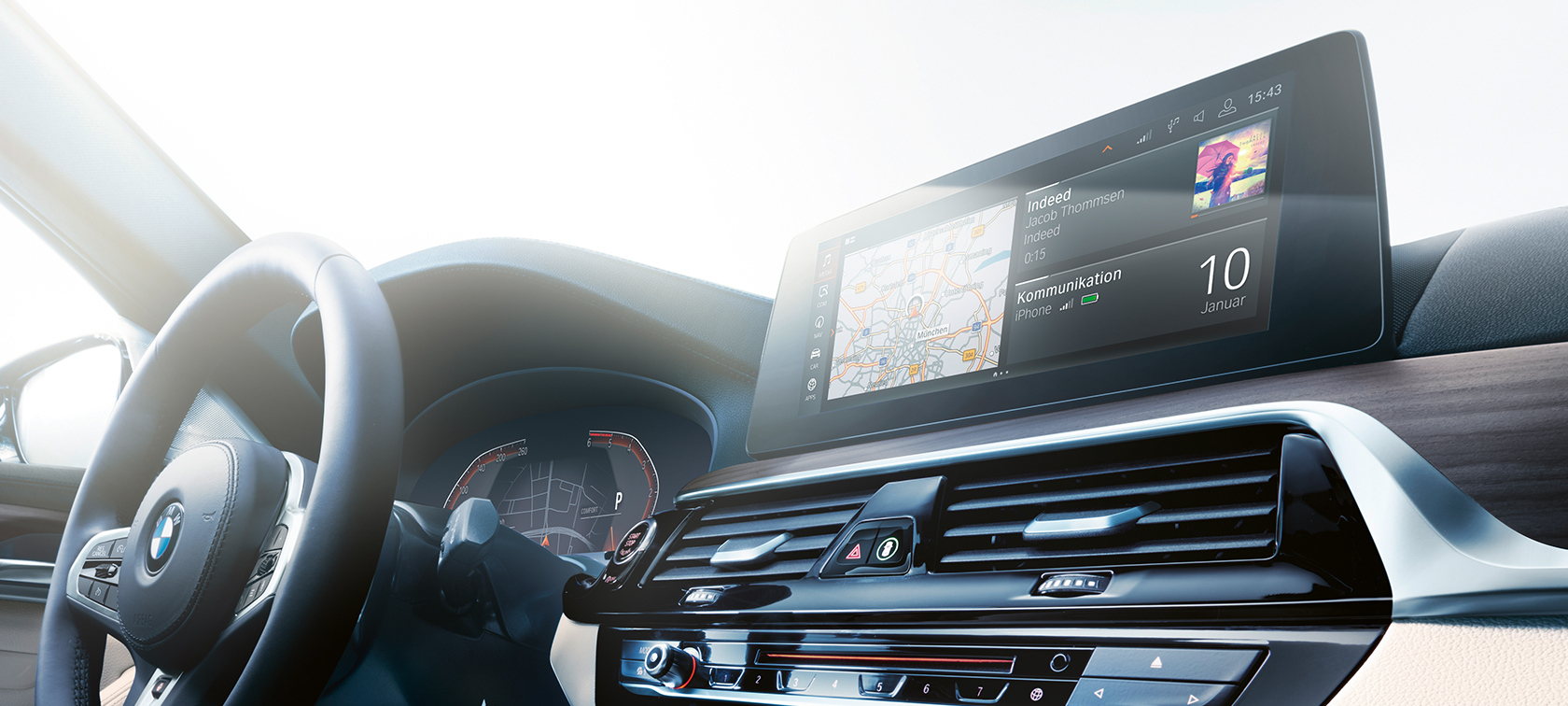 Driver Assistance
Connectivity
Driving Assistant Plus.
Driving Assistant Plus offers greater comfort and security during monotonous or complex driving situations. These can include traffic jams, stop-and-go traffic or long journeys through the city, on country roads or motorways, along with navigating junctions and lane changes.
Parking Assistant Plus with 3D View.
The equipment package Parking Assistant Plus makes parking and manoeuvring the vehicle easier. It features Surround View including Top View, Remote 3D View, PDC as well as a lateral parking aid, the Active PDC emergency braking function and the Parking Assistant with linear guidance that provides fully automatic parking both parallel and perpendicular to the road.
Remote Control Parking.
The Remote Control Parking function allows the driver to conveniently get out of the vehicle before parking it via remote control by moving it forward into, or reversing out of, a tight parking space or garage. The Remote Control Parking function is activated by the driver once outside the car, with the BMW display key.
BMW Head-Up Display.
The full-colour BMW Head-Up Display projects all information relevant to the journey directly into the driver's field of vision, thereby allowing them to fully concentrate on driving. Information such as the current speed, navigation directions, Speed Limit Info including no-overtaking indicator, along with telephone and entertainment lists are displayed.
Telephony with wireless charging.
Telephony with wireless charging includes a wireless charging dock and additional USB ports. A roof aerial connection improves mobile reception. Two mobile telephones and an audio player can be connected simultaneously via Bluetooth. Also included are: Bluetooth Office and the technical capacity for a WiFi hotspot.
Preparation for Apple CarPlay®.
Why go without the features of your iPhone in your BMW when you can continue operating it as usual? The preparation for Apple CarPlay® gives you remote access to telephony as well as apps like iMessage, WhatsApp, TuneIn, Spotify and Apple Music. You can also use the voice button on the steering wheel to access Siri, Apple's voice assistant.
Concierge Service.
Will it be sunny tomorrow in Rome? When does my flight take off? The Concierge Service is there to help when you are travelling and can support you with any request at the touch of a button. Whether that is a booking at a restaurant, a hotel or a cinema. You can even use it for payments. Wherever you are, whatever you need, the Concierge Service is by your side.
Wi-Fi Hotspot.
Take part in video conference calls on your tablet or stream the final episode of your favourite series on your smartphone. The Wi-Fi Hotspot is a way to go online with LTE speed (if available) using the SIM card installed in your vehicle. You and your fellow passengers can surf the Web on up to ten devices.
On-Street Parking Information.
Where is the nearest available parking space? Instead of searching for a long time, use On-Street Parking Information to get help finding an on-street parking space faster. Potential spaces are shown in shades of blue on the navigation map. Recently vacated spaces are marked with a P.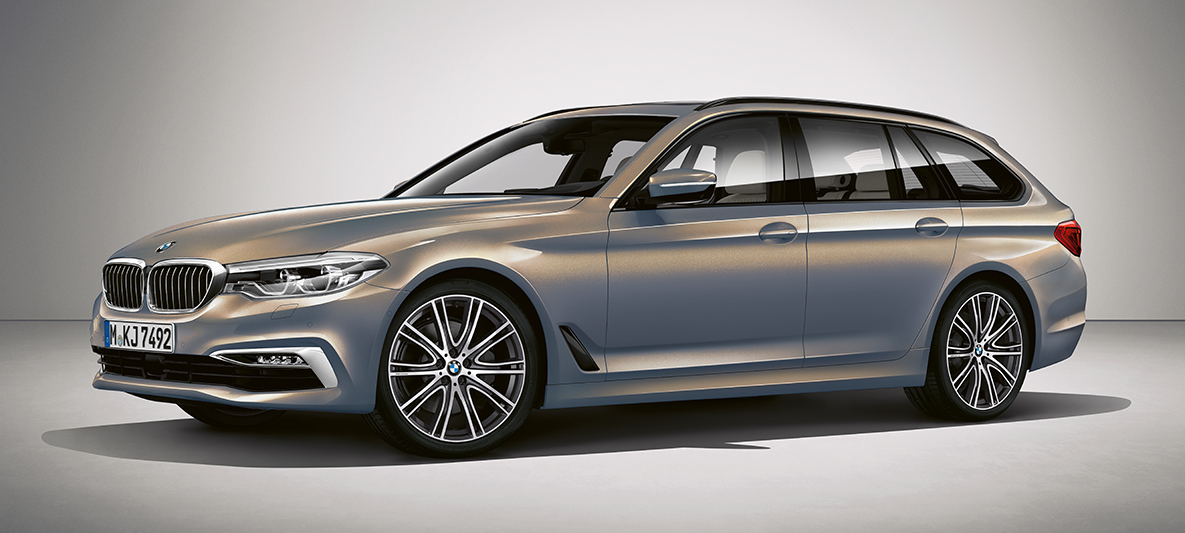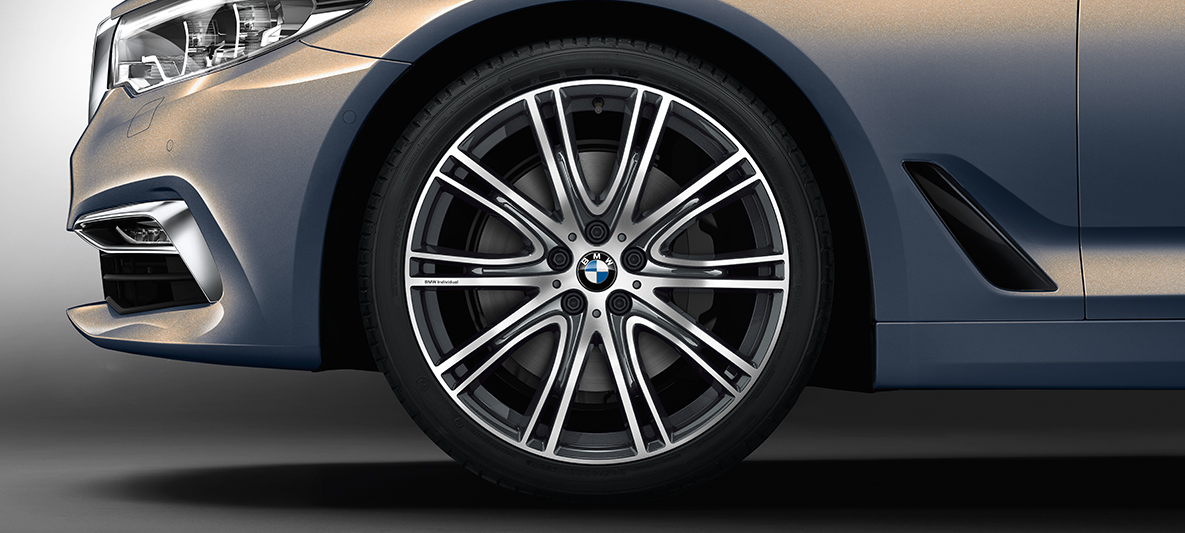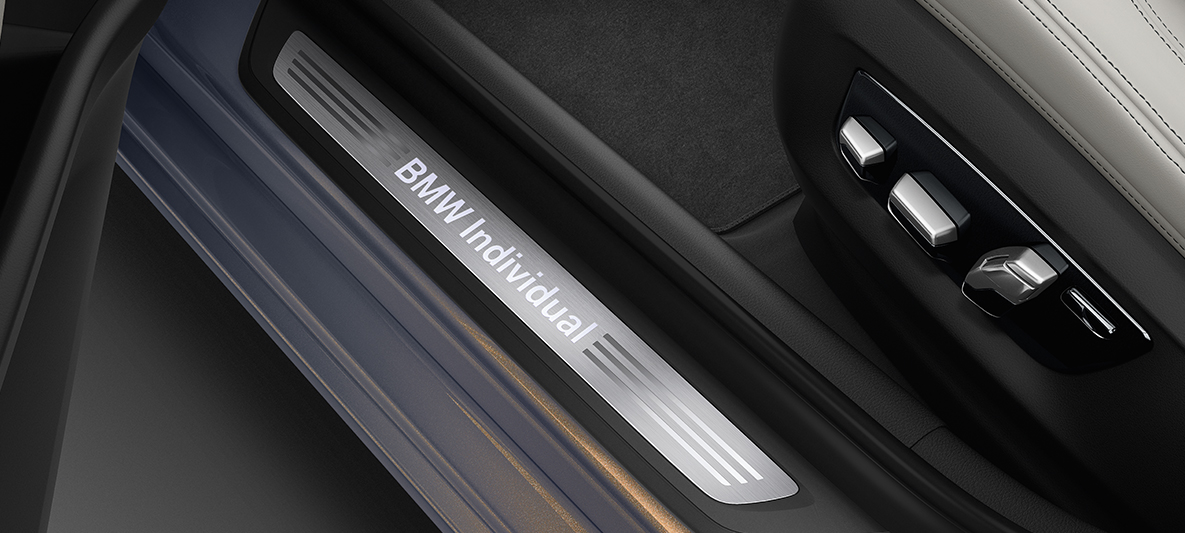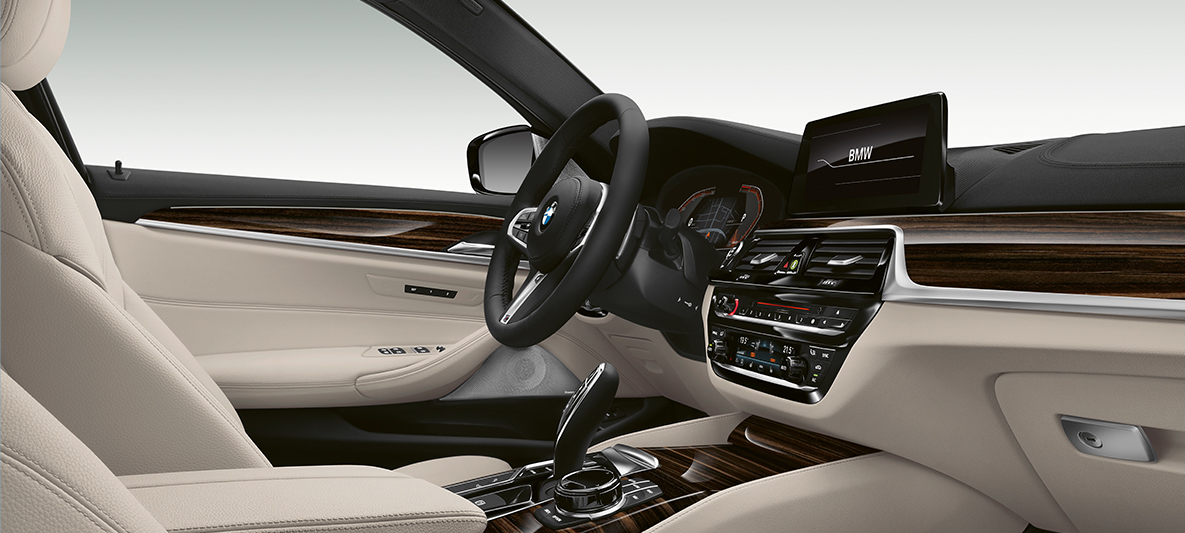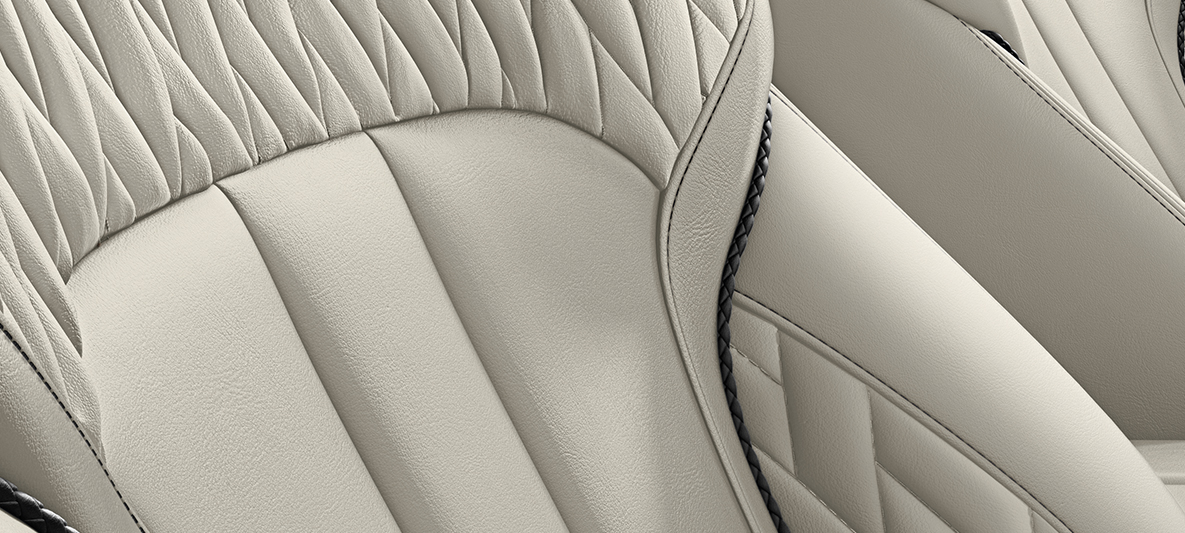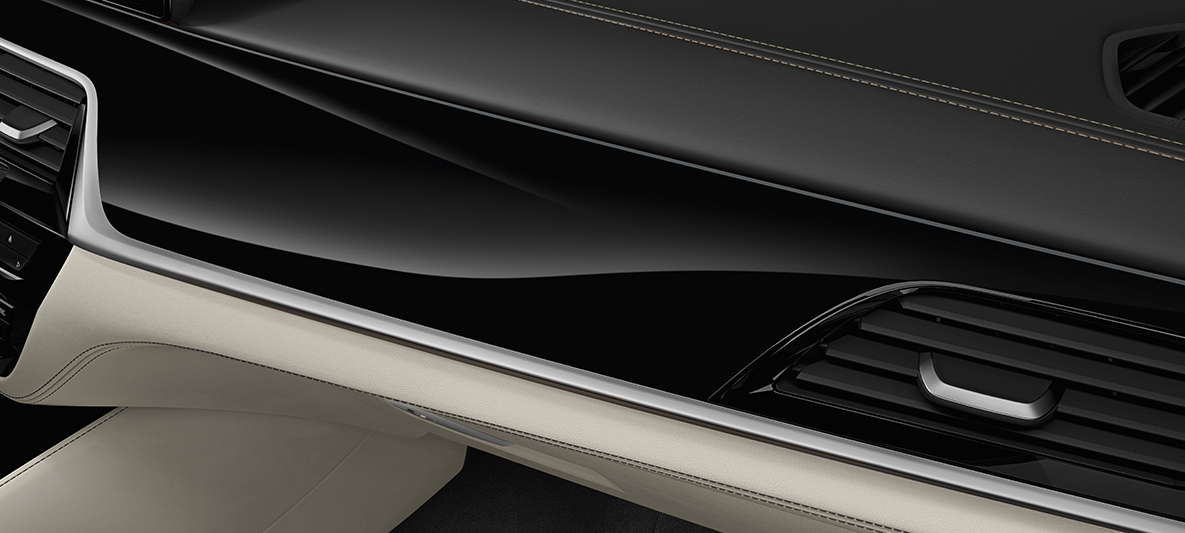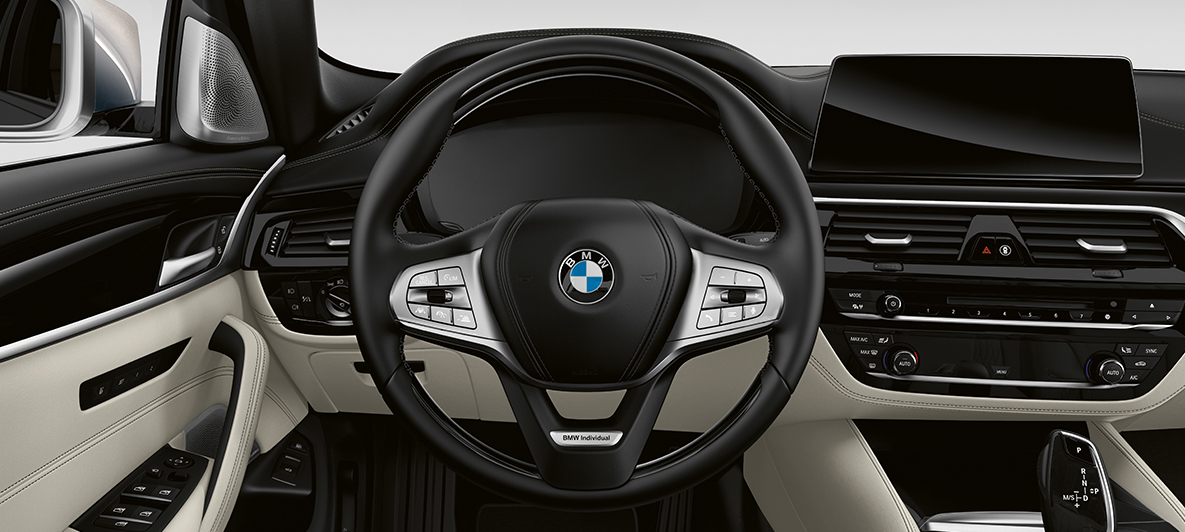 BMW INDIVIDUAL COLLECTION.
The BMW Individual Collection offers a wide range of equipment options for discerning customers: Fine wood trims with perfect grain, selected from all over the world. Immaculate and enticingly soft leather from the world's best tanneries. Paint finishes which fascinate in terms of brilliance, luminosity and effect. Offered in a range of hues which define the spirit of time rather than following it. All these elements combine to make your BMW become part of your personality.

Fuel consumption and CO2 emissions.
BMW 530d xDrive Touring:
Fuel consumption in l/100 km (combined): 5.6–5.4
CO2 emissions in g/km (combined): 146–143

BMW 520d Touring:
Fuel consumption in l/100 km (combined): 4.8–4.7
CO2 emissions in g/km (combined): 125–123

BMW 540i xDrive Touring:
Fuel consumption in l/100 km (combined): 7.9–7.8
CO2 emissions in g/km (combined): 180–178

The information on fuel consumption, CO2 emissions and energy consumption has been determined in accordance with the prescribed measurement procedure VO (EU) 715/2007 in the version applicable at the time of type approval. The figures refer to a vehicle with basic configuration in Germany and the range shown considers optional equipment and the different size of wheels and tires available on the selected model.

Further information about the official fuel consumption and the official specific CO2 emissions for new passenger automobiles cars can be found in the 'New Passenger Vehicle Fuel Consumption and CO2 Emission Guidelines', which are available free of charge at all sales outlets and from The Society of the Irish Motor Industry, 5 Upper Pembroke Street, Dublin 2.

The values are already based on the new WLTP regulation and are translated back into NEDC-equivalent values in order to ensure the comparison between the vehicles. For vehicle related taxes or other duties based (at least inter alia) on CO2-emissions the CO2 values may differ to the values stated here.