HIGHLIGHTS.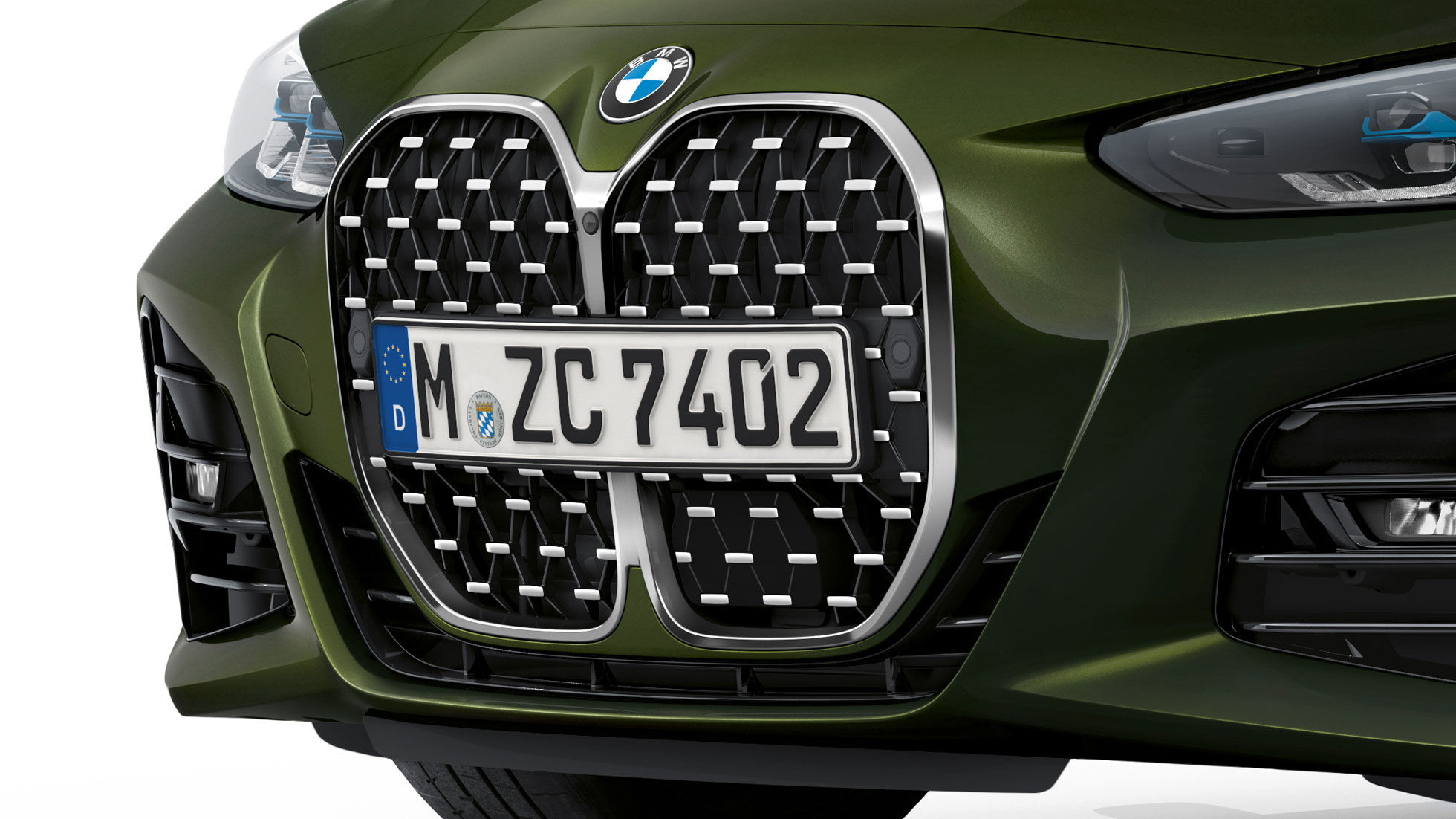 NEW ICON.
The new vertical kidney grille features an elegant mesh design within a reimagined grille, and gives the new BMW 4 Series Convertible a modern flair. Like many iconic BMW models of the past, it's a sign of great things to come.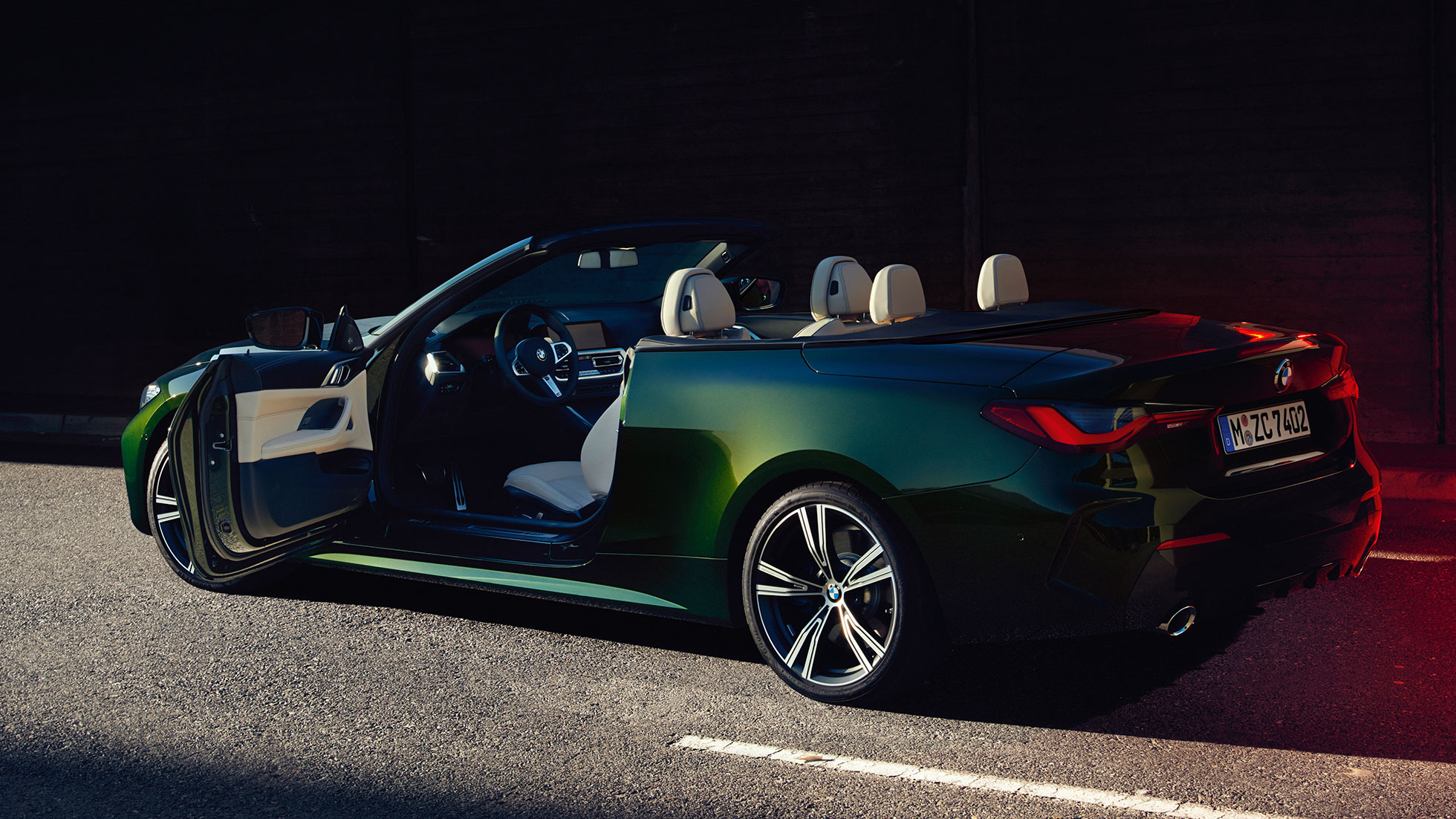 SUPREME POWER.
The BMW TwinPower Turbo engine in the M440i delivers the supreme performance expected of the new BMW 4 Series Convertible. Going from 0 to 100 km/h in a mere 4.5 seconds, it is clearly packing some serious performance.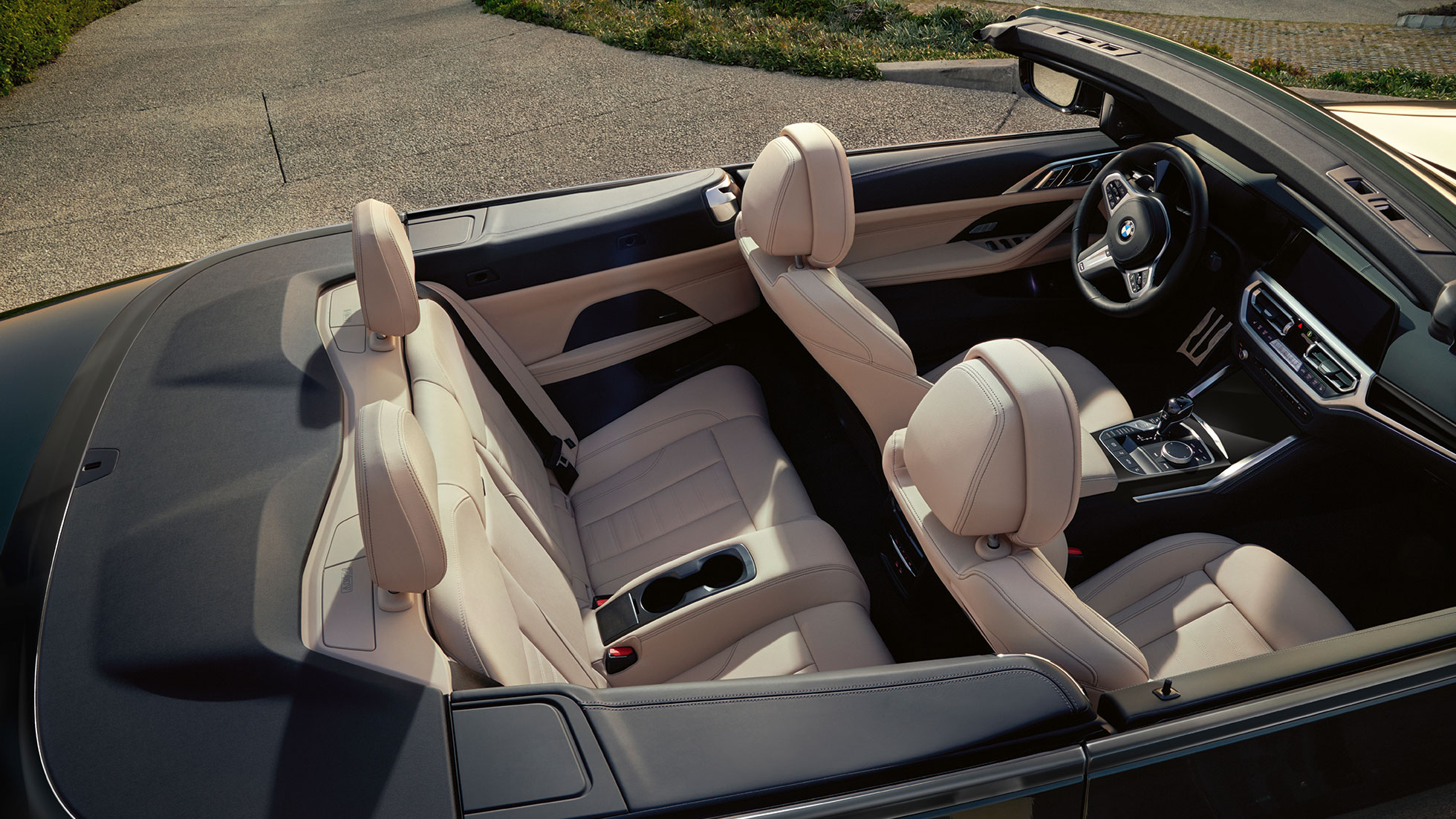 RAISE THE ROOF.
The newly developed soft-top roof opens and closes in just 18 seconds and can be operated while travelling at up to 50 km/h. Thanks to an enhanced design concept, it also offers a smooth uninterrupted roofline that adds to the sleek appearance.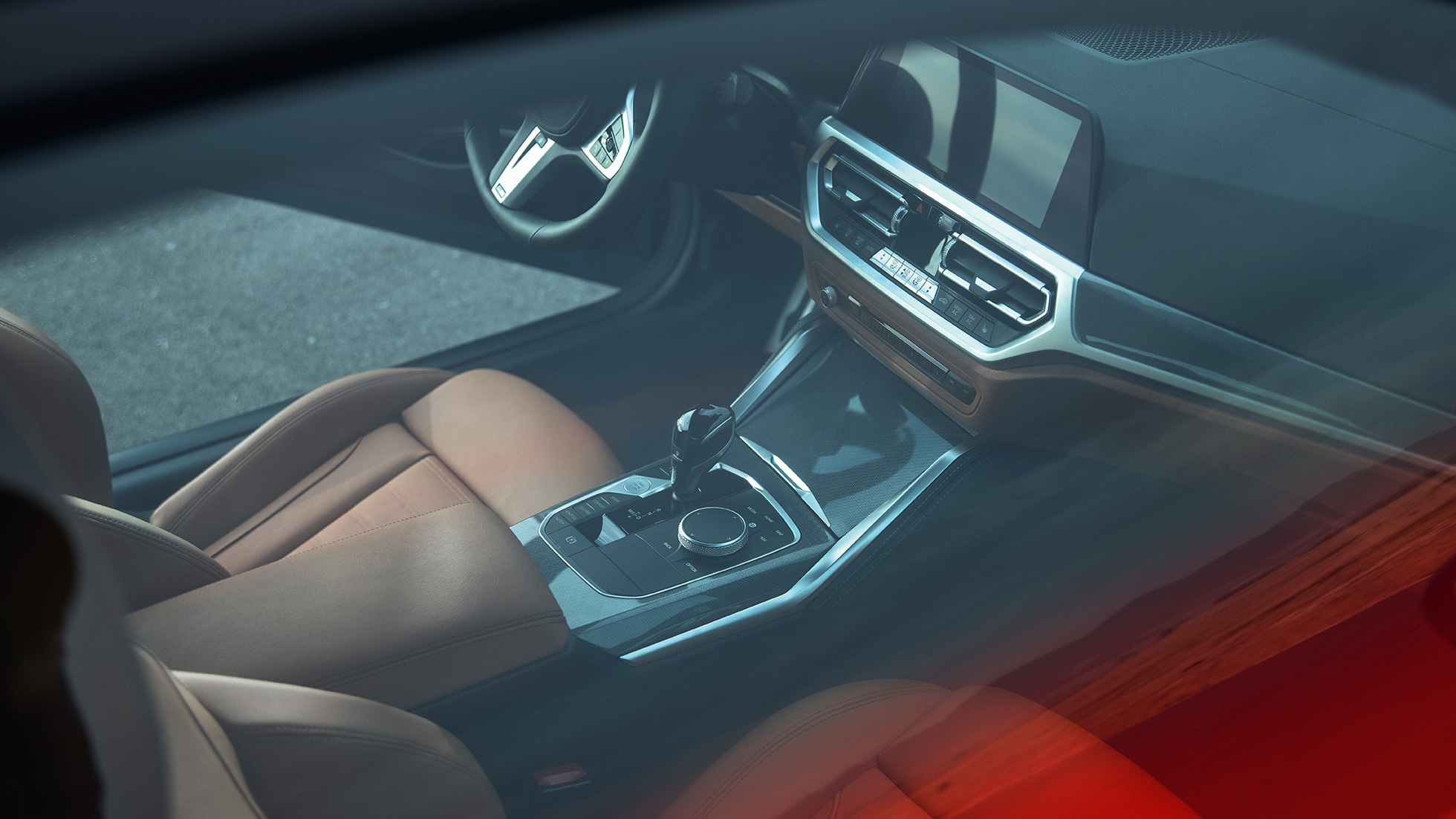 MODERN CONNECTION.
The modern look and feel of the convertible is matched by a suite of state-of-the-art digital services and driver assistance systems. From intelligent voice assistance to smartphone integration and Reversing Assistant, discover an ultra-connected and future-ready driving experience.
OPEN ADVENTURES.
The all-new BMW 4 Series Convertible's amazing agility, owing to its wide stance and low centre gravity, is accentuated even further by short overhangs and a new soft top roof that is 40% lighter than its predecessor. The open-air experience is also taken to the next level thanks to electric seats in Vernasca leather, 3-zone air conditioning and a new enhanced digital cockpit. Discover a driving experience that is all about going the long way round, wherever you're heading.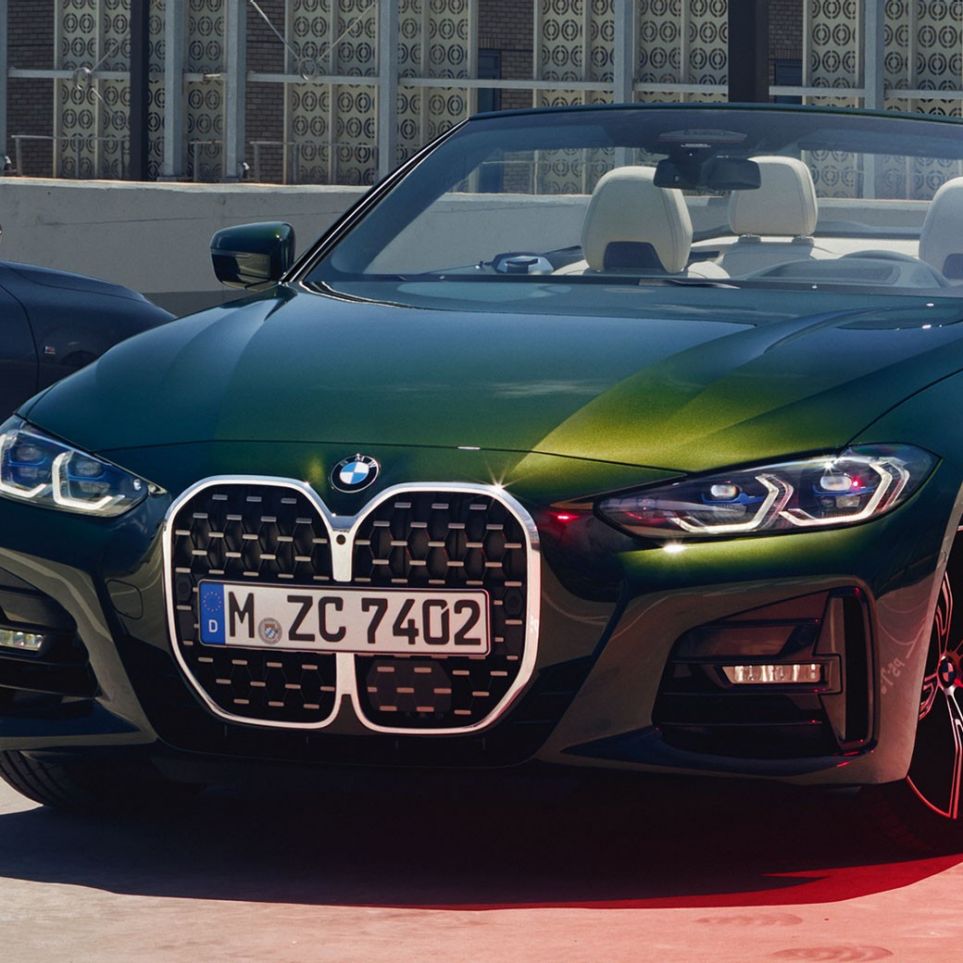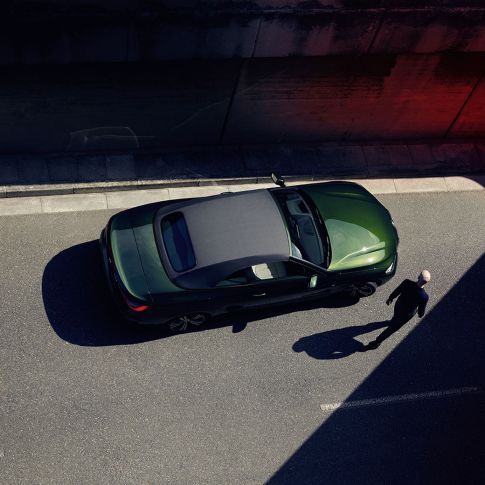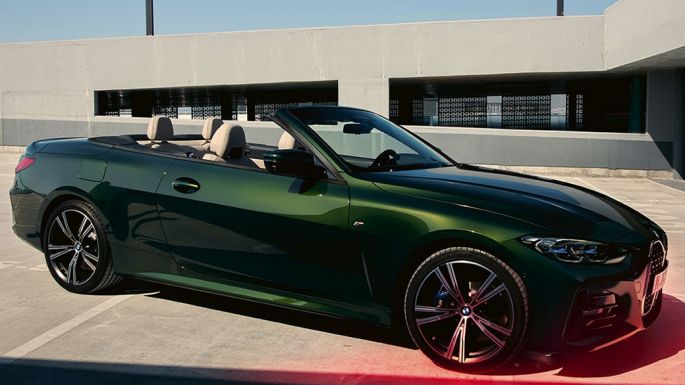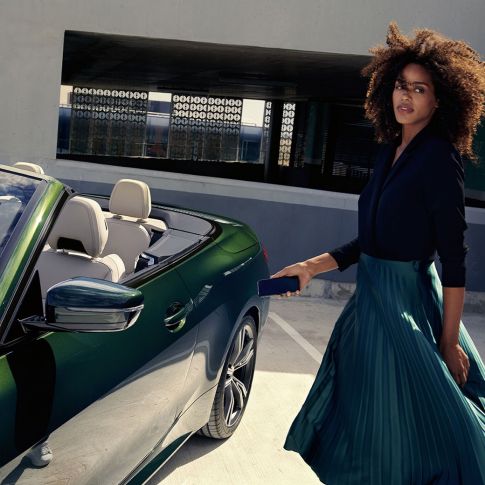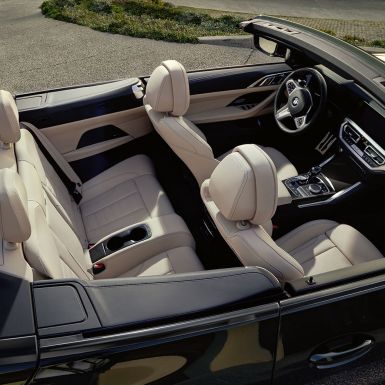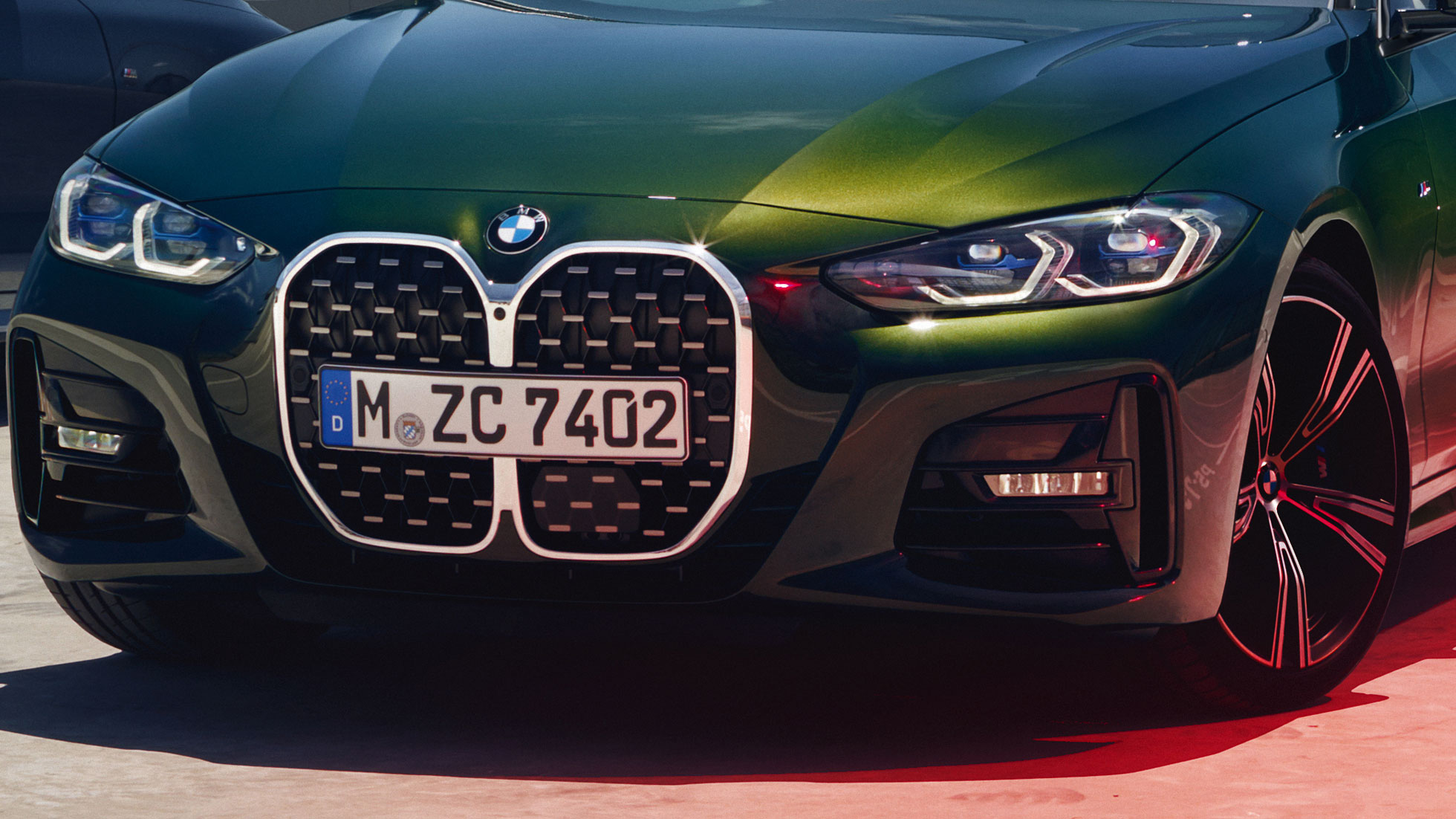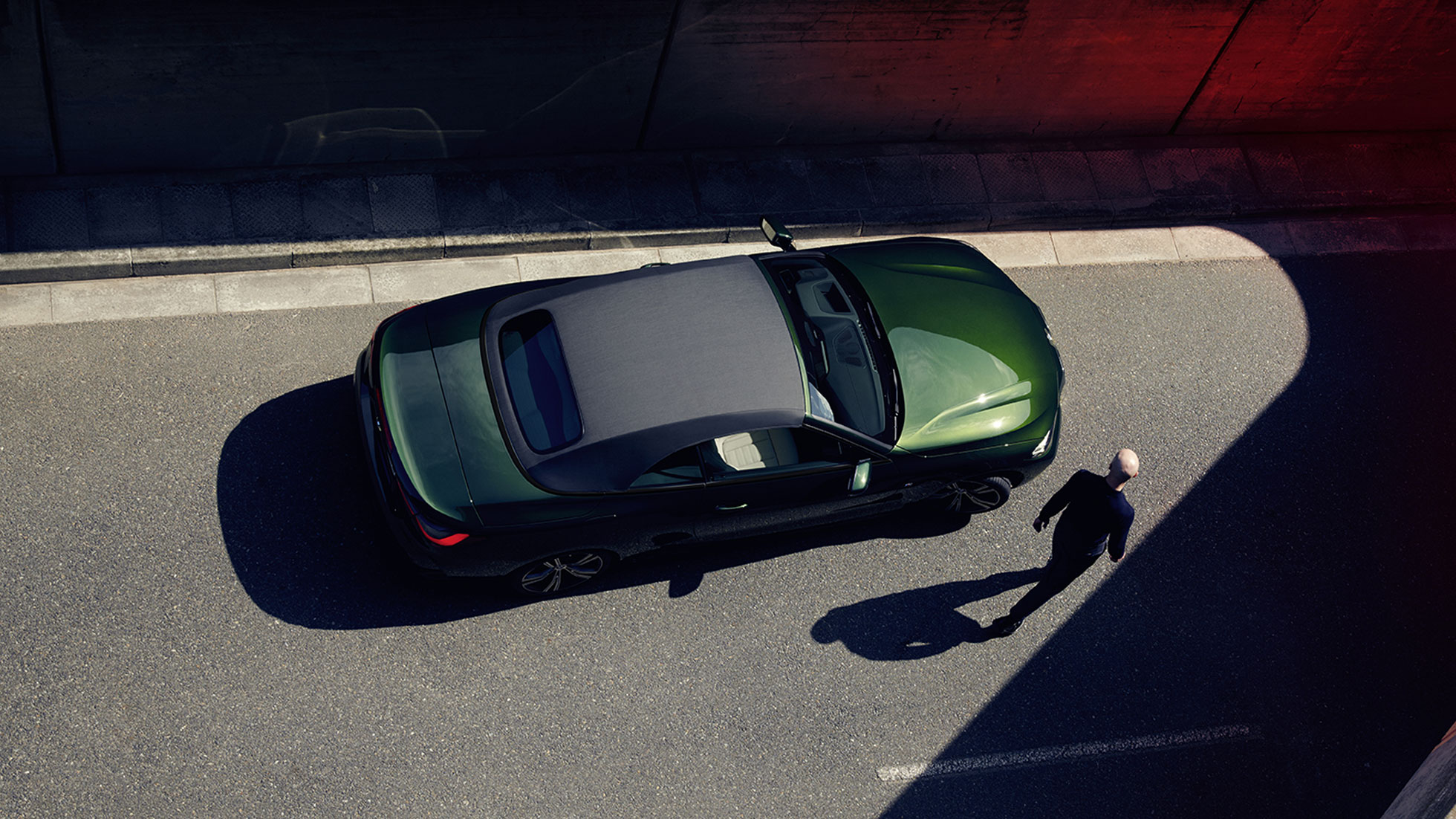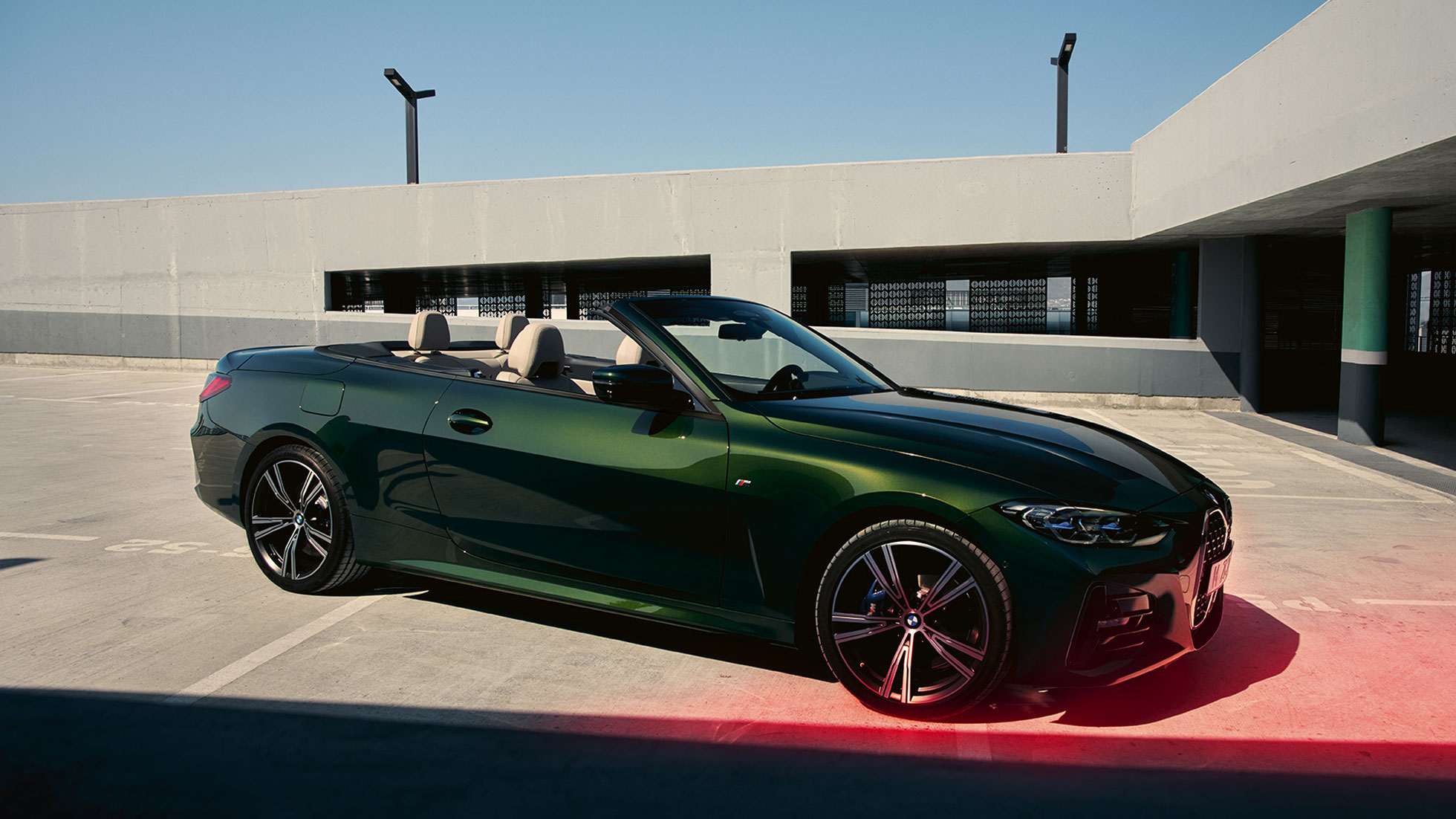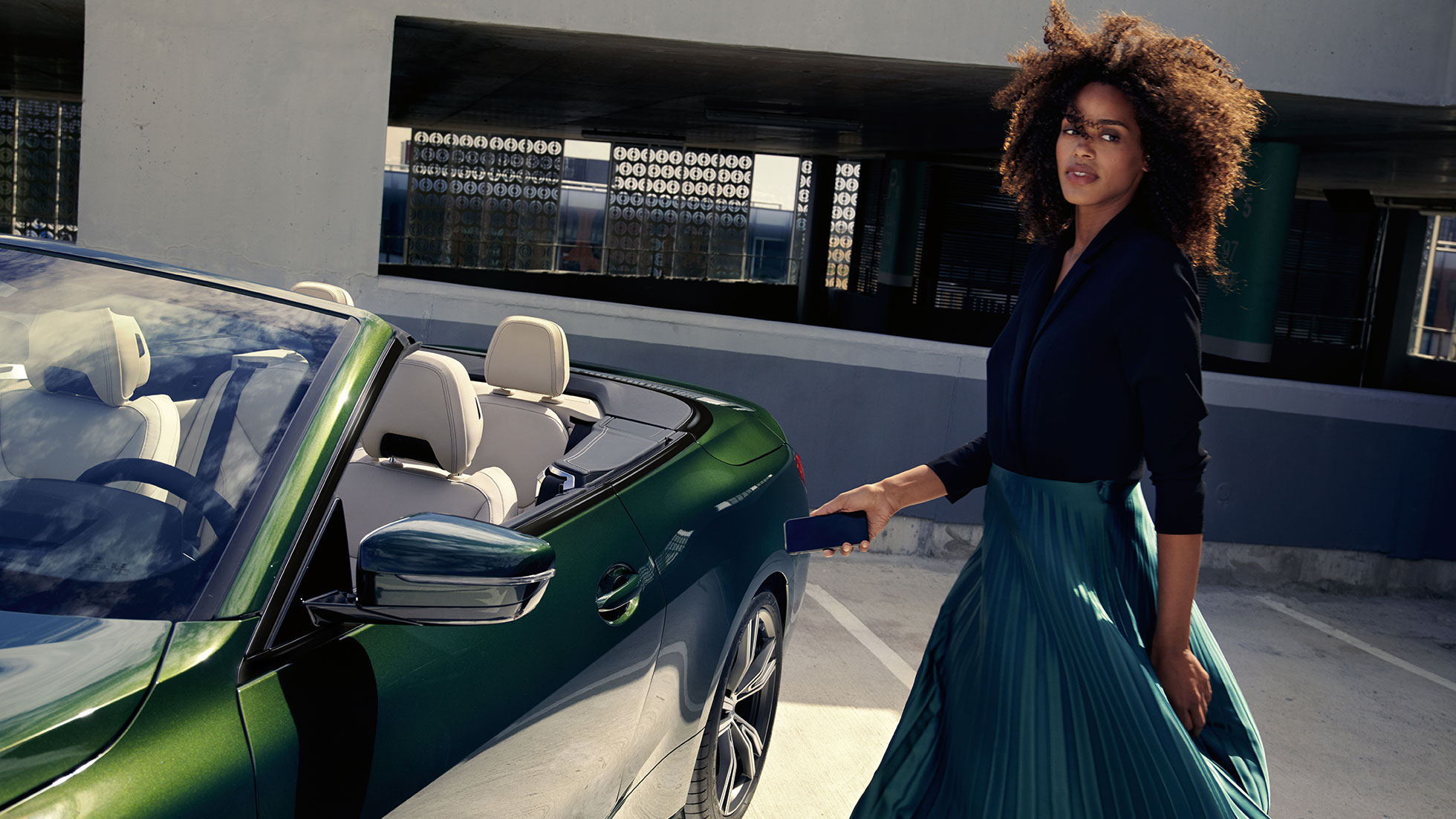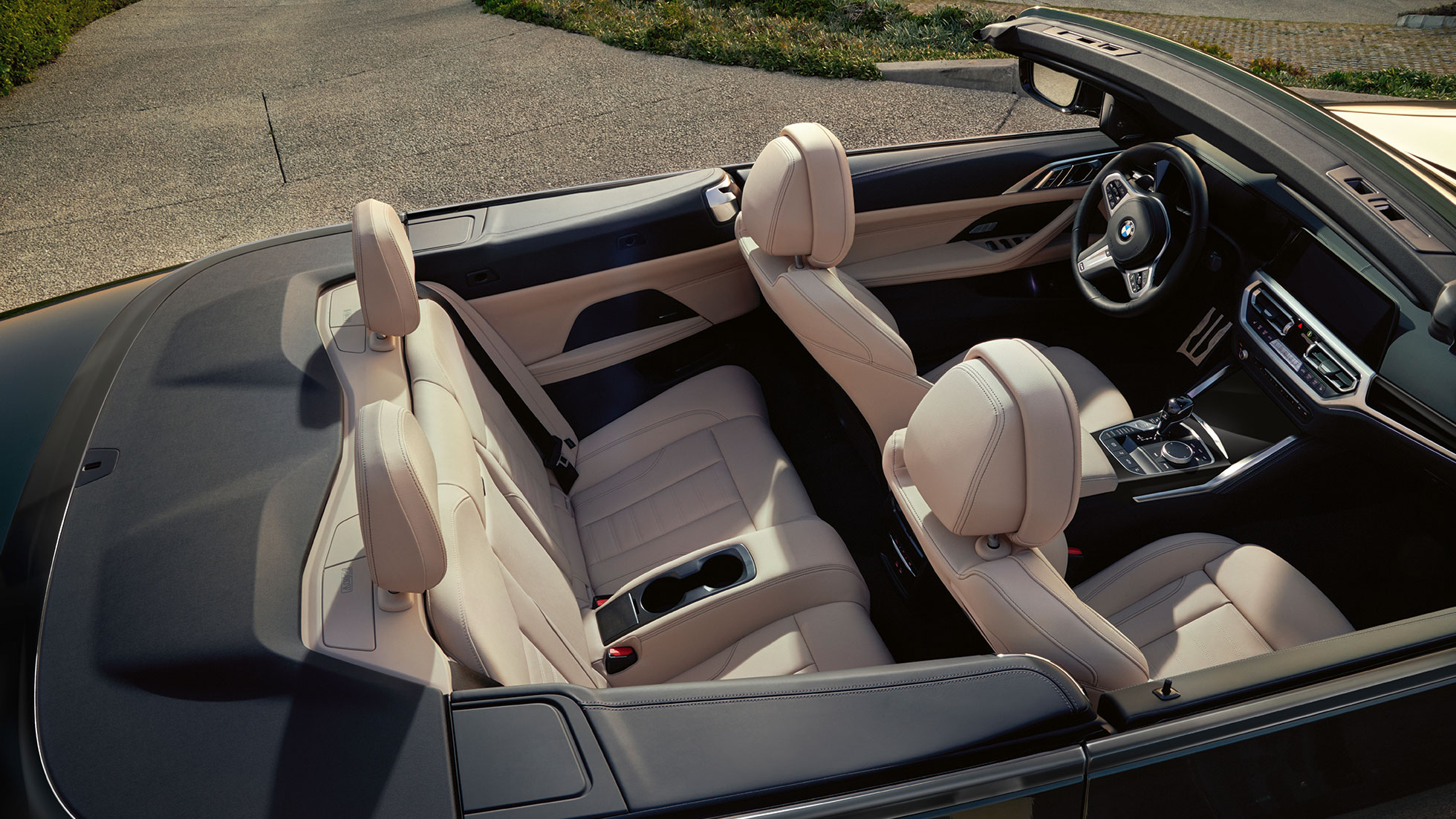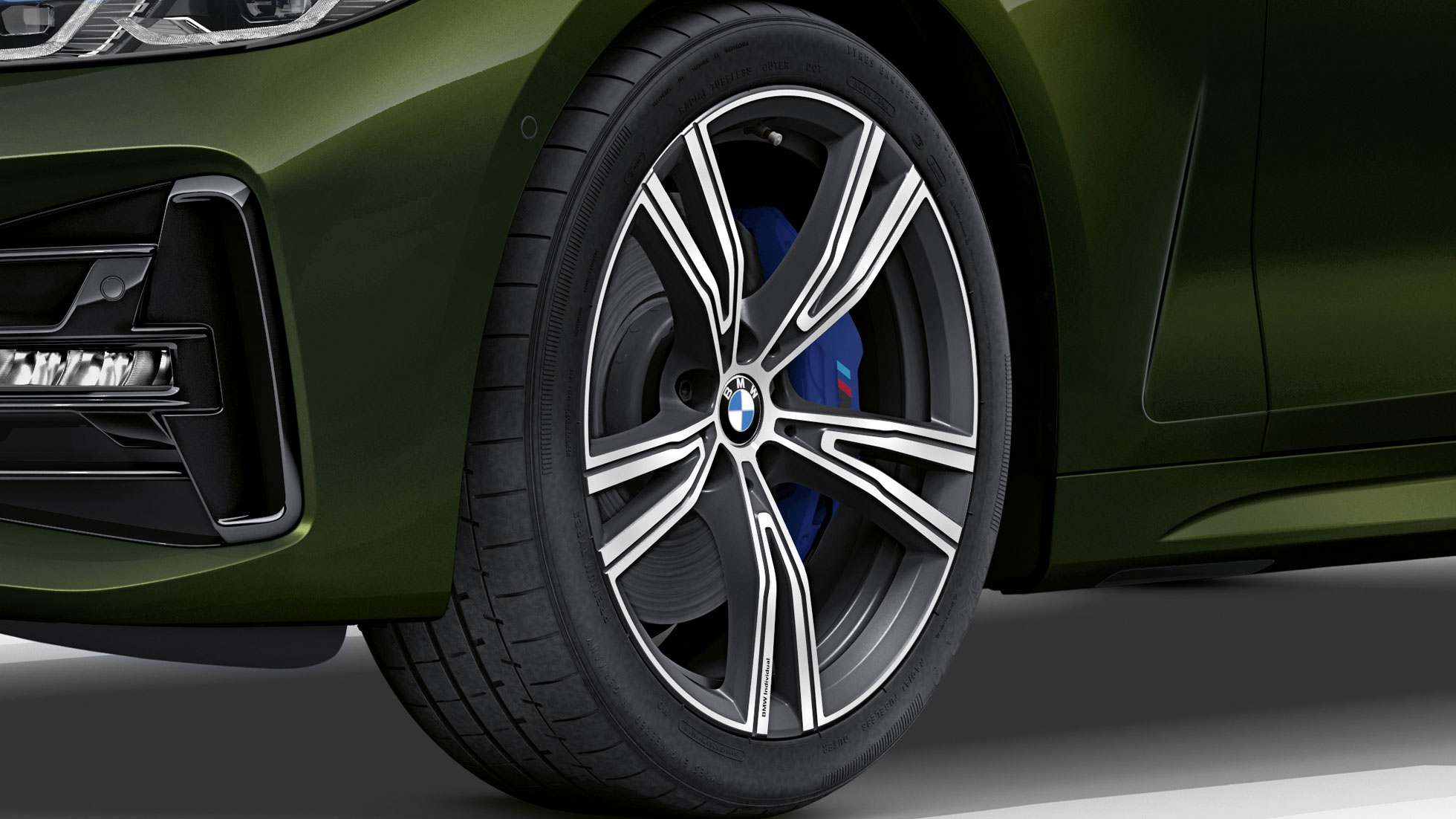 TAKE A CLOSER LOOK.
After its striking first impression, the new BMW 4 Series Convertible comes to life with amazing details. Some are performance enhancing elements, such as the M Sport Suspension and Extended LED lights; others are style and comfort features, including the ambient lighting, the elegant light carpet and the acoustic windscreen; and some are for both, such as the stunning red M Sport Brakes, which come as standard with the new BMW M440i Convertible. With so much to take in, people won't know where to look first.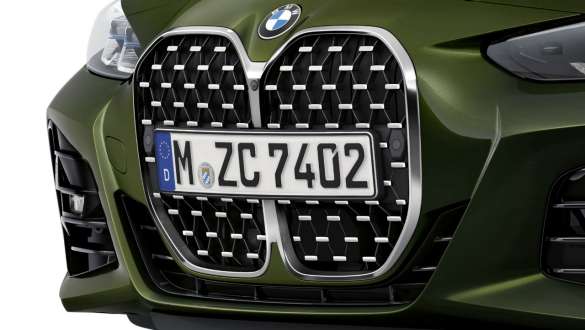 New iconic grille.
Like on the BMW 328 or the BMW 3.0 CSi, the distinctive vertical BMW double kidney grille is a powerful statement. Even more so with the M kidney frame with chrome detailing, which is available with M Sport models (shown in image).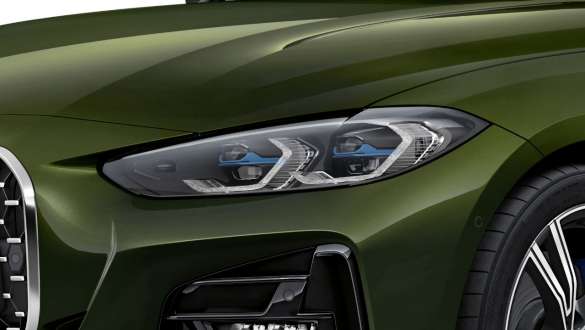 BMW Laserlights.
Raising both style and functionality credentials, the slim BMW Laserlights merge seamlessly into the bonnet contours to create an athletic demeanour. Available optionally in the Visibility package, they stand out in more ways than one.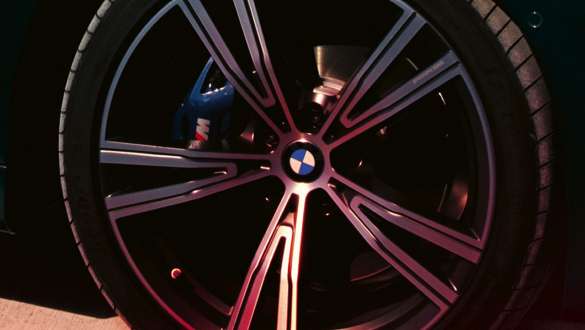 Impressive wheels.
Relish the amazing range of wheels. M Sport models come standard with 18" Bicolour Jet Black M light alloy wheels, with a selection of optional 19" wheels (shown in image). The BMW M440i xDrive Convertible features 19" Cerium Grey wheels as standard, while also offering a choice of optional 19" wheels.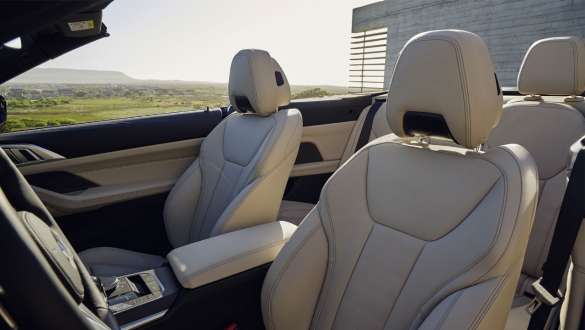 Sport seats.
Add extra sportiness to the journey with the fully electric Sport seats, which are available as standard with the new BMW 4 Series Convertible. With bucket-style character, they're ready to raise confidence.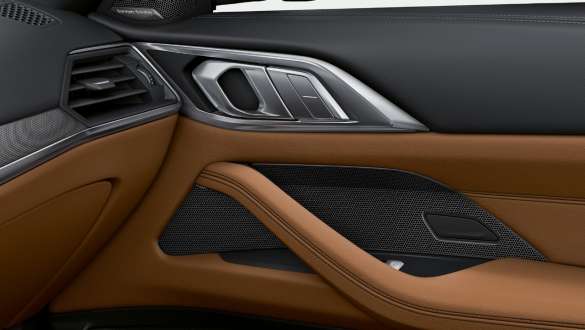 Luxury leather.
With luxurious Vernasca leather available as standard across all models, a premium driving experience can always be expected. Available in multiple colours, from Cognac to new Tacora Red, the new BMW 4 Series Convertible is a treat for the senses.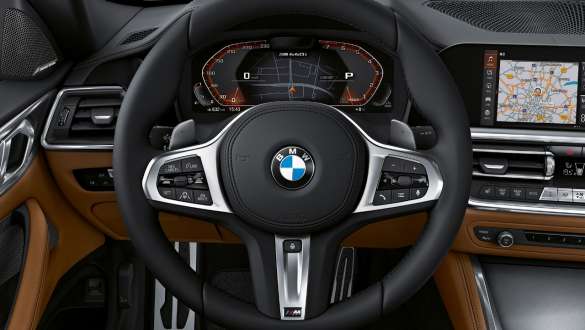 M Sport comforts.
Feel empowered by the M Sport steering wheel, which features in all new models. For an extra layer of sportiness there is the optional M Sport Pro Pack. It features M seat belts, Darkened headlights, Enhanced Active Sound Design, plus Extended High-gloss Shadowline and much more.
PREPARE YOURSELF.
The M440i xDrive Convertible packs plenty of punch. The powerful BMW TwinPower Turbo engine is paired with 8-speed Steptronic Sport transmission, xDrive technology and chassis developments such as increased rigidity. Add to this the M Adaptive Suspension and M Active Differential, which come as standard, and it is very clear that performance has been injected into every aspect of the experience, from start to finish.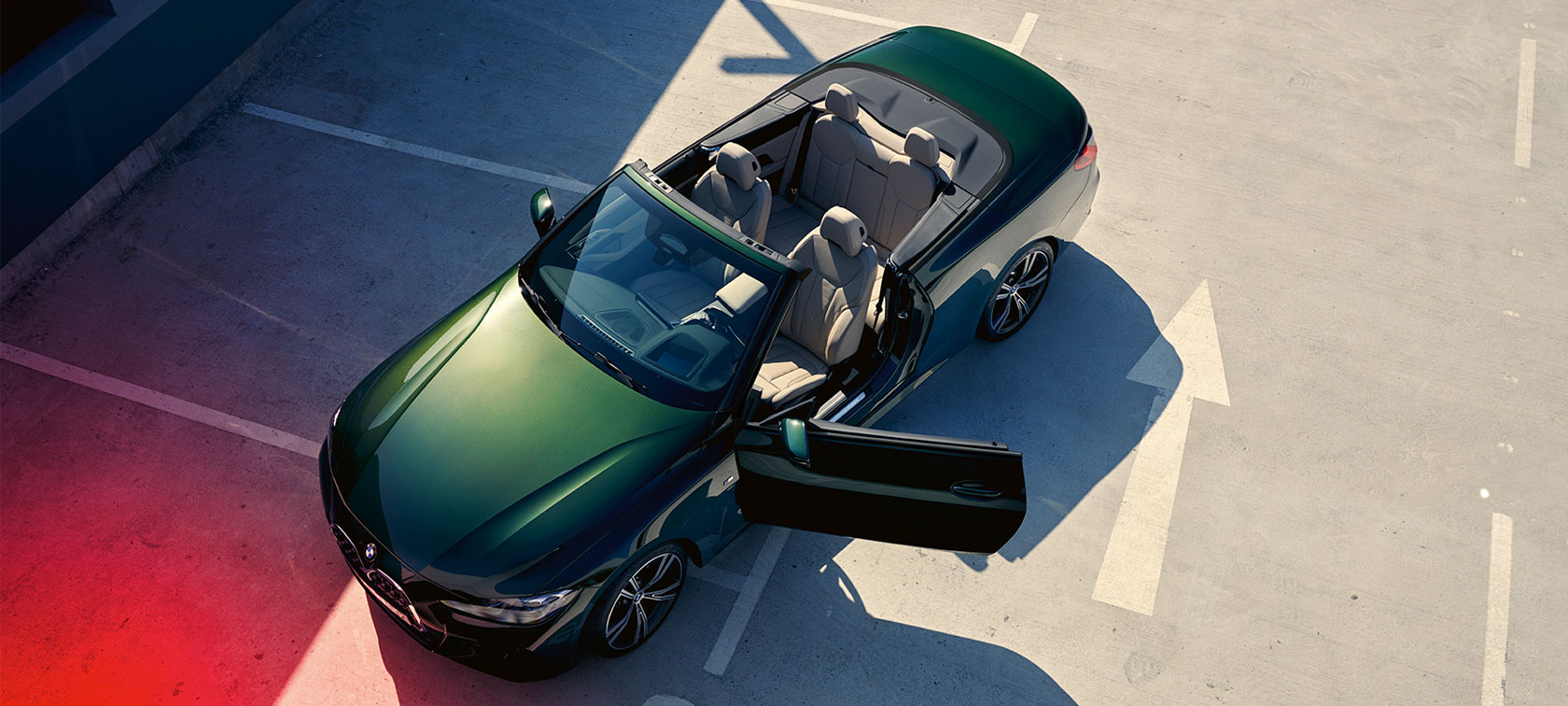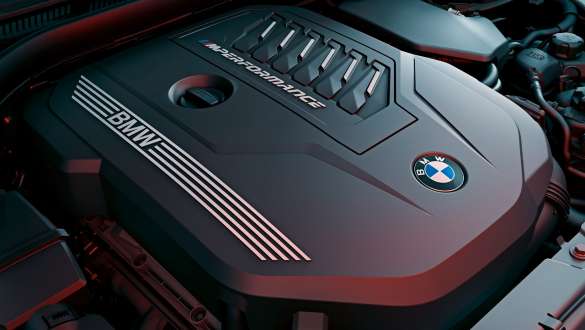 TwinPower joy.
The new BMW 4 Series Convertible range comes with new generation BMW TwinPower Turbo engines. There is a choice of superb 4-cylinder engines, petrol and diesel, and an outstanding 6-cylinder in-line petrol engine, available with the BMW M440i xDrive Convertible.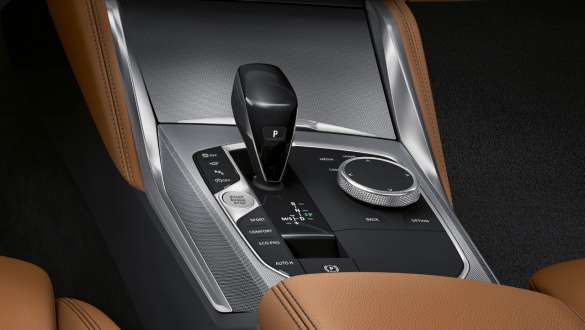 Quick Steptronic Sport.
Bring more joy to your journey with the 8-speed Steptronic Sport transmission. It offers incredible gear changes, in automatic or manual, using the selector lever or gearshift paddles. What's more, the BMW M440i Convertible comes with the latest Sprint Mode as standard – it adds extra oomph off the mark.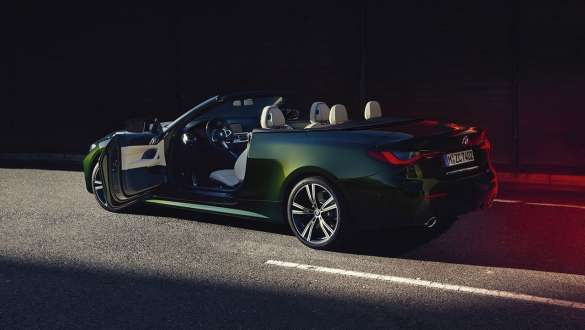 Superior X control.
The intelligent BMW xDrive all-wheel drive system is the ideal partner for the explosive power of the all-new BMW 4 Series Convertible. Thanks to variably distributed drive power to both front and rear wheels, you can rely on extra traction and improved handling in most driving situations.
374hp.
Achieving 374hp and 500Nm of torque, the all-new BMW M440i xDrive Convertible powers from 0 to 100 km/h in just 4.5 seconds. Supporting the TwinPower Turbo 6-cylinder petrol engine is the 48V Mild Hybrid battery, which helps with Stop/Start functionality and also boosts acceleration.
CONNECT YOUR WORLDS.
Amazing levels of connectivity give the new 4 Series Convertible an extra edge. Digital enhancements ensure premium experiences, as seen with the new touchscreen 10.25" Central Information Display. What's more, a suite of new services, including Connected Music, and driver assistance systems, such as the new Reverse Camera, deliver a seamless journey. For next-level driver intelligence and enjoyment, the optional Technology pack, with Head-up Display and Harman/Kardon Loudspeaker system, is a perfect choice.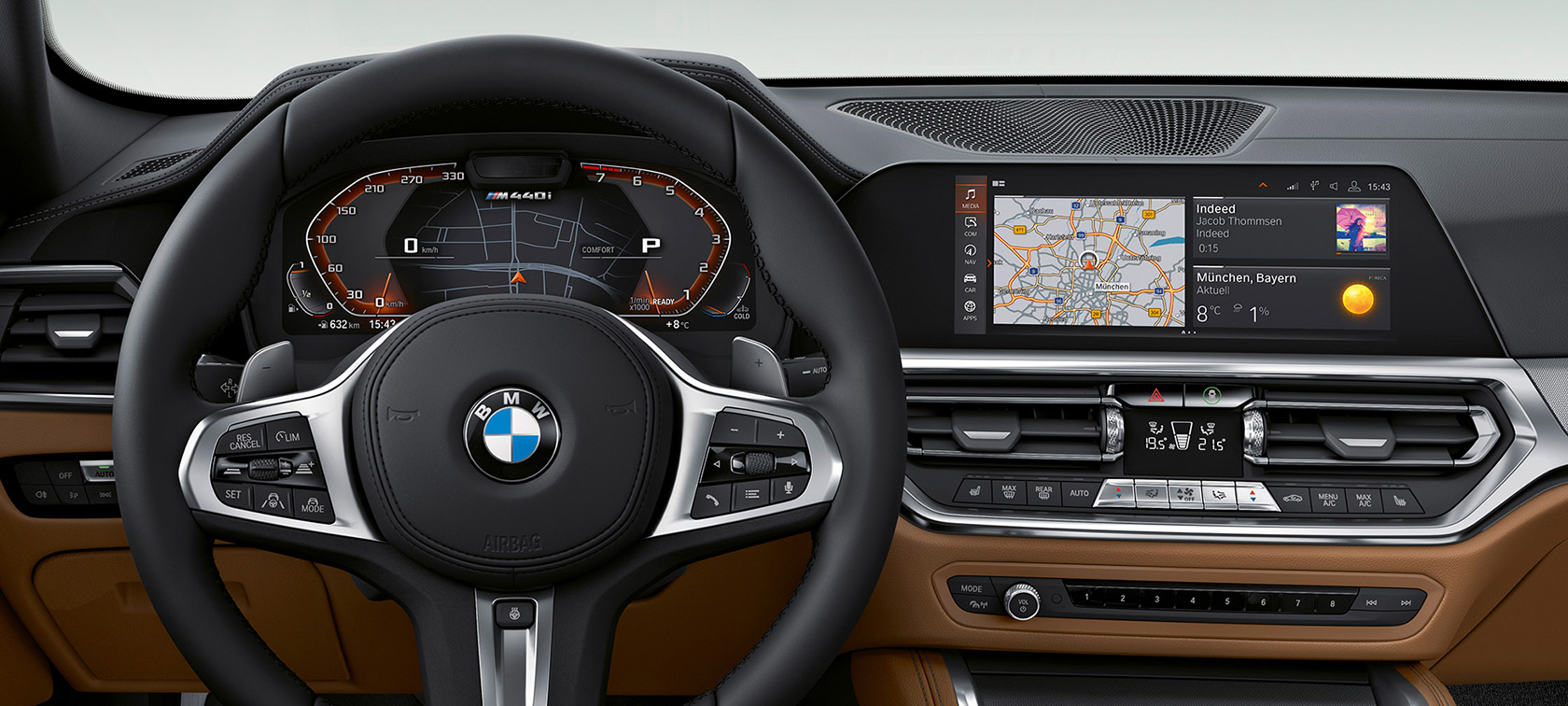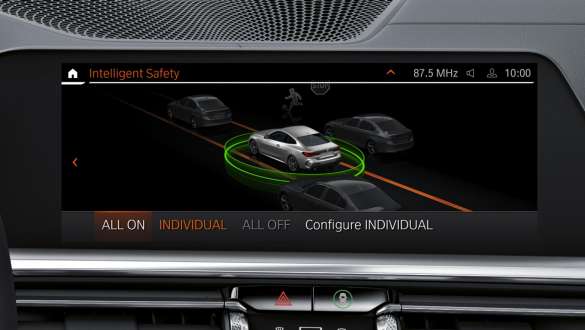 Driving Assistant Professional.
Thanks to Driving Assistant Professional, optionally available in the Technology Plus pack, you can enjoy more intelligence in every journey. It includes Steering and Lane control Assistant, Active Cruise Control, Automatic Speed Limit Assist, and much more.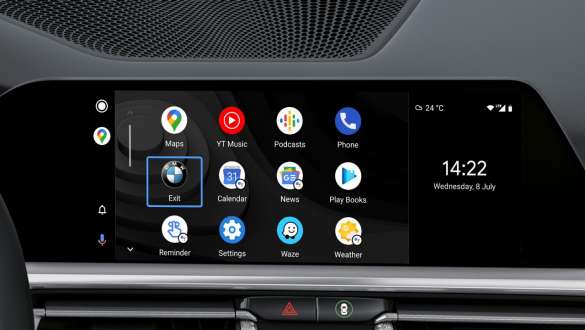 Smartphone integration.
Thanks to Apple CarPlay® and Android Auto™, you now connect your smartphone to the vehicle. Enjoy access to your content through the Central Information Display, the instrument cluster and the optional Head-up Display.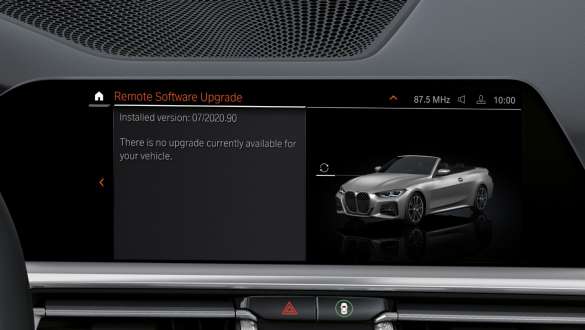 Remote Software Upgrade.
Always have up-to-date BMW software thanks to the super simple Remote Software Upgrade. Upgrades are installed over the air just as they are for your smartphone. In this way, other functions in your vehicle can also be activated.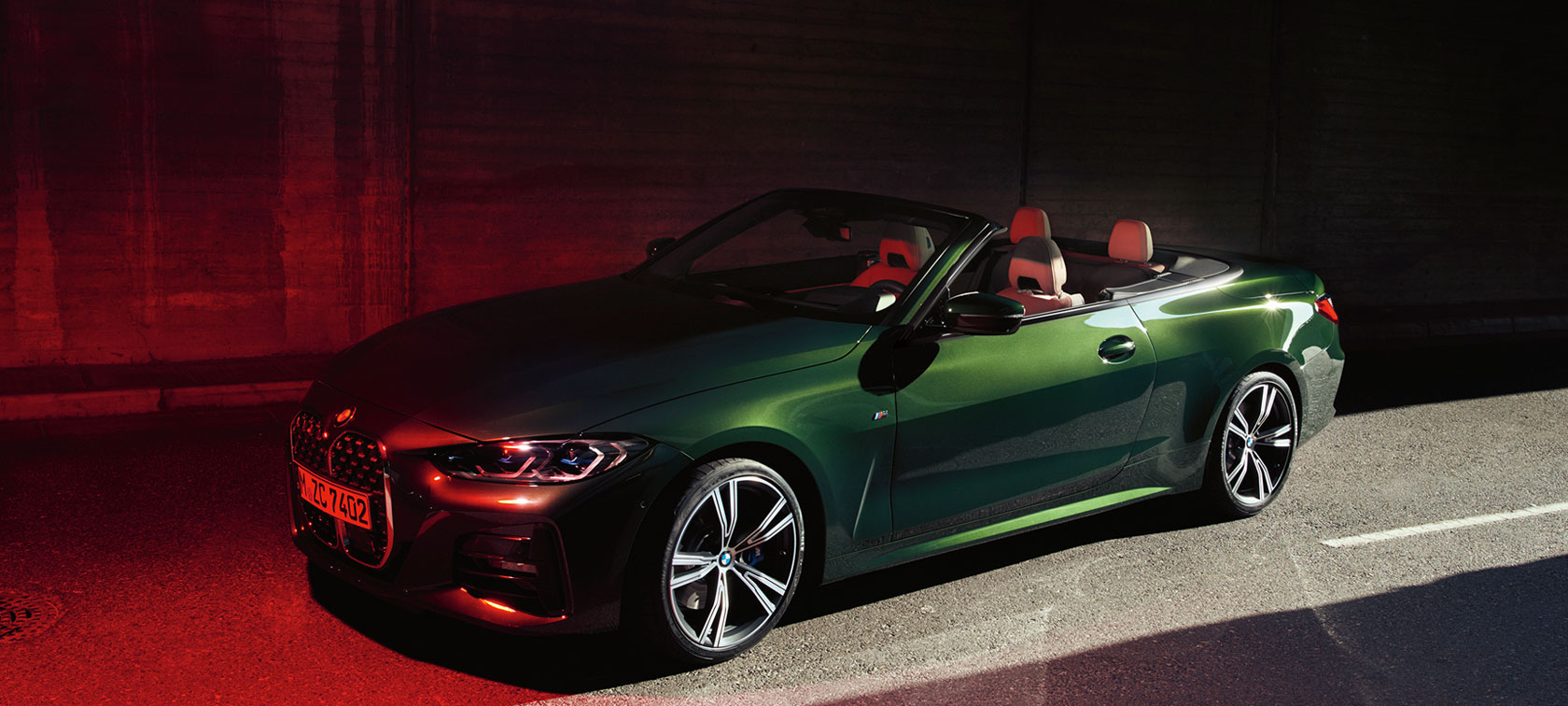 LIKE WHAT YOU SEE?
Enquire now for the latest BMW 4 Series Convertible news.
Along with some other manufacturers and industries, we have had to make adjustments to our production programme to take into account the worldwide limited availability of semiconductor components. This means there are some production restrictions in place that may impact delivery dates and the availability of certain equipment. BMW retailers across Ireland are best placed to provide updates on approximate lead times for new car orders. To search for Approved Used BMWs that are available now and ready for you to drive away without the wait, please visit our Approved Used Website.
Read more
* These figures may not reflect real life driving results, which will depend upon a number of factors including the starting charge of the battery, accessories fitted (post-registration), variations in weather, driving styles and vehicle load. Figures shown are for comparability purposes. Only compare fuel consumption, CO2 and electric range figures with other cars tested to the same technical procedures. Plug-in hybrid vehicles require mains electricity for charging.
** Values will vary depending on vehicle specification, trim level and optional equipment selected. Vehicle performance figures shown are for base model.
† The recommended on the road (OTR) cash price includes delivery, BMW Emergency Service, number plates, first registration fee and vehicle excise duty. Where applicable, government grants and subsidies are not included in the OTR cash price displayed. Please note prices are based on preliminary CO2 and NOx emissions data, so are subject to change when data is confirmed closer to launch.
Read more