CHOOSE YOUR LOOK FOR THE BMW 1 SERIES.
BMW 118i M Sport
TECHNOLOGY
BMW M135i xDrive
ULTIMATE
Along with some other manufacturers and industries, we have had to make adjustments to our production programme to take into account the worldwide limited availability of semiconductor components. This means there are some production restrictions in place that may impact delivery dates and the availability of certain equipment. BMW retailers across Ireland are best placed to provide updates on approximate lead times for new car orders. To search for Approved Used BMWs that are available now and ready for you to drive away without the wait, please visit our Approved Used Website.
Read more
THE SPORTY EXTERIOR AND INTERIOR DESIGN OF THE BMW 1 SERIES.
The design of the BMW 1 Series leaves a powerful impression both inside and outside. Starting with the dynamic front with its large double kidney grille and broad front prone, moving to the clearly defined contours running parallel to the flowing roof line, and ending with the distinctive rear. Clearly defined contours run parallel to the flowing roof line through to the distinctive rear. The premium character of the BMW 1 Series continues into the interior. Here passengers can enjoy a generously proportioned and open atmosphere of well-being. The cockpit impresses with ergonomically optimised equipment features and its systematically implemented driver-orientation.
Read more
THE DESIGN OF THE BMW 1 SERIES.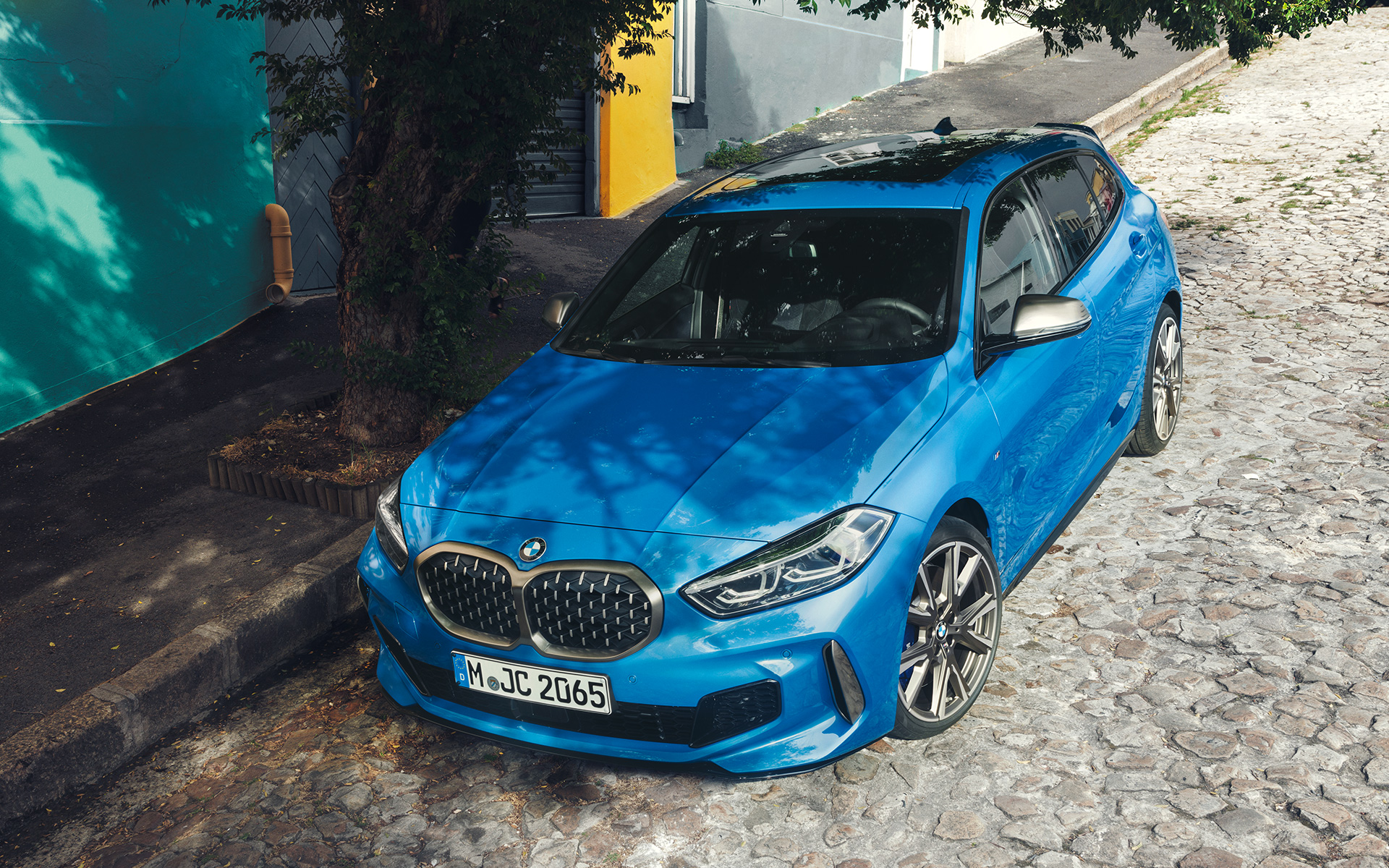 BMW 1 Series M135i F40 at the roadside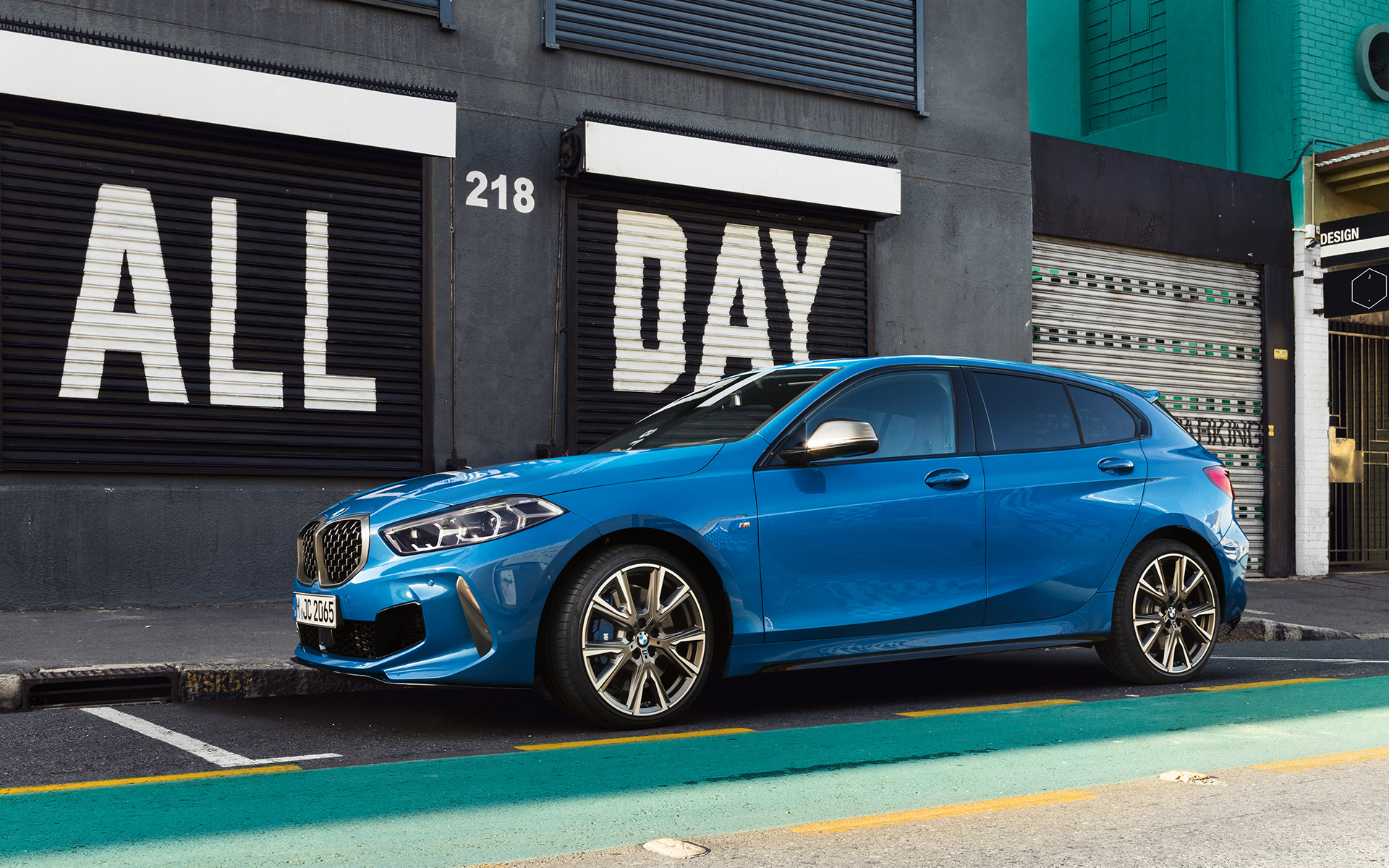 BMW 1 Series M135i F40 parking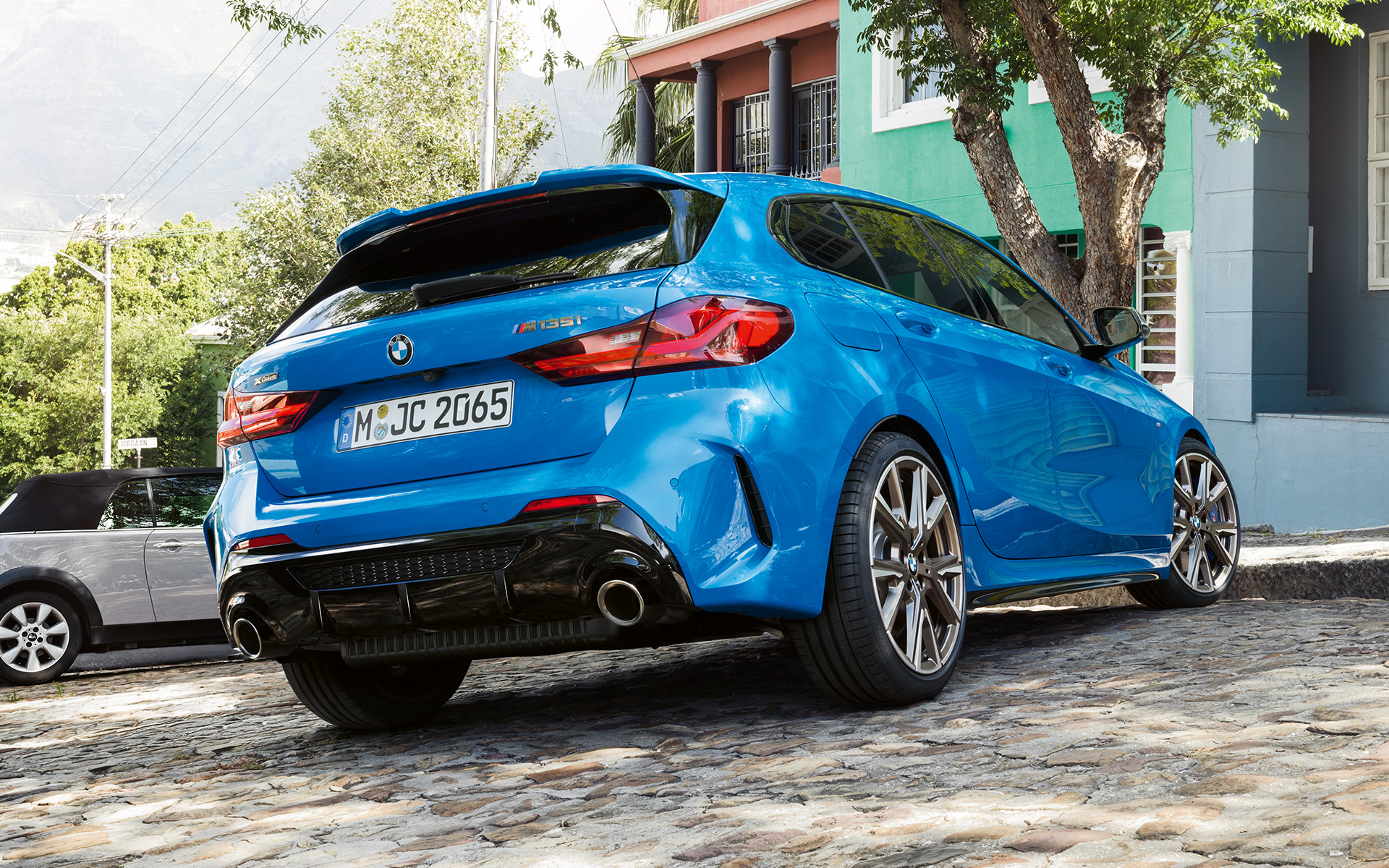 The BMW 1 Series M135i F40 from a rear view, parking in front of a residential building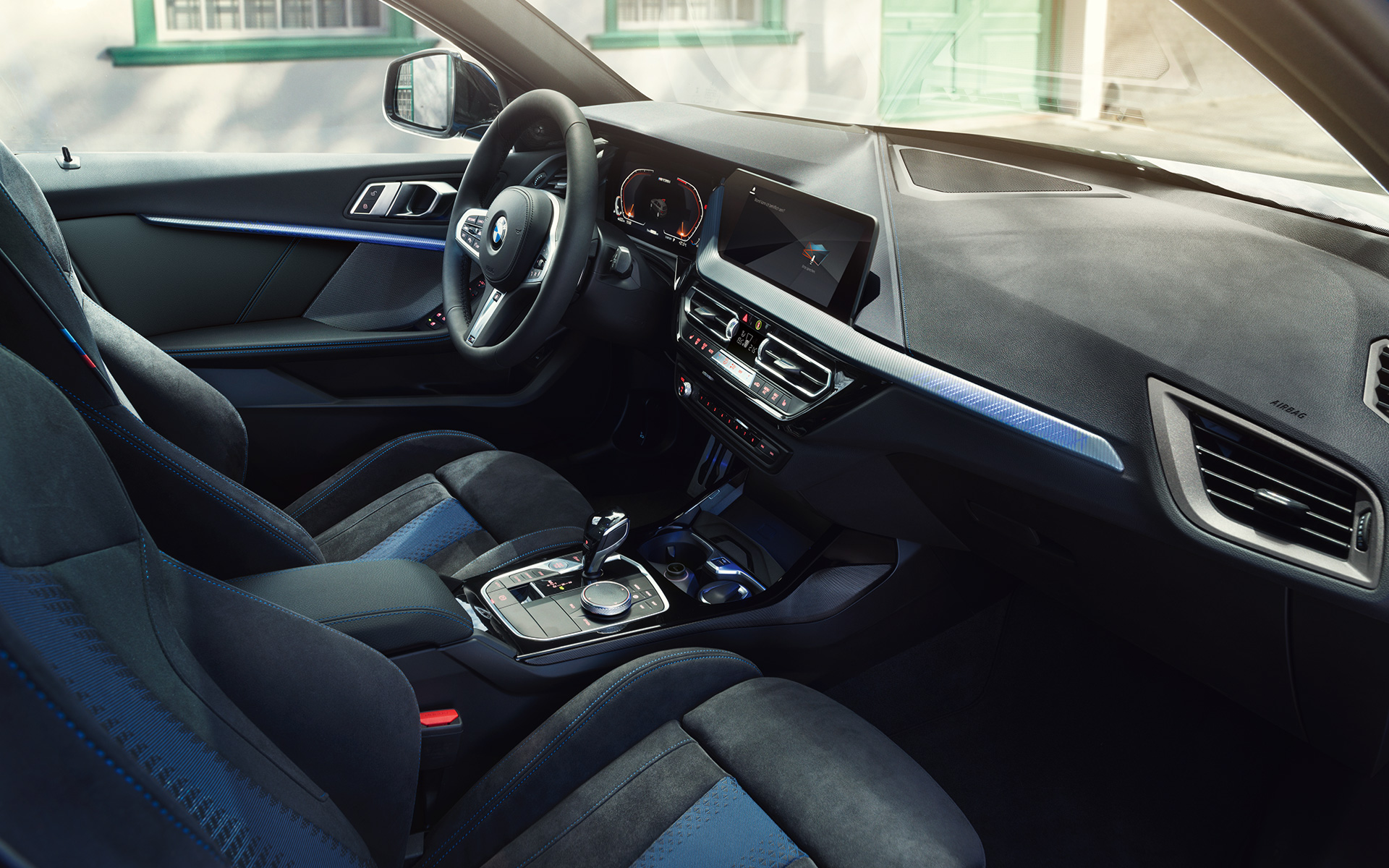 Sporty BMW 1 Series F40 interior
BMW 1 Series F40 M Sport seats
DESIGN.
High-quality equipment features for the exterior and interior of the BMW 1 Series.
Explore the sporty design options of the BMW 1 Series. With the high-quality equipment options for exterior and interior, you can design your vehicle entirely to match your taste and personal preference.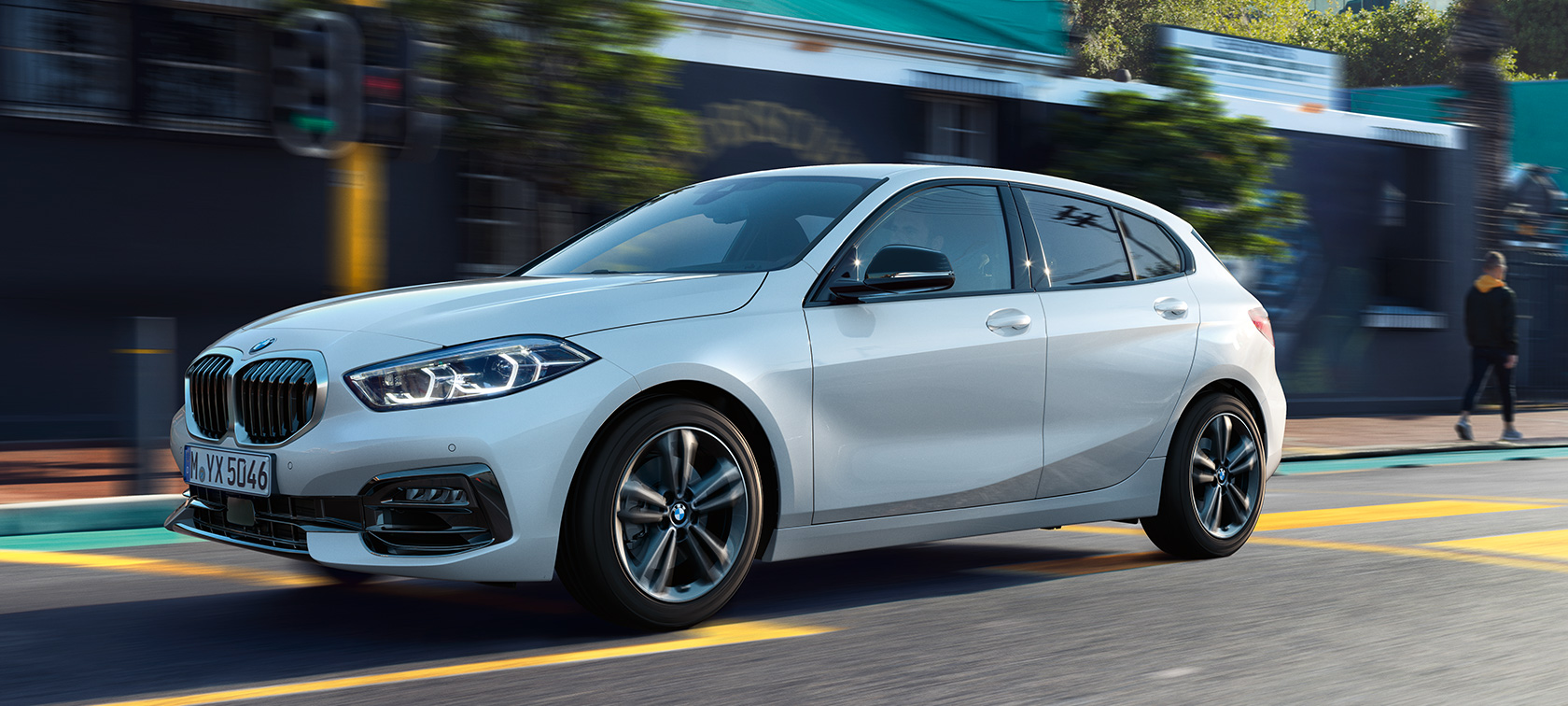 Double Kidney Grille.
The characteristic double kidney grille is designed as a connected element and features a kidney grille frame in Chrome high-gloss and vertical slats in black high-gloss. As the central visual highlight, it underlines the presence and aesthetics of the vehicle in the front view.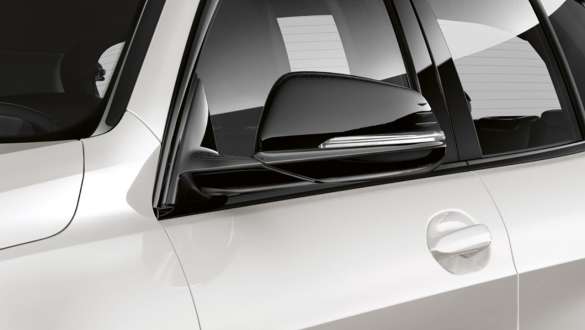 Mirror caps in Black.
The mirror caps are painted Black high-gloss instead of in the body colour. They visually emphasise the vehicle's athletic character and create a striking individual impression.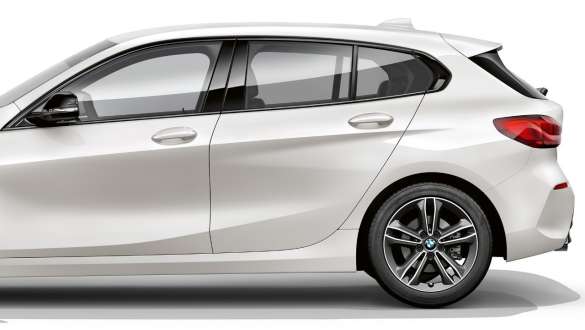 High-gloss Shadowline.
High-gloss Shadowline includes numerous equipment features in Black high-gloss. These include the window cavity seals, the window surrounds and guides, the B-pillars as well as the exterior mirror frames, the mirror triangle, blade and mirror base.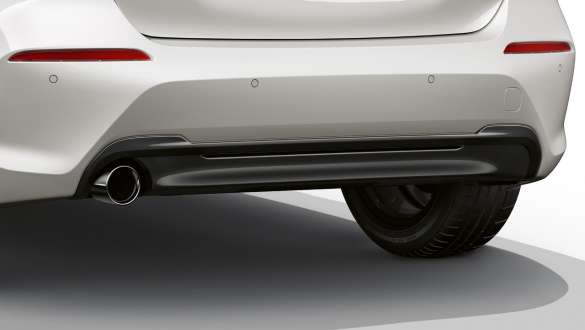 Tailpipe trim.
The 90 mm tailpipe trim (on the left in 3-cylinder engines, on the left and right in 4-cylinder engines) sets an optical accent and emphasises the vehicle's sporty character.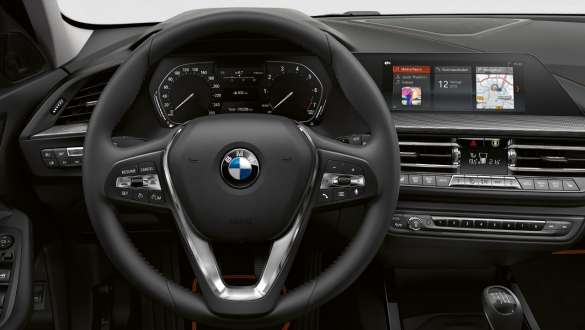 Sport leather steering wheel.
The black Sport leather steering wheel with three spokes features a galvanised decorative trim. A thick rim and contoured thumb rests provide an exceptionally pleasant, high-grip feel.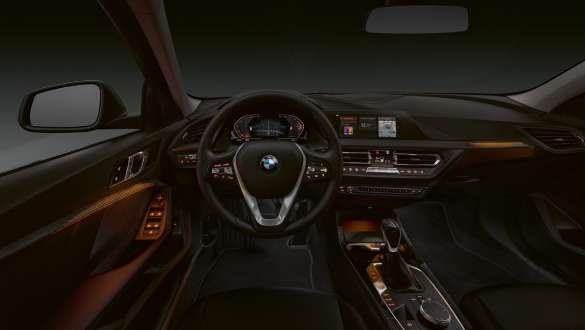 Illuminated Berlin interior trim.
Illuminated Berlin interior trim with 'High Matt' accent on the dashboard and door trim lends the interior a progressive ambience with a high sense of value. The shimmering pattern of the discreetly backlit finishers creates both an attractive as well as a pleasant atmosphere in the vehicle. (Excludes SE models).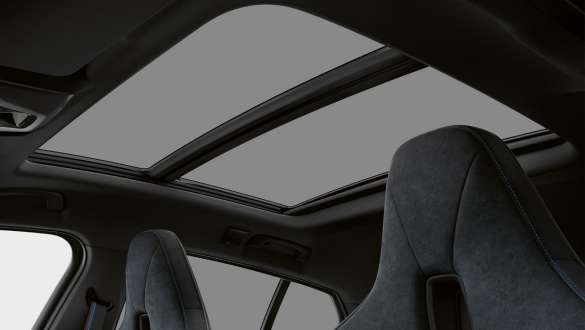 Panoramic Glass Sunroof.
When open, the optional Panoramic Glass Sunroof provides a great deal of fresh air. Closed, it creates a bright, light-flooded atmosphere in the interior. It opens and closes completely automatically at the push of a button or with the vehicle key and is equipped with slide and lift functions, a roller sunblind and wind deflector.
DRIVING DYNAMICS.
Drive train, chassis and M Sport steering of the BMW 1 Series.
The BMW 1 Series turns every trip into a highlight thanks to its efficient engine and a set of dynamic drive train and chassis components. Explore selected driving dynamics features and configure your tailor-made BMW 1 Series.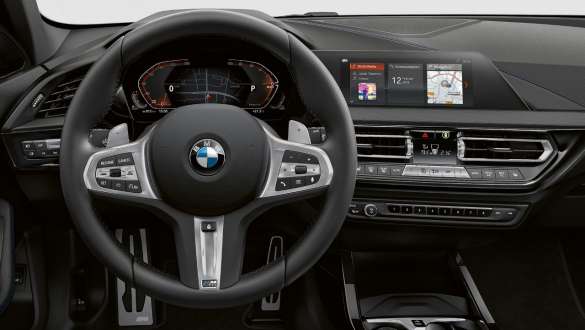 M Sport steering.
The M Sport steering with Servotronic creates a direct and agile steering response and reduces steering effort. Your vehicle can be directed more precisely, offering highly athletic handling characteristics, particularly on winding roads.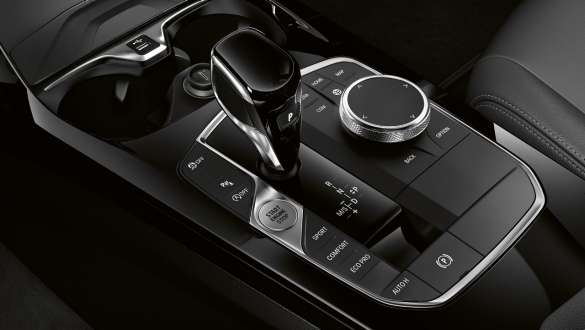 Steptronic Sport transmission.
The optional 8-speed Steptronic Sport transmission offers incredibly sporty gear changes. Whether automatic or manual using gearshift paddles or gear lever – for comfortable coasting or incredibly dynamic driving. In SPORT mode and with the gear lever in the left-hand S/M position, the gear shifts are configured for the maximum performance.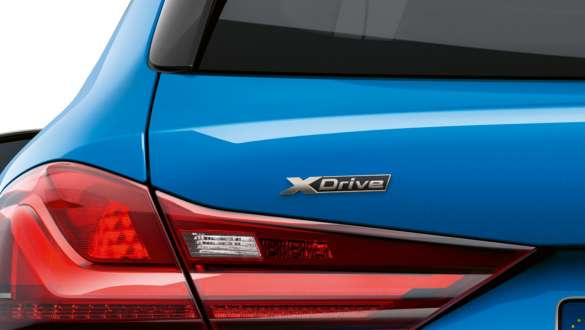 BMW xDrive.
The optional intelligent BMW xDrive all-wheel drive system smoothly and variably distributes drive power to the front and rear wheels for enhanced traction, driving dynamics and safety. For even better agility, the electronically controlled power distribution for instance counterbalances oversteer or understeer on bends.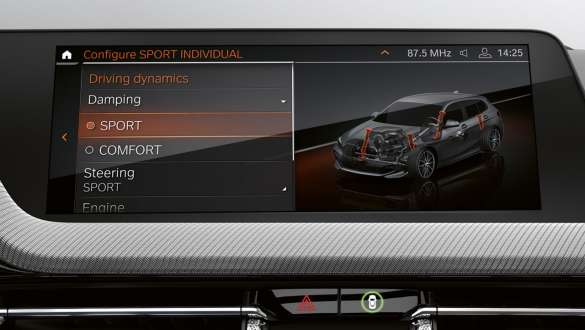 Adaptive suspension.
The optional adaptive suspension makes it possible to adjust the damper characteristics to suit the driving situation and combines ride comfort and driving dynamics with the best possible safety. Via the Driving Experience Control, you can choose the standard COMFORT mode or the SPORT mode.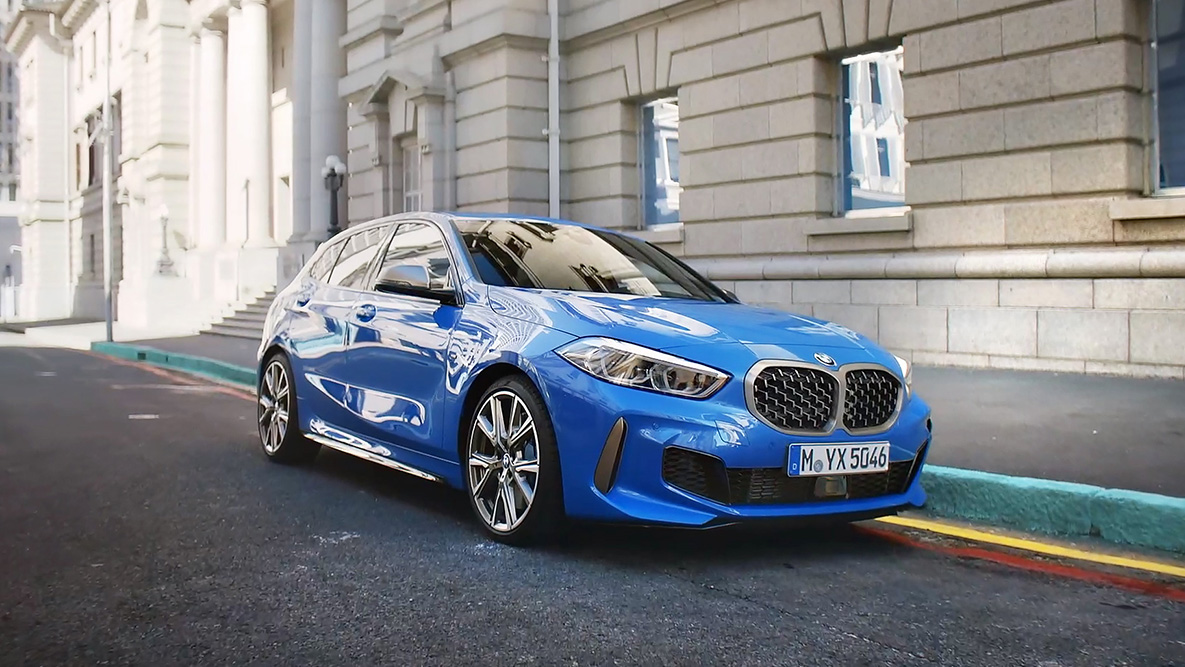 DRIVER ASSISTANCE AND CONNECTIVITY.
Intelligent technologies and driver assistance systems in the BMW 1 Series.
Operate the on-board computer by gesture control, have your vehicle move into its parking space independently or ask the intelligent voice assistant for the next filling station. The BMW 1 Series offers you a large number of helpful functions, digital services and driver assistance systems – for a maximum of comfort and safety.
Driver Assistance
Connectivity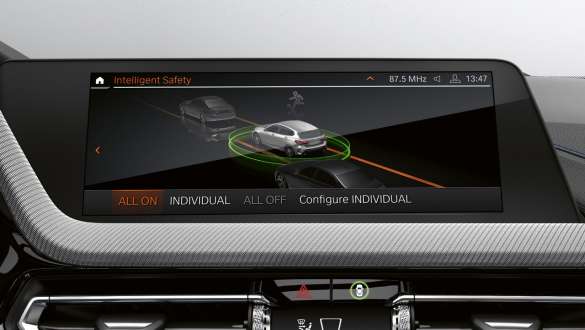 Driving Assistant.
The optional safety package Driving Assistant includes the camera-based systems front collision warning with braking function, Speed Limit Assist incl. Speed Limit Info with No-overtaking indicator with preview and Lane Departure Warning. Additionally, the radar-based equipment includes Crossing traffic warning rear, Lane Change Warning and Rear collision warning.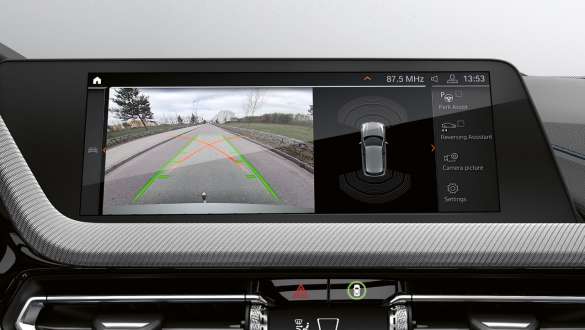 Parking Assistant.
The optional Parking Assistant makes parking the vehicle easier. The Rear View camera provides a clearer view behind the vehicle. Active Park Distance Control offers increased protection against damage caused by parking. Parking Assistant parks the vehicle automatically, parallel or perpendicular to the street, and leaves parallel parking spaces. The Reversing Assistant supports you when reversing, e.g. in narrow lanes.
BMW Gesture Control.
With the optional BMW Gesture Control, certain functions can be operated by means of defined hand movements. For selected operations the system will for example recognise gestures such as 'swiping' or 'pointing' for accepting or rejecting an incoming call. Volume can be adjusted by circular motions of the index finger.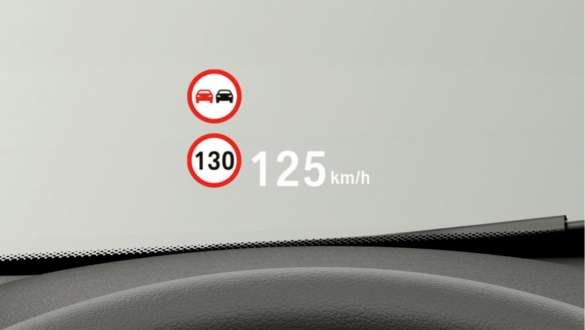 BMW Head-Up Display.
The optional large, full-colour BMW Head-Up Display projects information relevant to the journey directly into the driver's field of vision, thereby allowing them to fully concentrate on driving. Information such as the current speed, navigation directions, Speed Limit Info including no-overtaking indicator, along with telephone and entertainment lists are displayed, depending on the equipment.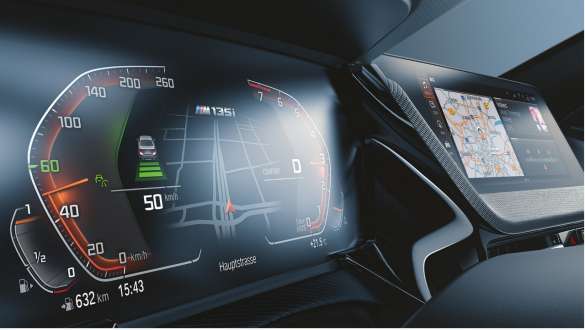 BMW Live Cockpit Professional.
The BMW Live Cockpit Professional with navigation function includes two high-quality displays consisting of a high-resolution 10.25" Control Display that can be operated by touch and a fully digital 10.25" instrument display. The BMW Operating System 7 can also be operated via the iDrive Touch Controller.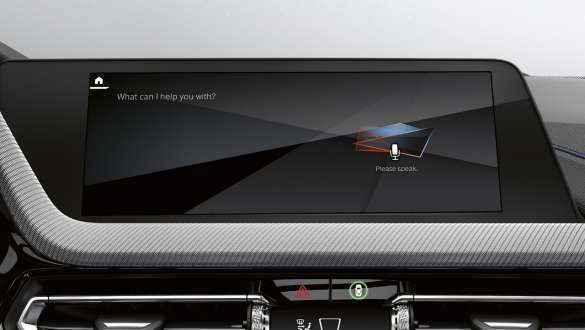 BMW Intelligent Personal Assistant.
Communicate with your vehicle using the optional BMW Intelligent Personal Assistant. Say natural commands to operate numerous vehicle functions. It can also explain topics about your vehicle and helps you to get to know your BMW even better.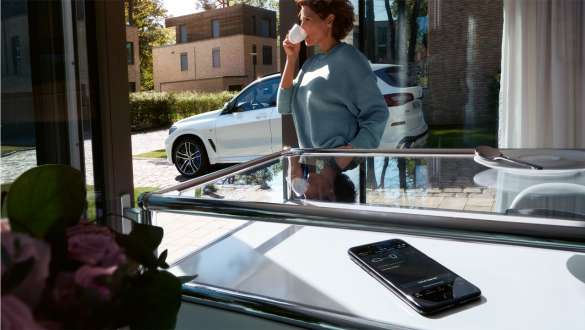 Remote Software Upgrade.
With Remote Software Upgrade, your BMW will always be up to date. You can simply download the upgrades via the My BMW App or via the SIM card installed in the vehicle and then install them. In this way, other available functions in your BMW are also activated.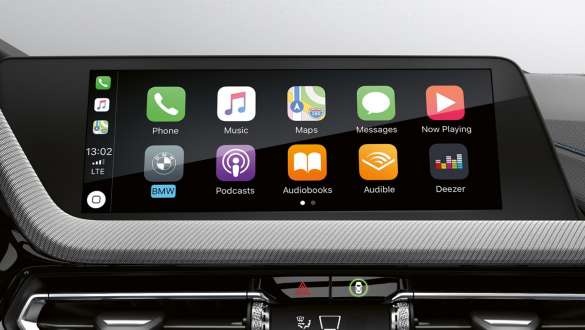 Smartphone Integration.
With smartphone integration, your vehicle supports Apple CarPlay® and Android Auto™ by means of a wireless connection between your smartphone and the vehicle. This allows you to conveniently use familiar functions and various apps in the vehicle.
MODELS AND EQUIPMENT OPTIONS.
The strong individual model versions of the BMW 1 Series.
SE model
Sport model
M Sport model
128ti model
THE BMW 1 SERIES 128ti.
Design and driving dynamics of the BMW 1 Series 128ti.
Its striking appearance and technical details make the BMW 1 Series 128ti a particularly sporty representative of the model range. Matching its recognisable model-specific design elements, its BMW TwinPower Turbo technology and the differential lock on the front axle ensure driving dynamics of the ultimate driving machine.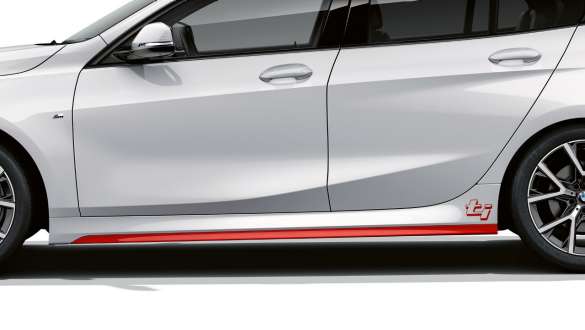 Side skirt with ti decal.
The side skirt with red accent and the ti decal artfully emphasise the sporty look of the vehicle.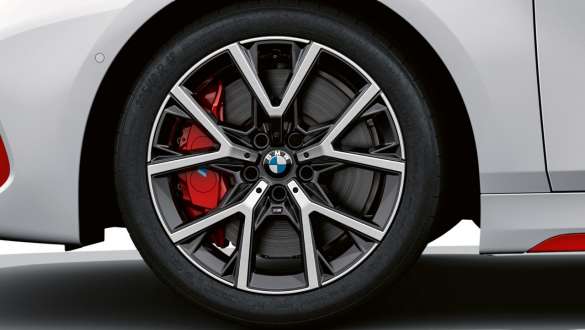 18" M light alloy wheels Y-spoke style 553 M Bicolour with performance tyres.
18" M light alloy wheels Y-spoke style 553 M Bicolour Orbit Grey metallic with performance tyres, gloss-lathed, wheel size 8J x 18 with 225/40 R18 tyres.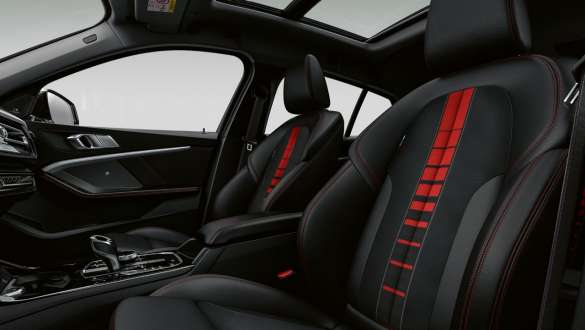 Interior design features.
The interior has a distinctly sporty and elegant atmosphere thanks to 128ti specific design features. This is guaranteed by details such as the exclusive sport seats with red accents, the matching exclusive floor mats with red edging and the embroidered ti logo on the centre armrest.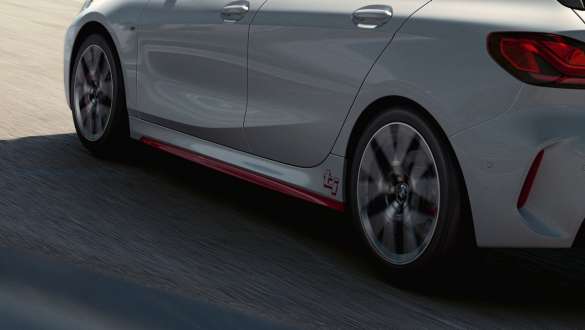 100% sDrive & Slip Differential.
Fitted as standard in the BMW 1 Series 128ti, the slip differential improves traction and driving stability of the vehicle when accelerating out of bends, at high cornering speeds and on different road surfaces by distributing the driving force between the front wheels to match the situation. Self-assured and dynamic driving characteristics are the result.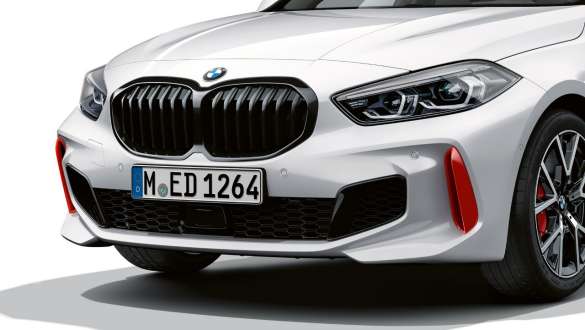 BMW 128ti engine.
A compact athlete conveying pure driving pleasure: The TwinPower Turbo 4-cylinder petrol engine in the BMW 128ti is powerful because it is equipped with new pistons, a larger turbocharger, optimised intake air routing and a flap-controlled exhaust system.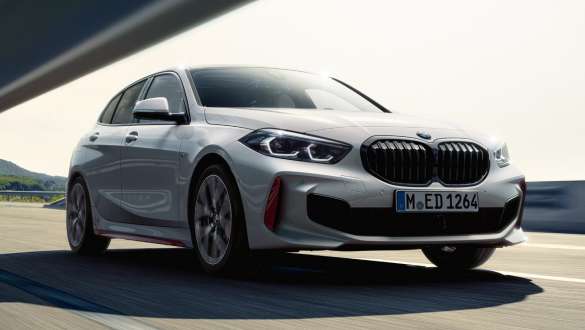 M Sport suspension.
M Sport suspension lowers the vehicle by approximately ten millimetres. It also features shorter suspension springs and tighter, 128ti specific damper settings, as well as harder stabilisers. Combined together, they result in a more direct suspension design, which enables a distinctly sporty driving style.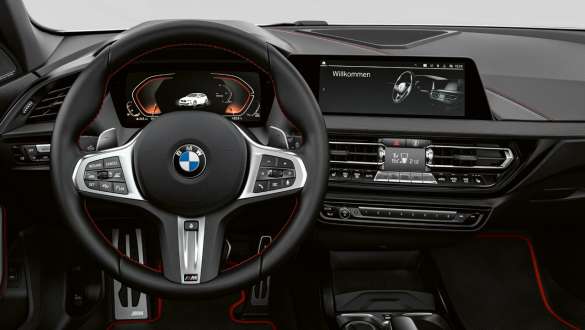 Steering.
The steering with 128ti specific settings ensures a direct and agile steering response. The vehicle can be directed more precisely, offering athletic handling characteristics.
TECHNICAL DATA OF THE BMW 1 SERIES.
The BMW 128ti.
Fuel consumption and CO2 emissions.
BMW M135i xDrive:
Fuel consumption in l/100 km (combined): 7.9–7.4
CO2 emissions in g/km (combined): 178–167
BMW 128ti:
Fuel consumption in l/100 km (combined): 7.5–6.8
CO2 emissions in g/km (combined): 178–168
Official figures for fuel consumption, CO2 emissions, electricity consumption and electric range were determined in accordance with the prescribed measurement procedure and comply with Regulation (EU) 715/2007 as amended. WLTP figures take into account any optional equipment in the case of ranges. For vehicles newly type-approved since 01.01.2021, the official specifications exist only according to WLTP. Further information on the NEDC and WLTP measurement methods can be found at www.bmw.de/wltp
Read more
​
Fuel consumption and CO2 emissions.
Figures shown are for comparability purposes; only compare fuel consumption and CO2 figures with other cars tested to the same technical procedures. These figures may not reflect real life driving results, which will depend upon a number of factors including the accessories fitted (post-registration), variations in weather, driving styles and vehicle load.