The BMW X3 M Competition, BMW X3 M40i and the BMW X3 M40d have each evolved to reimagine BMW's sporty M character, while at the same time pushing the boundaries and expectations of the X range. The perfectly measured balance of dynamics, comfort and efficiency ensures that the high-performance TwinPower Turbo engines and M-specific elements still come with a high level of everyday practicability.
Read more
COMPARE THE BMW X3 M MODELS.
The most important performance facts at a glance: power train, suspension and engine output.
BMW X3 M Competition
Maximum driving dynamics and exclusiveness.
High-performance M TwinPower Turbo 6-cylinder inline petrol engine

M xDrive with Active M differential and 8-speed M Steptronic transmission with Drivelogic

Exclusive M Competition design elements in Black high-gloss

375 kW/510 hp, 650 Nm, 0–100 km/h in 3.8 sec
BMW X3 M40i
Exceptionally balanced performance and everyday suitability.
M TwinPower Turbo 6-cylinder inline petrol engine

Intelligent all-wheel drive BMW xDrive

8-speed Steptronic transmission

265 kW/360 hp, 500 Nm, 0–100 km/h in 4.9 sec
BMW X3 M40d
Power and efficiency with no sacrifices.
M TwinPower Turbo 6-cylinder inline diesel engine

Intelligent all-wheel drive BMW xDrive

8-speed Steptronic transmission

250 kW/340 hp, 700 Nm, 0–100 km/h in 4.9 sec
BMW X3 M Competition
BMW X3 M40i
BMW X3 M40d
Along with some other manufacturers and industries, we have had to make adjustments to our production programme to take into account the worldwide limited availability of semiconductor components. This means there are some production restrictions in place that may impact delivery dates and the availability of certain equipment. BMW retailers across Ireland are best placed to provide updates on approximate lead times for new car orders. To search for Approved Used BMWs that are available now and ready for you to drive away without the wait, please visit our Approved Used Website.
Read more
BMW X3 M COMPETITION.
Powerful performance meets daring design.
The BMW X3 M Competition sits at the top of the impressive range of new BMW X3 M models. Its BMW M TwinPower Turbo 6-cylinder inline petrol engine offers 510 hp, 650 Nm of torque, and goes from 0 to 100 km/h in just 3.8 seconds. With its muscular proportions, the BMW X3 M Competition is a statement of athletic presence. Accentuating its motorsport genes are specific M Competition design elements in high-gloss black and mirror caps in carbon. Inside, M features combine with luxurious details to create a sporty and exclusive atmosphere.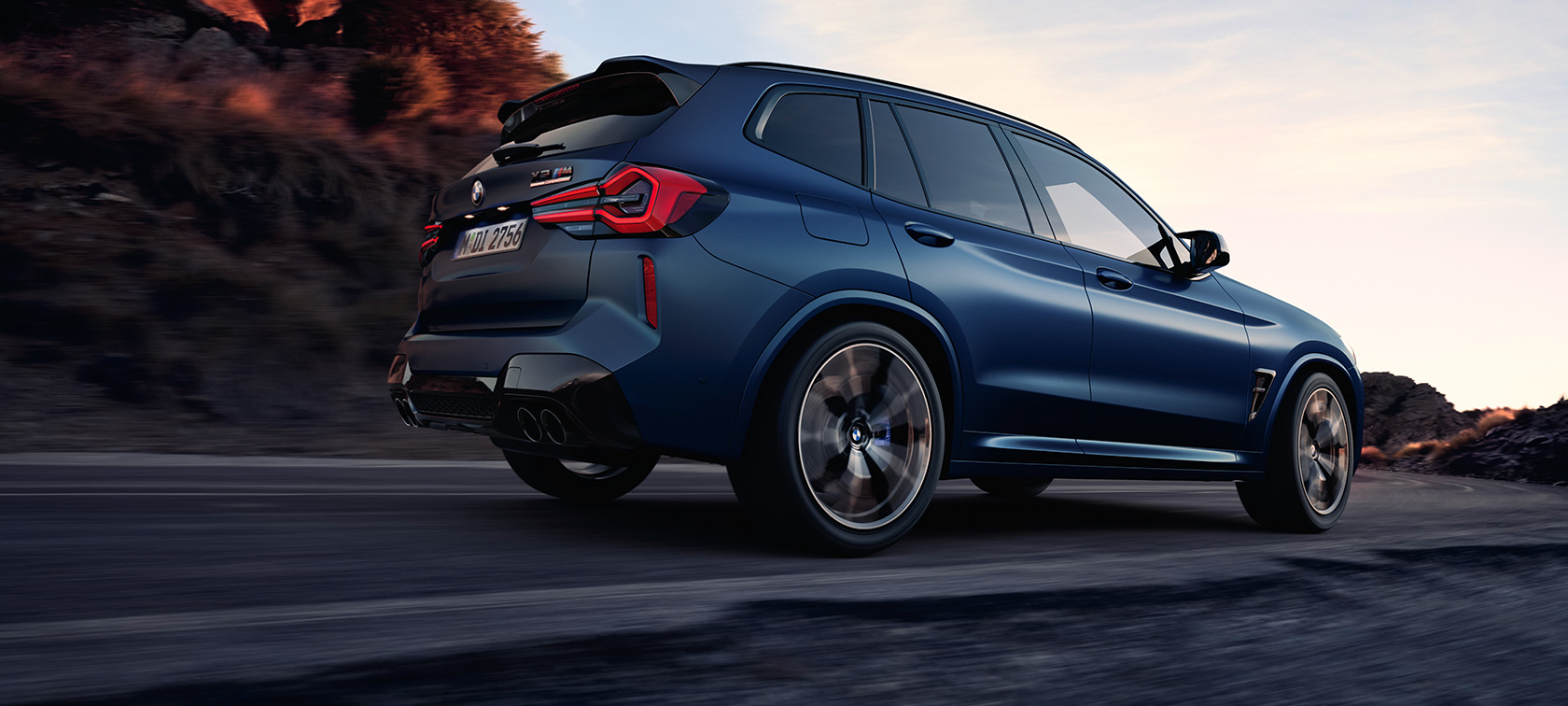 High-Performance M TwinPower Turbo 6-cylinder inline petrol engine.
The M TwinPower Turbo 6-cylinder inline petrol engine combines superior power with the unmistakable M sound. Two mono-scroll turbochargers, direct High-Precision Injection, fully variable valve control and variable camshaft control ensure outstanding performance every time.
M specific suspension.
Find your perfect driving experience with M specific adaptive suspension. COMFORT drive mode smooths out uneven road surfaces, SPORT mode is perfect for country roads, and SPORT+ guarantees a particularly precise ride experience on even racetracks.
M xDrive.
M xDrive with Active M Differential guarantees maximum traction and driving dynamics for everyday driving, as well as at the racetrack. The M specific technology combines the typical agility of a rear-wheel drive with the control of an all-wheel drive. You can choose between the drive variants 4WD and 4WD Sport.
M Carbon precision strut.
By increasing frontend rigidity, the M Carbon front end strut brace helps deliver enhanced steering precision and accuracy. The premium quality carbon fibre reinforced plastic component is extremely lightweight and creates a genuine motor sport atmosphere.
M Steptronic transmission.
The 8-speed M Steptronic transmission with Drivelogic offers numerous shifting options: extremely dynamic or particularly comfortable and smooth. You can shift using the gear lever or the gearshift paddles, and adjust the shifting speed of the automatic transmission using Drivelogic.
M Servotronic.
By adjusting to suit the current driving conditions, M Servotronic delivers the right steering power for all conditions. What's more, the system is specifically calibrated for the M line and offers three different settings that can be selected via the M setup.
M Compound brakes.
Available with Blue metallic brake callipers with the M designation, the M Compound brakes achieve outstanding deceleration performance, as well as being highly durable. They also weigh less, which has a positive impact on agility, dynamics and acceleration.
M Sport exhaust system.
The M Sport exhaust system delivers a dynamic sound that can be modified via the integrated exhaust valve mechanism. The SPORT and SPORT+ programmes produce a more intense engine sound, while the comfort-oriented programme prioritises more discreet engine acoustics.
Front design.
The distinctive M kidney grille with double slats in black high-gloss featuring the model logo is nothing short of charismatic. Especially narrow-sculpted Adaptive LED headlights (optional BMW Laserlight) and trapezoidal air inlets with integrated air curtains create a truly confident look.
Premium M wheels.
The eye-catching 21" Bicolour Jet Black V-spoke style 765 M light alloy wheels give the side profile an extra layer of sophistication.
M Sport seats.
The multi-adjustable M Sport seats with bucket seat character can be individually adjusted, and also feature an illuminated M logo.
Rear design.
With its broad stance, sculptured full LED rear lights and vertical reflectors arranged beneath, the rear of the BMW X3 M Competition looks modern and distinguished. Add to this the M sport exhaust system with the two striking twin tailpipes for some serious M attitude.
M leather steering wheel.
With shift paddles and contoured thumb rests, the M leather steering wheel offers a sublime steering experience, while the red M1/M2 buttons provide access to preset M Drive configurations.
M Carbon mirror caps.
The M Carbon mirror caps with M typical double-bridged design emphasise the powerful, sporty design of the vehicle.
Carbon Fibre Interior trim.
The ambience is taken up a level by the M Carbon Fibre interior trim, which feature on the instrument panel and door.
M high-gloss Shadow Line.
The M high-gloss Shadow Line is featured on numerous exterior details including the side frame trim strips, window recess finishers, mirror caps, and much more
TAKE A CLOSER LOOK AT THE BMW X3 M COMPETITION.
See the beautiful details that make the exterior and interior so impressive.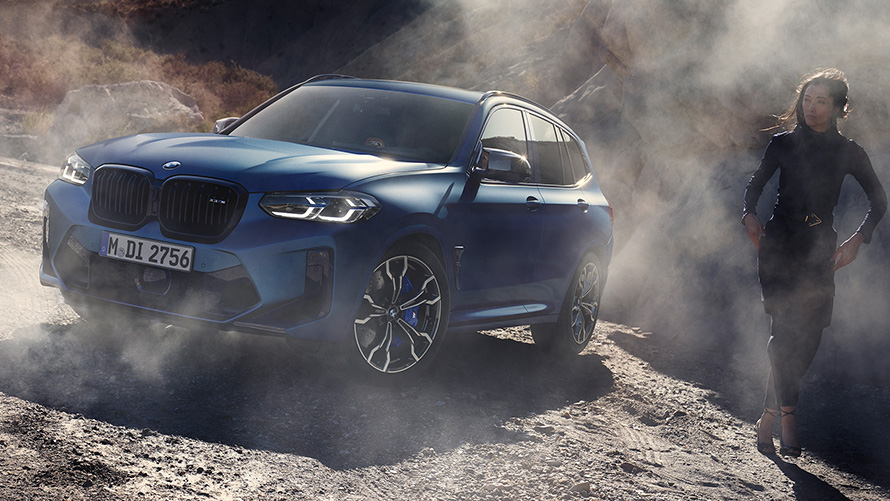 BMW X3 M Competition F97 LCI 2021 three-quarter front view standing in stony terrain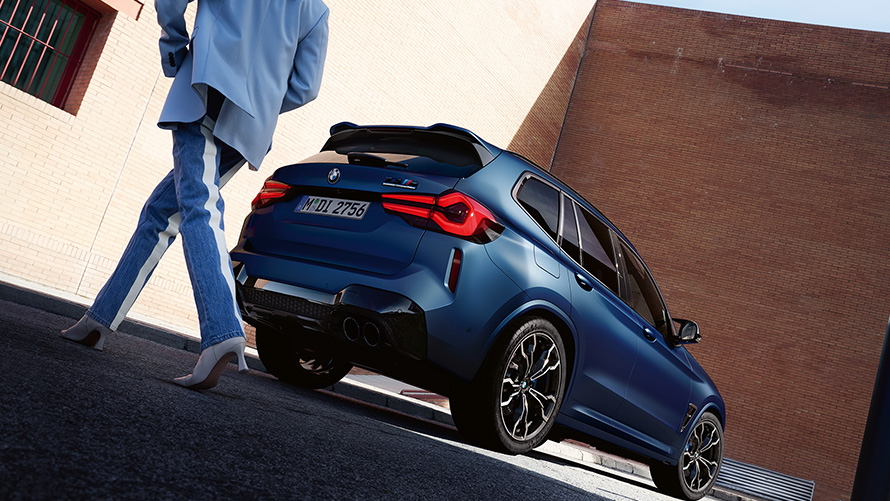 BMW X3 M Competition F97 LCI 2021 three-quarter rear view with model low angle shot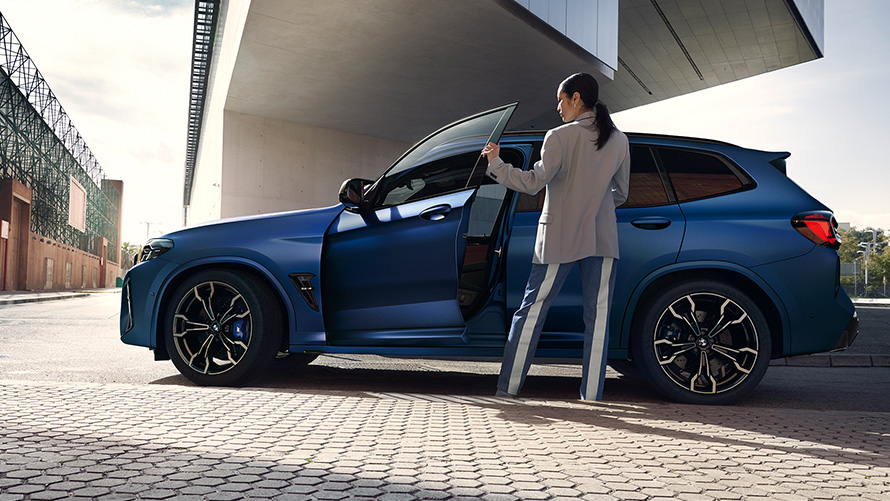 BMW X3 M Competition F97 LCI 2021 side view with open door and female model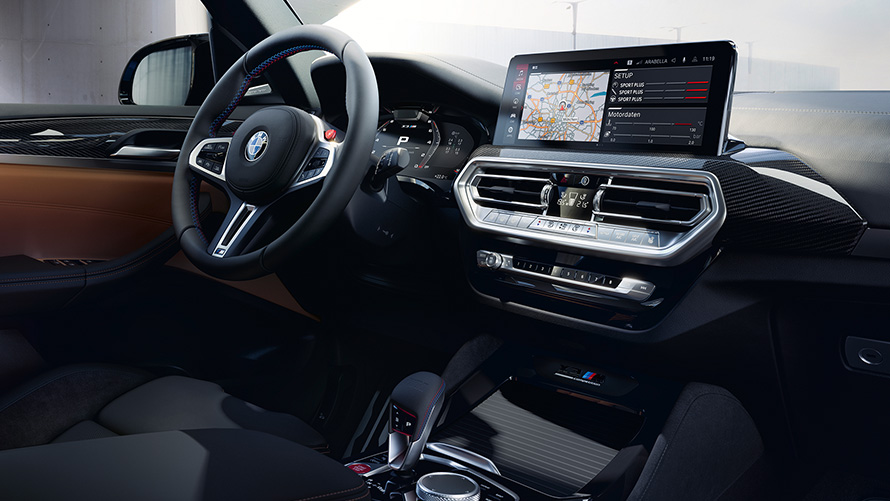 BMW X3 M Competition F97 LCI Facelift 2021 cockpit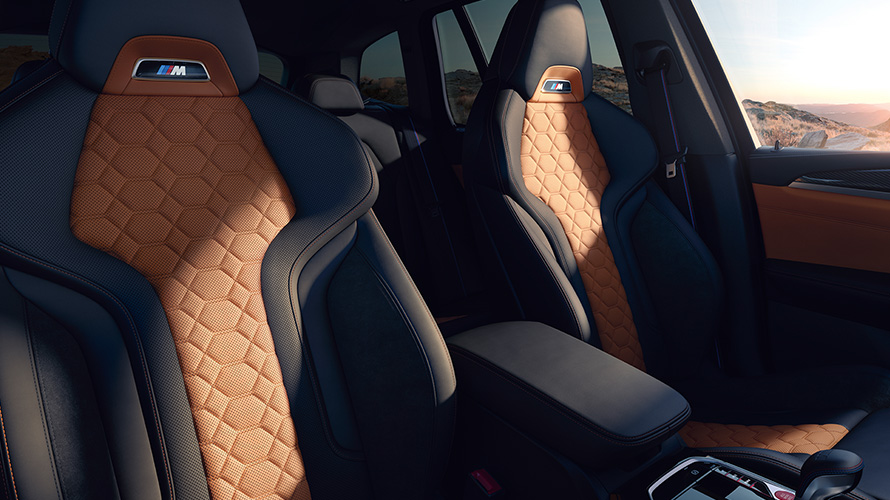 BMW X3 M Competition F97 LCI 2021 M Sport seats
INTRODUCING THE NEW BMW X3 M40i AND M40d.
Discover an evolution of driving dynamics and design elements.
The spirit of adventure enters a new era of comfort and efficiency. Exclusive features, such as the M Aerodynamics package and a host of impressive technology highlights, make the BMW X3 M40i and BMW X3 M40d both undoubtedly sporty and thrilling at the same time.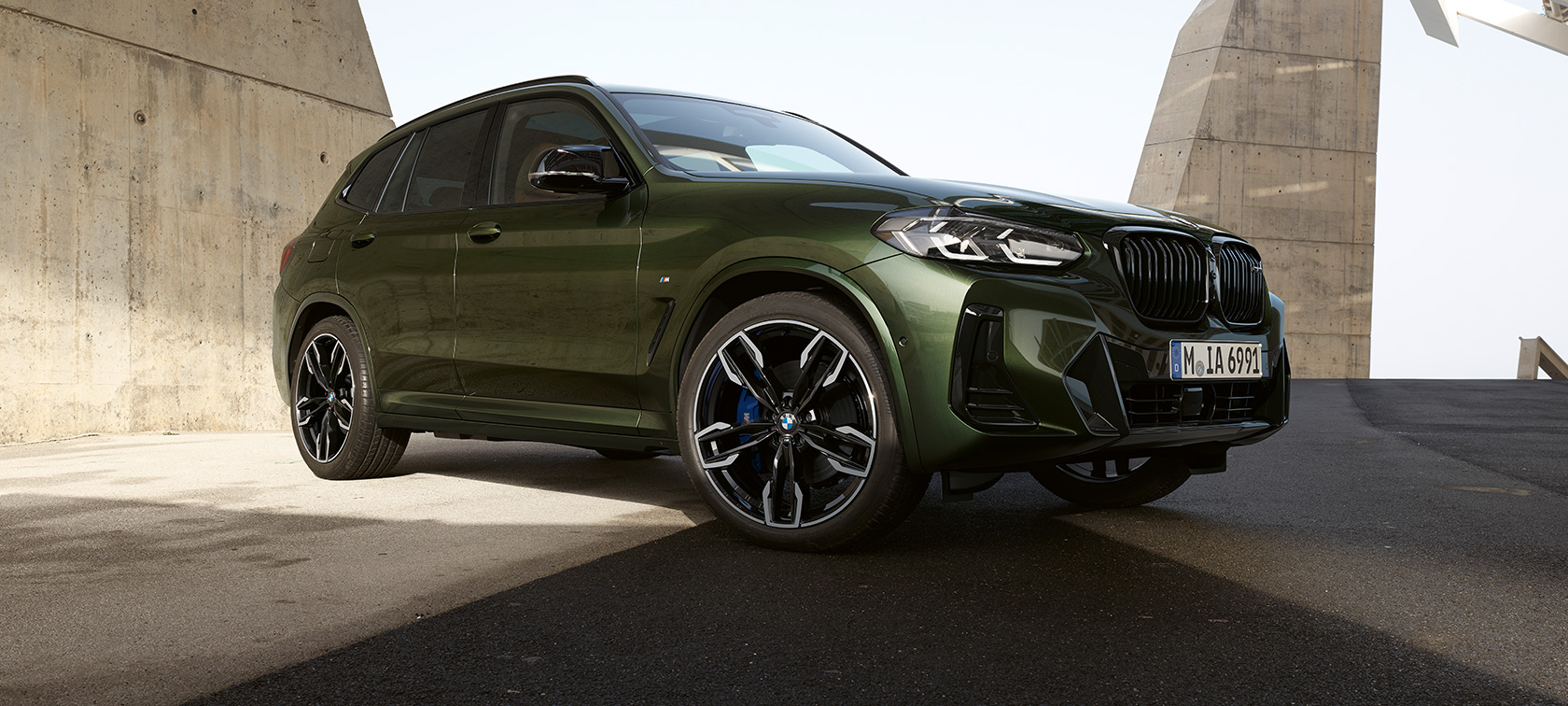 M TwinPower Turbo 6-cylinder engines.
The BMW X3 M40i is powered by a three-litre 6-cylinder inline petrol engine with M TwinPower Turbo technology. With an output of 265 kW (360 hp) and a maximum torque of 500 Nm, it has a sporty driving performance. It accelerates from 0 to 100 km/h in just 4.9 seconds. The BMW X3 M40d comes with a 6-cylinder diesel engine with an output of 250 kW (340 hp) and a maximum torque of 700 Nm. It accelerates from 0 to 100 km/h in just 4.9 seconds.
M Sport suspension
Known for delivering a more dynamic suspension with tighter damper settings, the M Sport suspension also offers a more direct suspension design, which enables a distinctly sporty driving style.
Steptronic Sport Transmission.
The 8-speed Steptronic Sport transmission offers incredibly sporty gear changes, whether it's automatic or using the selector lever or gearshift paddles. In SPORT mode and with the selector lever in the left-hand S/M position, the gear shifts are configured for the maximum performance.
Variable sport steering.
With Servotronic, the variable sport steering creates a direct and agile steering response and ensures smoother turning of the wheel. This helps improve handling when driving more dynamically and makes parking and turning even easier.
M sport differential.
With the M sport differential your driving benefits from optimised traction and enhanced driving stability while changing lanes or on different road surfaces.
M Sport brake.
The M Sport brake boasts single-piston floating calipers at the rear in Blue metallic (optionally in Red metallic) with the M logo. To ensure outstanding braking performance, they are internally ventilated and feature larger brake discs.
Stand out design.
The BMW X3 M40i and BMW X3 M40d have been designed to reveal an athletic elegance. Creating this effect are M-specific design elements such as the M kidney grille with M logo and double slats in black high-gloss.
BMW Individual headlights Shadow Line.
The M Shadow Line gives the main headlights a sporty look with all chrome elements finished in black. The dark details perfectly complement the M high-gloss Shadow Line with extended features.
M light alloy wheels.
The attractive 21" Bicolour Jet Black Double-spoke style 718 M light alloy wheels, raise both the performance and style credentials.
M Aerodynamic package.
Boasting the M-specific front apron, rear apron and side sills in body colour and a diffuser insert in Black high-gloss, the M Aerodynamic package conveys pure dynamism and sportiness.
Sport seats for driver and front passenger.
The adjustable Sport seats for the driver and front passenger feature numerous manual adjustment options, including fore-and-aft position, and the backrest angle. Thanks to larger seat and backrest bolsters, and well-defined side bolsters, they provide excellent ergonomics and a high degree of lateral support.
M leather steering wheel.
Featuring a stunning three-spoke design with a cut-out at the 6 o'clock spoke, the M Leather steering wheel also comes with a steering wheel rim in leather 'Walknappa' Black with contrast stitching in M colours and contoured thumb rests, providing an athletic steering experience.
CHECK OUT THE BMW X3 M40i AND M40d.
Discover the design highlights, found inside and out, that make this driving experience so special.
CONNECT YOUR WORLDS.
Unlock a new driving future with the BMW X3 M models, which are fully loaded with M specific instruments, operating concept, digital services and driver assistance systems.
The BMW X3 M models elevate the journey with innovative technologies and exclusive M-specific features. From intelligent driver assistance systems to chatting with your BMW using the BMW Intelligent Personal Assistant, both drivers and passengers can enjoy a modern approach to taking adventures. What's more, a host of connectivity features and digital services also provide you with a seamless link to your BMW and the world.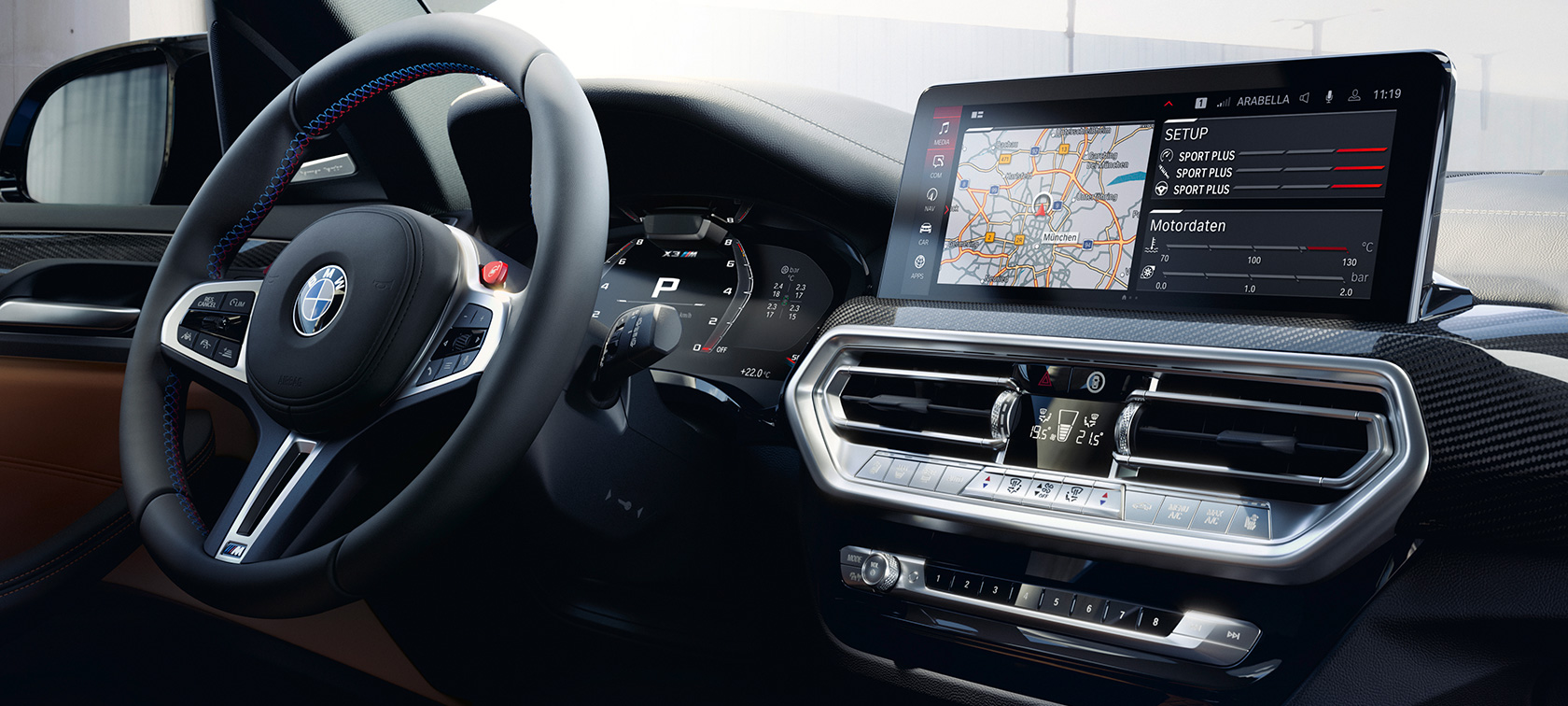 M specific instruments & operating concept
Connectivity & digital services
Driver Assistance Systems
M specific instrument cluster.
The M specific instrument cluster* offers a particularly precise and focused display of driving data in the SPORT and TRACK modes. In this way, values such as boost pressure or tyre pressure and temperatures are always in view. The operation and configuration of this feature is carried out using the M MODE button on the control unit in the centre console.

*Available for the BMW X3 M Competition.
BMW Live Cockpit Professional.
The BMW Live Cockpit Professional with navigation function includes two high-quality displays consisting of a high-resolution 12.3" Control Display that can be operated by touch and a fully digital 12.3" instrument display. The BMW Operating System 7 can also be operated via the iDrive Touch Controller*.

*For this vehicle model, the touch functionality for the iDrive controller can currently not be offered.
M Setup.
Enjoy a more personal driving experience with M Setup*. It allows you to configure various driving dynamics parameters such as engine, transmission and steering characteristics, damper settings, Dynamic Stability Control (DSC) control intensity or the power distribution of the M xDrive all-wheel-drive system.

*Available for the BMW X3 M Competition.
BMW Head-Up Display with M specific functions.
Optimise your driving with the full-colour BMW Head-Up Display* with M specific functions. It projects information relevant for the journey directly into your field of vision. Plus, you can switch to the M specific display, which includes a gear indicator, the rpm as a dynamic range curve with shift lights indicating the optimal moment to shift as well as navigation tips.

*M specific functions are available for the BMW X3 M Competition.
Centre console control panel.
In the easy-to-reach centre console control panel, the M MODE* button below the Start/Stop button allows you to change the contents of the display. The SETUP* button offers even more choice for configuring the vehicle settings, with a menu for individual driving adjustments.

*M MODE and SETUP are available for the BMW X3 M Competition.
Red Start/Stop button.
The red Start/Stop button* allows the engine to be started without using the key once the vehicle has been unlocked. It can also be used to stop the engine. The vehicle key is recognised automatically, without having to insert it.

*The red Start/Stop button is available for the BMW X3 M Competition.
BMW Digital Key.
The BMW Digital Key turns your compatible smartphone* into a vehicle key. To unlock, simply hold the smartphone next to the door handle; before starting your BMW place it on the smartphone tray. In addition, you can send a Digital Key to up to five friends.

*BMW Digital Key is compatible with selected smartphones only. A list of compatible smartphones is available at bmw.com/digitalkey. The use of BMW Digital Key requires the Teleservices equipment.
Remote Software Upgrade.
Keep your BMW up to date with Remote Software Upgrade. Simply download the upgrades via the My BMW App or via the SIM card installed in the vehicle and then install them. By doing it this way, other available functions in your BMW can also be activated.
Smartphone integration.
You can now enjoy your favourite smartphone features in your BMW. With wireless smartphone integration, your vehicle supports Apple CarPlay and Android Auto. This allows you to conveniently use familiar functions and various apps in the vehicle.
Wi-Fi hotspot.
Whether it's video conference calls on your tablet or streaming the final episode on your smartphone, your BMW's Wi-Fi hotspot makes it possible. This convenient way to go online, with LTE speed (if available), using the SIM card installed in your vehicle empowers up to ten devices to surf the web.
Connected Package Professional.
BMW Maps with Connected Navigation, Smartphone Integration incl. Apple CarPlay and Android Auto and In-Car Experiences – the Connected Package Professional provides ample networking capability for your BMW. You benefit from increased comfort and improved operation.
Enhanced Bluetooth® wireless technology with wireless charging.
Enhanced Bluetooth® with wireless charging incorporates a wireless charging dock and a second microphone for a better hands-free voice quality for you and your front passenger. An additional aerial connection improves mobile reception. With this, two mobile phones and an audio player can be connected simultaneously via Bluetooth®.
Driving Assistant Professional.
Ideal for critical or monotonous traffic situations, Driving Assistant Professional provides enhanced comfort while also increasing safety levels. In addition to standard Driving Assistant features, it also includes Steering and Lane Control Assistant with extended functions, Emergency Stop Assistant and Lane Keeping Assistant with active side collision protection.
Parking Assistant Plus.
Make parking and manoeuvring your BMW far easier with Parking Assistant Plus. It features among others the Surround View system including Top View, Panorama View, Remote 3D View, as well as a lateral parking aid. Other features include the emergency braking function Active Park Distance Control, Parking Assistant with longitudinal and lateral guidance and Reversing Assistant with Reverse Camera.
BMW Intelligent Personal Assistant.
Wouldn't it be incredible if your BMW was also your personal vehicle expert? Communicate with your vehicle using the BMW Intelligent Personal Assistant. Say natural commands to operate numerous vehicle functions. It can also explain topics about your vehicle and helps you to get to know your BMW even better.
TECHNICAL DATA OF THE BMW X3 M MODELS.
BMW X3 M Competition and other models.
| | |
| --- | --- |
| | |
| | |
| Acceleration 0–100 km/h in s:   | |
| Fuel consumption (combined) in l/100 km: | |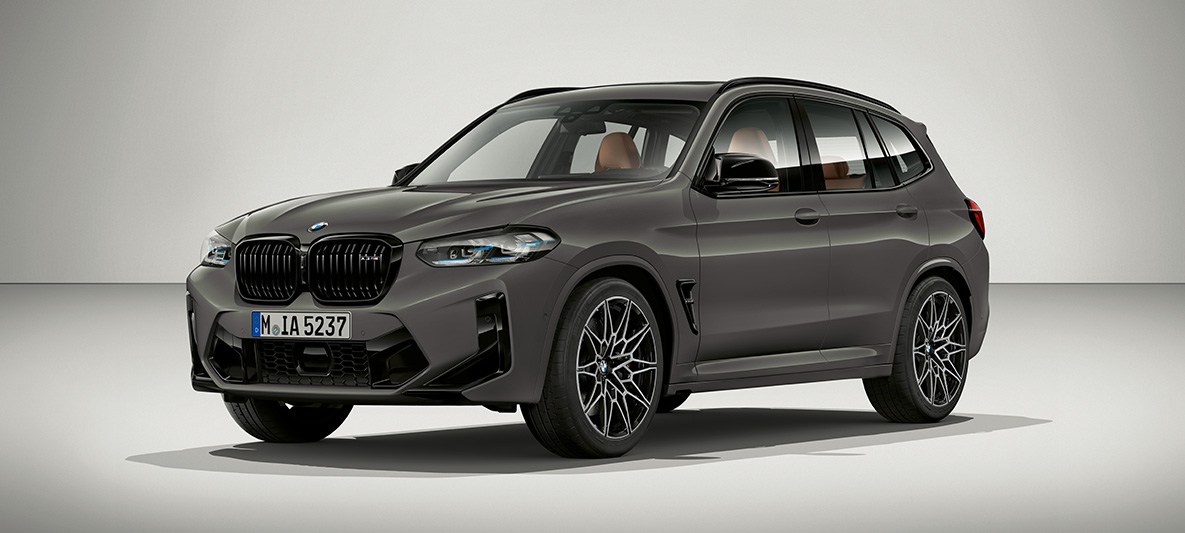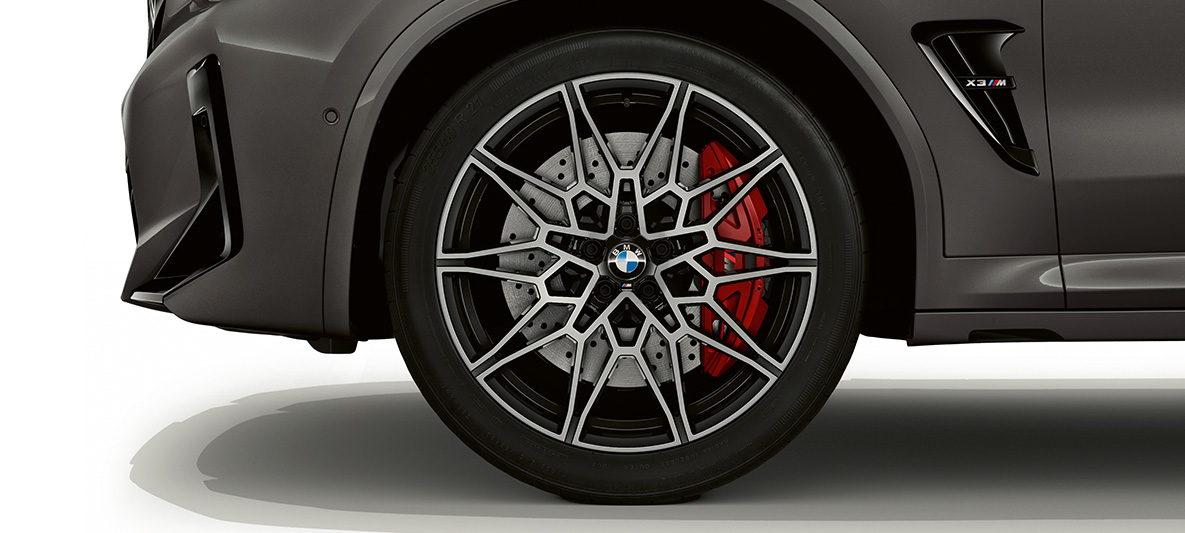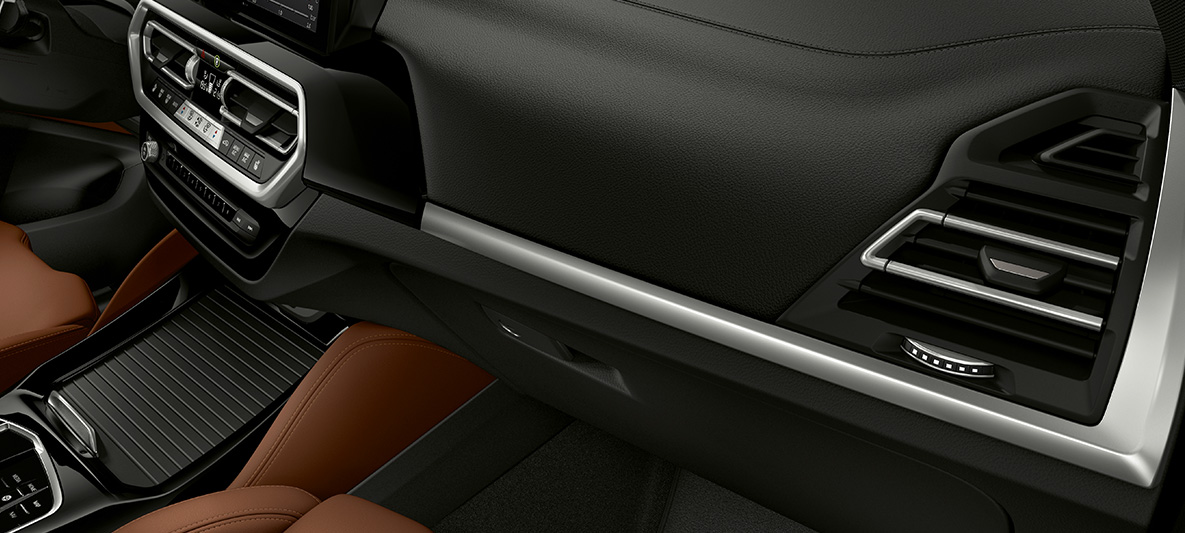 MAKE IT YOURS WITH BMW INDIVIDUAL.
Give your BMW X3 M model a personal touch with exclusive BMW Individual options. There are  numerous brilliant BMW Individual paint finishes, such as the Grigio Telesto illustrated here which ensures a commanding appearance. In the interior, M sports seats in the finest leather, such as the  BMW Individual 'Merino' Tartufo full leather interior with partial perforation, creates a luxurious driving experience. Other high-quality BMW Individual options include the Carbon Fibre interior trim strips with a highlight trim finisher in Pearl Chrome.
EXTRA LAYER OF M PERFORMANCE.
Give your BMW X3 M model a competitive edge.
Bring out the racing genes found in the BMW X3 M range with high-quality BMW M Performance Parts.
M Performance kidney grille.
Show your style. The frame of the M Performance kidney grille is made of premium carbon fibre and gives an especially elegant and sporty look.
M Performance front air inlet.
Make a strong statement with 100 percent carbon fibre, which is used for the M Performance air intakes.
M Performance exterior mirror caps.
The M Performance exterior mirror cap is not only made of 100 percent carbon fibre but is also handcrafted.
M rear diffuser.
The M carbon-fibre rear diffuser creates an even more dynamic appearance – and makes the vehicle's athletic look even more impressive.
M Performance Steering wheel pro.
With its striking shape and distinctive Alcantara grip area, this steering wheel provides an unmistakable motorsport atmosphere in the cockpit.
M Performance antenna cover in Aramid fibre.
Elevate your driving experience both visually and functionally with the M Performance aramid aerial cover.
​
Fuel consumption and CO2 emissions of the BMW X3 M Models.
*Figures shown are for comparability purposes; only compare fuel consumption and CO2 figures with other cars tested to the same technical procedures. These figures may not reflect real life driving results, which will depend upon a number of factors including the accessories fitted (post-registration), variations in weather, driving styles and vehicle load.