Thanks to a luggage compartment of up to 500 litres, the BMW 3 Series Touring brings together the flexibility and everyday utility of a BMW Touring with intelligent technologies and comprehensive connectivity at a high level of driving dynamics:

Innovative operation through modern technologies such as the Intelligent Personal Assistant
The Reversing Assistant and other intelligent driver assistance systems for optimal ride comfort in every situation
Driver-oriented cockpit and innovative BMW Curved Display with touch-based operating concept
Read more
CHOOSE YOUR LOOK FOR THE BMW 3 SERIES TOURING.
BMW 330e M Sport
TECHNOLOGY
BMW M340i xDrive
ULTIMATE
CHOOSE YOUR LOOK FOR THE BMW 3 SERIES TOURING.
BMW 320i Sport Touring
COMFORT
BMW 330e M Sport Touring
TECHNOLOGY
BMW M340i xDrive Touring
ULTIMATE
Along with some other manufacturers and industries, we have had to make adjustments to our production programme to take into account the worldwide limited availability of semiconductor components. This means there are some production restrictions in place that may impact delivery dates and the availability of certain equipment. BMW retailers across Ireland are best placed to provide updates on approximate lead times for new car orders. To search for Approved Used BMWs that are available now and ready for you to drive away without the wait, please visit our Approved Used Website.
Read more
DIGITAL TECHNOLOGIES IN THE BMW 3 SERIES TOURING.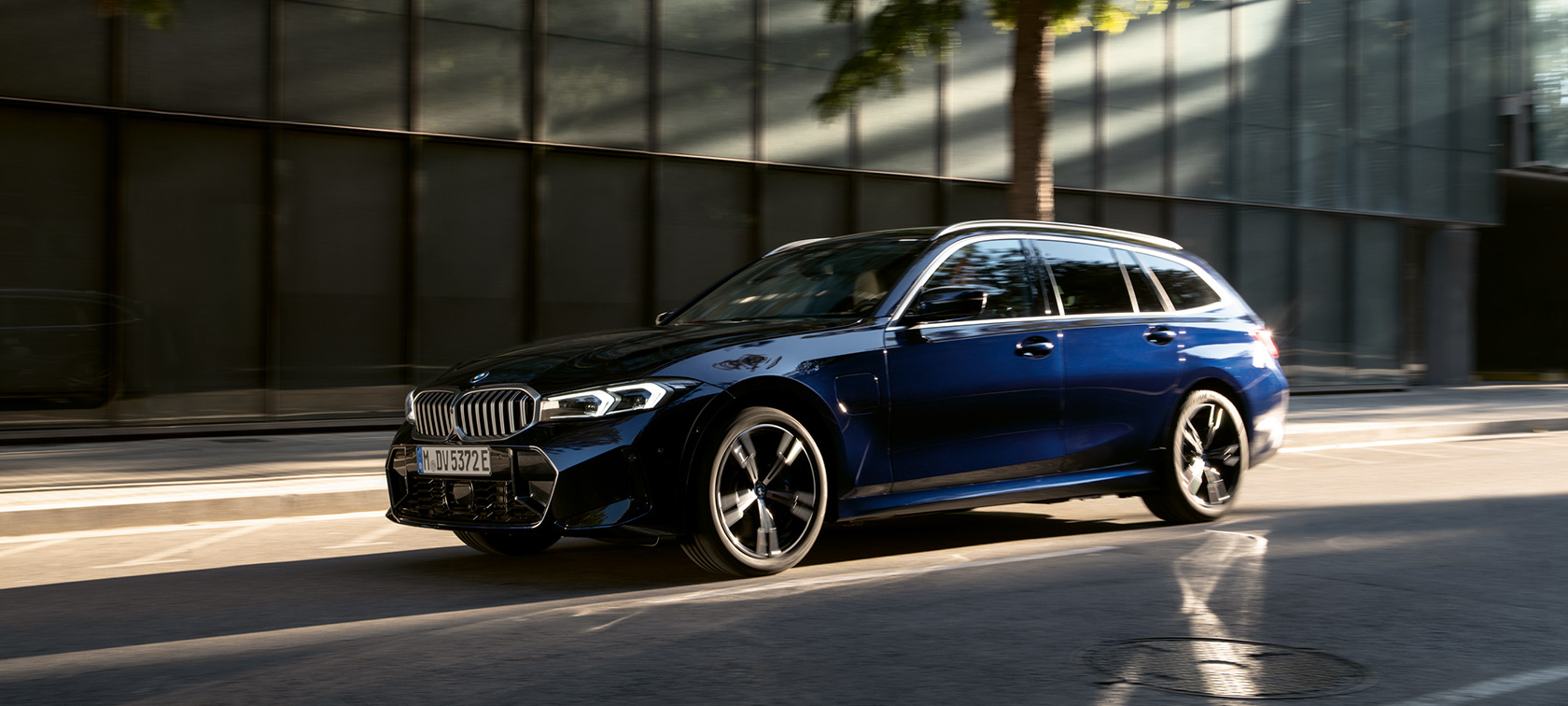 Digital technologies in the BMW 3 Series Touring ensure intelligent connectivity between you, your vehicle and your surroundings:
The BMW Curved Display provides a full overview of all important information and convenient touch control
Unrestricted connectivity through smartphone integration, allowing you to conveniently plan routes on your smartphone and then transfer them to your vehicle
Experience the intuitive operation using voice commands
BMW Curved Display.
Nearly all vehicle functions can be controlled using the large BMW Curved Display. Angled towards the driver and equipped with intuitive widgets, it makes operation by touch even more convenient.
My BMW App.
Check the status of your BMW 3 Series Touring, plan your journeys in advance, book your next service appointment or discover the world of BMW – quite comfortably from your smartphone with the My BMW App.
BMW Head-Up Display.
The full-colour BMW Head-Up Display projects all information relevant to the journey directly into the driver's field of vision.
REVERSING ASSISTANT.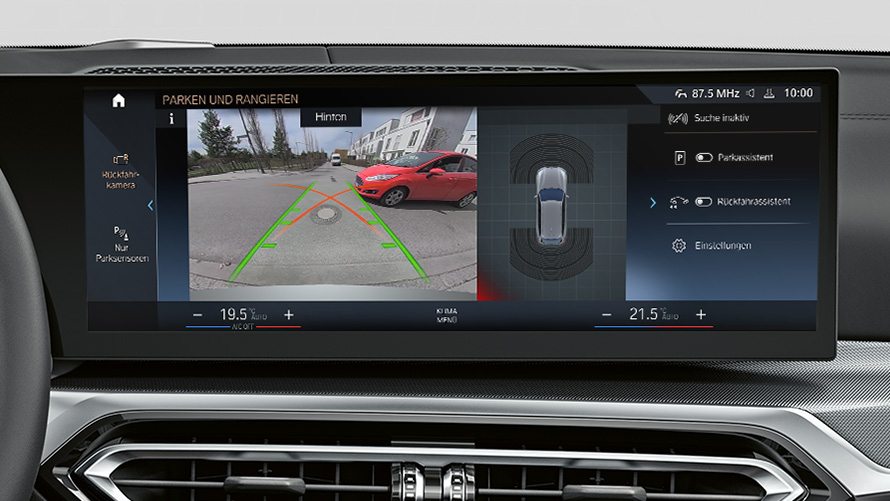 The Reversing Assistant also manoeuvres the vehicle self-assuredly out of challenging situations:

The Reversing Assistant remembers the steering movements of the last 50 metres travelled
At the press of a button, the vehicle retraces automatically and exactly the route previously covered
This means that even challenging situations such as narrow roads, cul-de-sacs or tight parking spaces present no problems at all
BMW DIGITAL KEY.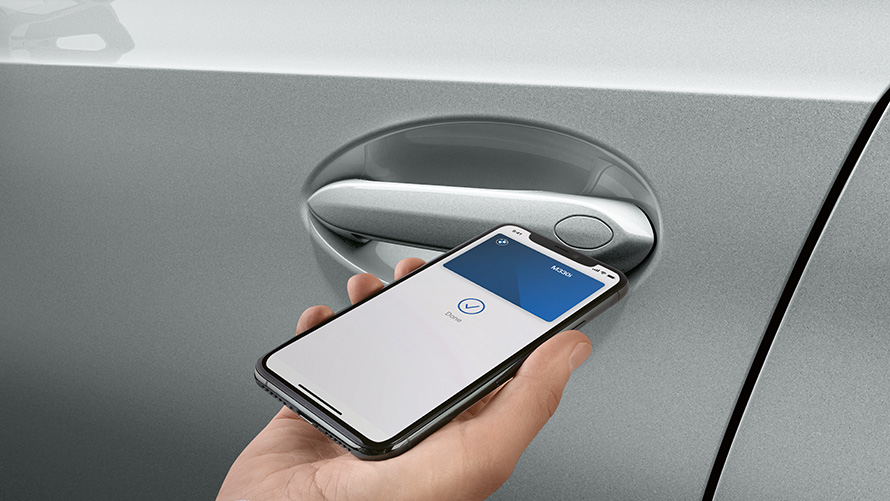 With the BMW Digital Key your smartphone becomes a digital key:

Unlock the BMW 3 Series Touring by holding your smartphone next to the handle of the driver's door
Start the vehicle without the use of a key by pressing a button as soon as your smartphone is in the BMW charging cradle
Authorise up to five additional people to use your vehicle
BMW INTELLIGENT PERSONAL ASSISTANT.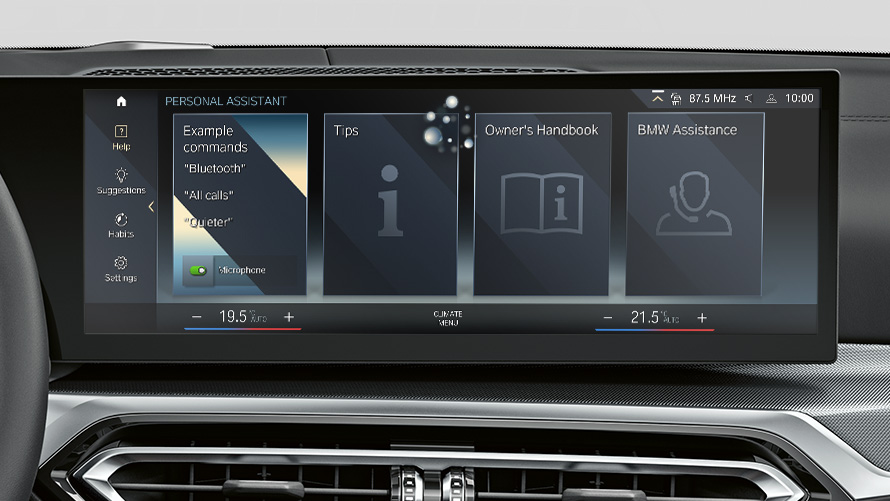 Your personal digital assistant for the BMW 3 Series Touring is always at your side and responds to voice commands:

Automate my Habits independently performs your preferred functions, such as opening the side window in the entrance to car parks
As an expert, it explains how to use vehicle functions to the optimum on request
It informs you of the vehicle status, traffic jams en route and parking spaces at your destination
THE EXTERIOR DESIGN OF THE BMW 3 SERIES TOURING.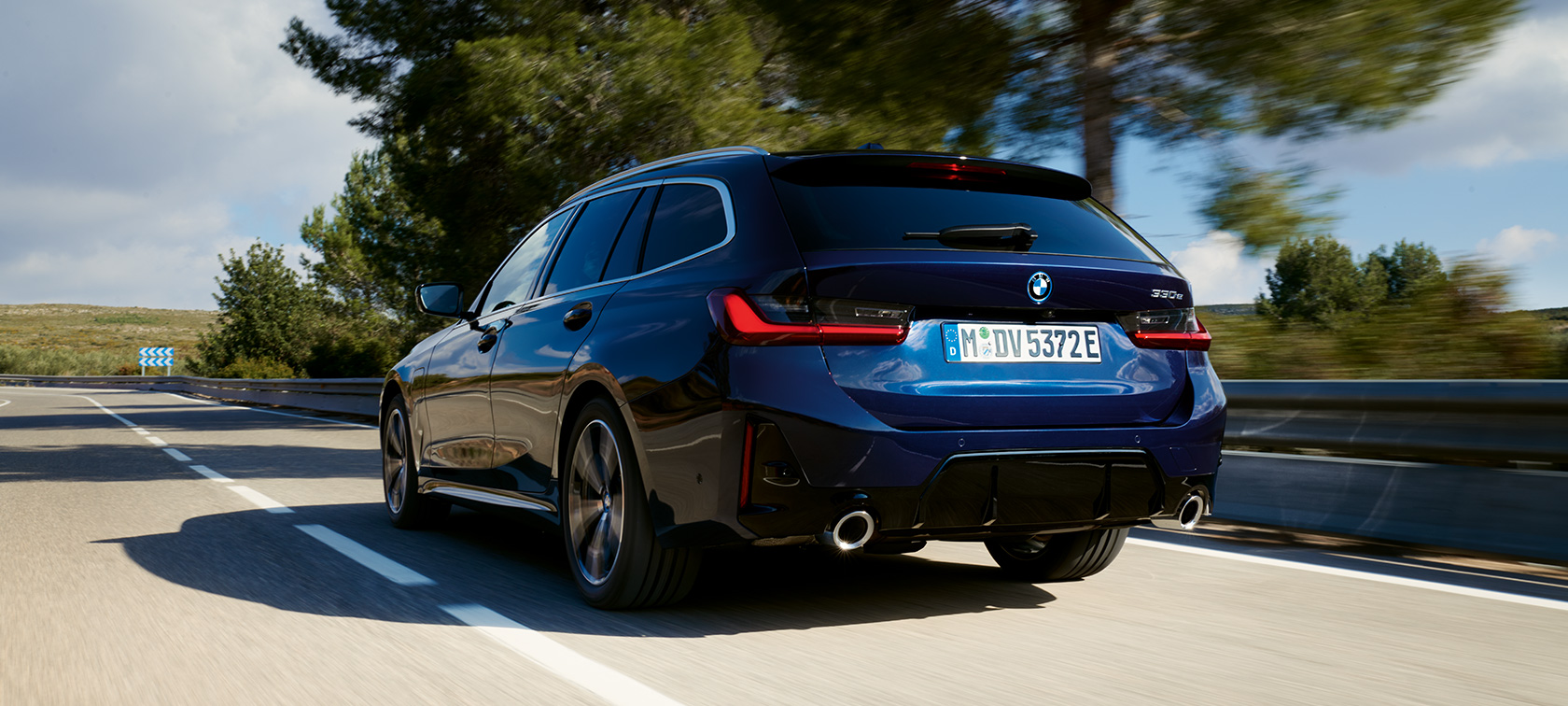 Front design.
With their arrangement as an upside-down L-shape at the front, the narrow LED headlights create an especially dynamic appearance. In combination with the broad kidney grille, the large hexagonal air inlet and the vertical Air Curtains, they underpin the dynamic effect of breadth produced by the BMW 3 Series Touring.
Side design.
Iconic design features such as a long wheelbase, short overhangs and the dynamic Hofmeister kink are responsible for the particularly athletic appearance of the BMW 3 Series Touring in the side view. The angle of the air inlets and the front and rear apron dynamically seize on and continue the typical character of the edge behind the front wheel.
Rear design.
Stylistic clarity distinguishes the rear view of the BMW 3 Series Touring. The slim greenhouse rests on flared wheel arches and emphasises the dynamic and broad stance.
THE INTERIOR DESIGN OF THE BMW 3 SERIES TOURING.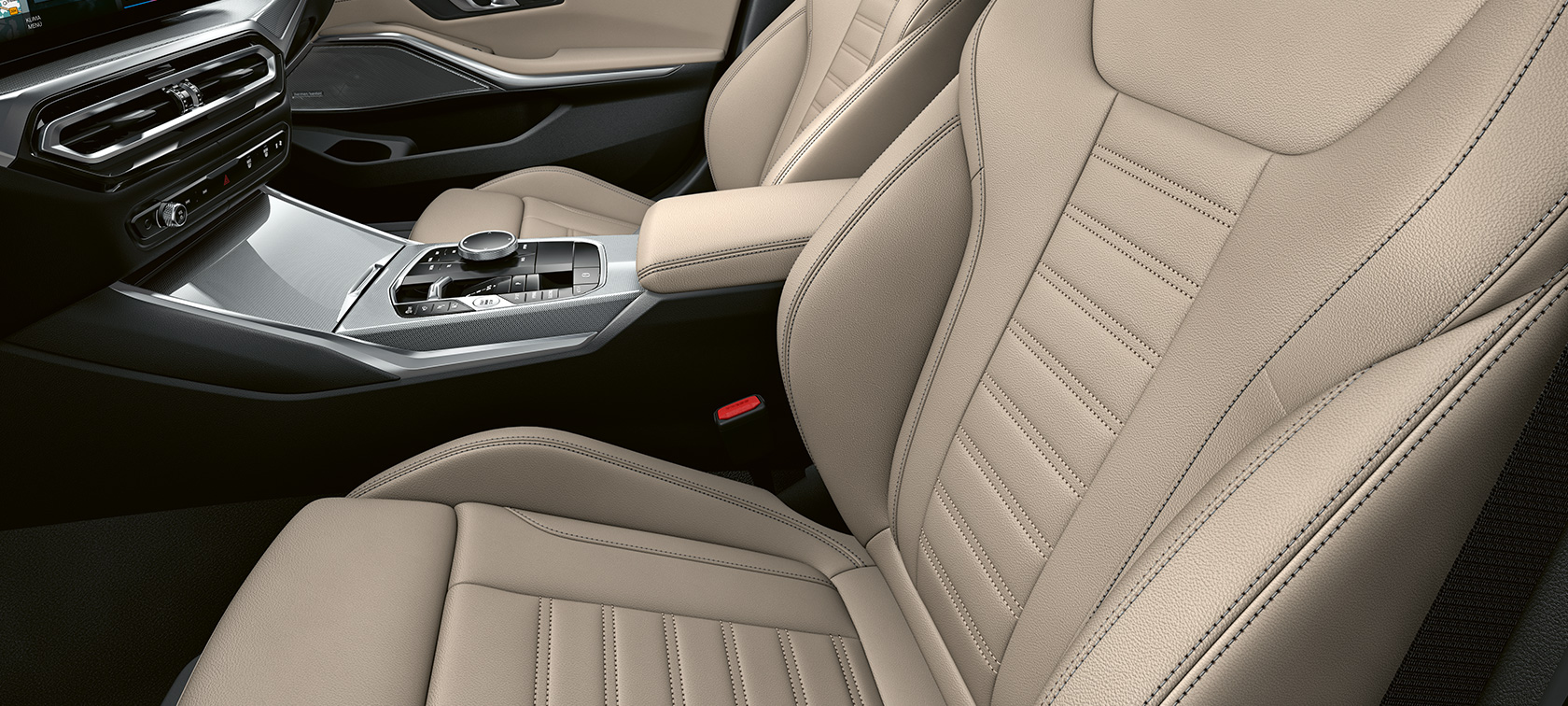 Modern cockpit.
With its reduced controls, the cockpit delivers a clean and modern statement. The slim, frameless BMW Curved Display seems to almost hover freely above the instrument panel and, as a touch-capable display unit, offers modern and convenient operability.
Centre console with new selector lever.
The centre console provides a sporty and enclosed seating sensation. This is the location of the clearly structured control centre with the touch-based operating surface of the iDrive Controller. The modern gear selection takes place automatically, with the modern look in the interior creating an especially orderly impression.
Seats in Sensatec.
The easy-care upholstery in Sensatec (available on Sport models only) impresses with its high-quality, leather-like touch. The perforation combines a sporty and elegant look with a pleasant seating sensation.
FLEXIBILITY AND FUNCTIONALITY.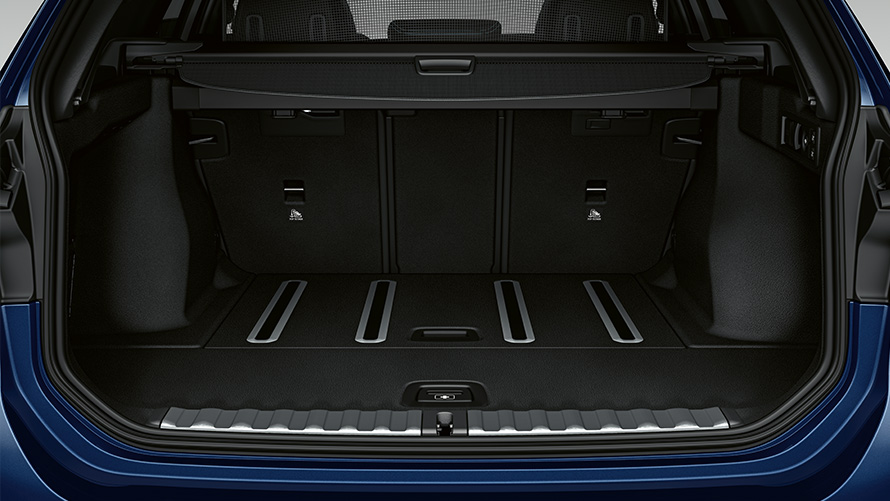 The BMW 3 Series Touring also sets standards in terms of versatility and functionality:

The functional luggage compartment has a capacity of up to 500 litres
Roller cover and partition net can be stowed within easy reach under the luggage compartment floor
Innovative anti-slip rails* on the floor allow luggage to be stowed securely (*optional available; not available for Plug-in hybrid models)
THE BMW 330e TOURING WITH PLUG-IN HYBRID TECHNOLOGY.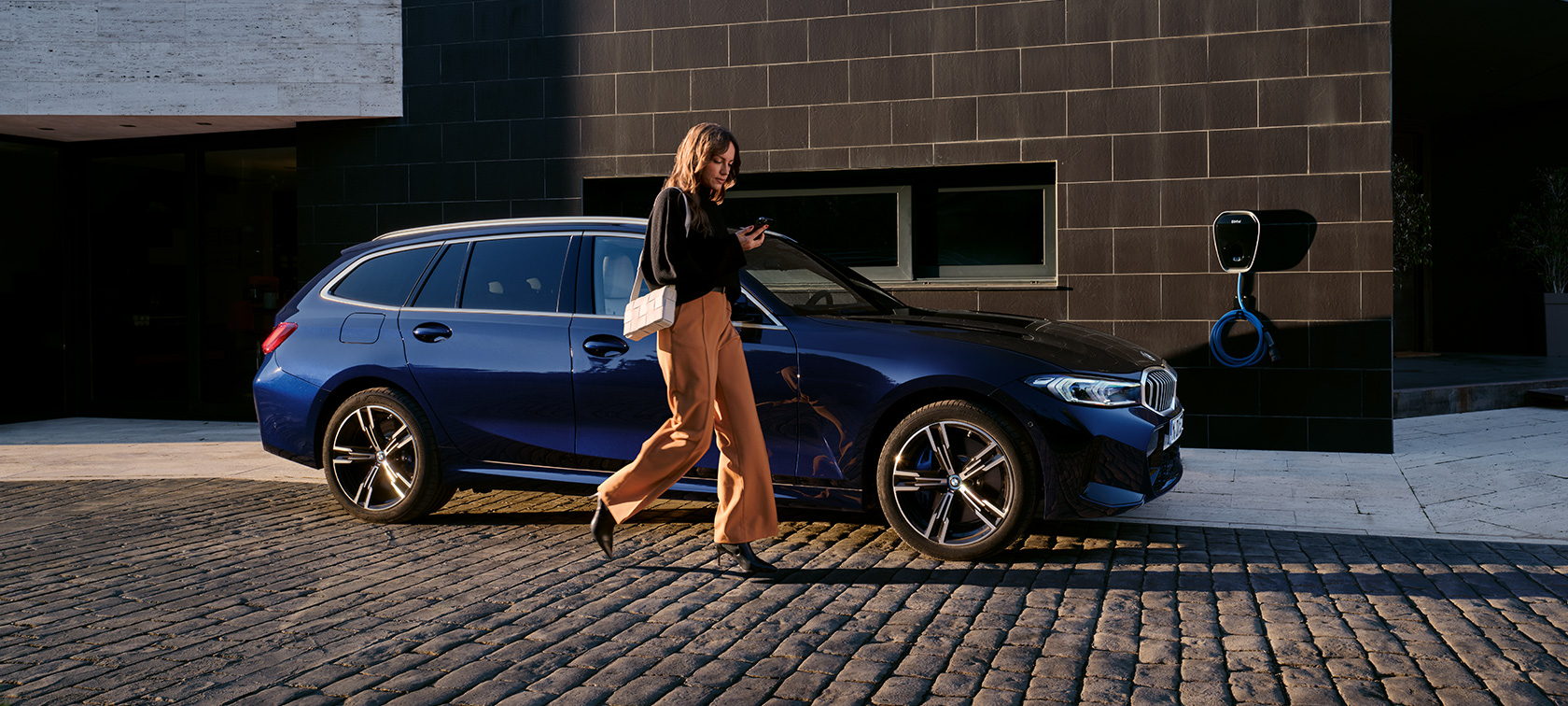 With a BMW 330e Touring you enjoy sustainable mobility and inspiring driving dynamics:
A powerful 215 kW (292 hp) of output and 300 Nm of torque
Impressive acceleration from 0 to 100 km/h in 5.9 seconds
Its innovative plug-in hybrid drive technology offers flexibility and efficiency in every driving situation
Also available as a BMW 330e xDrive Touring

Range.
Thanks to the latest BMW eDrive Technology of the 5th Generation, you can drive purely electrically and free of local emissions in your BMW 330e Touring for up to 59 kilometres*.
All you want to know about range
eDrive Zones.
When you enter selected urban areas, BMW eDrive Zone triggers a change to the purely electric operating mode of your plug-in hybrid model depending on the charge level. By driving with zero local emissions, you make a valuable contribution to a better quality of air and thus better quality of life in city centres.
More about BMW plug-in hybrids
BMW Charging.
BMW Charging offers you tailor-made solutions for charging the BMW 3 Series Touring models with hybrid drive. In addition to the standard charging cable (Mode 2), the scope of supply also includes the charging cable (Mode 3) for public charging and the BMW Charging Card, which enable you to obtain attractive conditions for public charging.
Discover BMW Charging
DRIVING DYNAMIC HIGHLIGHTS OF THE BMW 3 SERIES TOURING.
With its perfectly coordinated set of drive and suspension technologies, the BMW 3 Series Touring is the ultimate driving machine.
Engines with 135 to 275 kW (184 to 374 hp) for a driving experience
An acceleration for 0 to 100 km/h in 4.6 – 7.6 seconds
Optional M Sport Suspension for sporty driving characteristics
M TwinPower Turbo inline 6-cylinder petrol engine.
The M TwinPower Turbo inline 6-cylinder petrol engine combines power and efficiency for a complete driving experience. The sonorous sound of the engine is a delight. Innovations such as double VANOS, Valvetronic, high precision injection technology and twin-pipe turbocharger draw as much energy as possible using as little fuel as possible.
Steering, electrically assisted.
The electric servo support for the steering increases both steering comfort and driving safety.
TwinPower Turbo 4-cylinder petrol engine.
The new generation TwinPower Turbo 2.0-litre 4-cylinder petrol offers the ultimate driving machine. It is notable for its power delivery and its responsiveness even at low engine speeds, whilst also being fuel efficient and low in emissions.
GENUINE BMW ACCESSORIES FOR THE BMW 3 SERIES TOURING.
With Genuine BMW Accessories, you adapt your BMW to your personal wishes: the products are perfectly matched to the BMW 3 Series Touring in terms of quality, design and performance.
BMW rear bike rack Pro 2.0.
The BMW rear bicycle rack Pro 2.0 is lightweight yet sturdy and can carry up to 60 kg. Outstandingly easy to handle, it can transport two bicycles or e-bikes (can be extended to accommodate three bicycles). Its tilt function allows easy access to the luggage compartment at any time.
BMW roof box 520 black/titanium silver.
The modern roof box in black with titanium silver side panels has a capacity of 520 litres and is compatible with all BMW roof rack systems. Due to the fact that it can be opened from both sides and has triple central locking on each side it is convenient to load and lock for theft protection.
19" BMW light alloy wheel Double-spoke style 793 Bicolour.
The high-quality 19" BMW light alloy wheels Double-spoke style 793 are designed in Bicolour Night Gold, gloss-lathed. Summer complete wheel set with tyre pressure monitor and run-flat tyres, wheel size 8J x 19 with tyre size 225/40 R19 93Y XL RSC at the front and 8.5J x 19 with tyre size 255/35 R19 96Y XL RSC at the rear.
​
Fuel consumption and CO2 emission of the BMW 3 Series Touring models.
*For plug-in hybrid vehicles these figures were obtained using a combination of battery power and fuel, for battery electric vehicles after the battery had been fully charged. Plug-in hybrid and battery electric vehicles require mains electricity for charging. Figures shown are for comparability purposes. Only compare fuel consumption, CO2 and electric range figures with other cars tested to the same technical procedures. These figures may not reflect real life driving results, which will depend upon a number of factors including the starting charge of the battery, accessories fitted (post-registration), variations in weather, driving styles and vehicle load.

At temperatures below 0 degrees Celsius, the purely electric driving mode of plug-in hybrid models will not be available until the battery has warmed up to an operational condition after the vehicle has travelled a few kilometres.