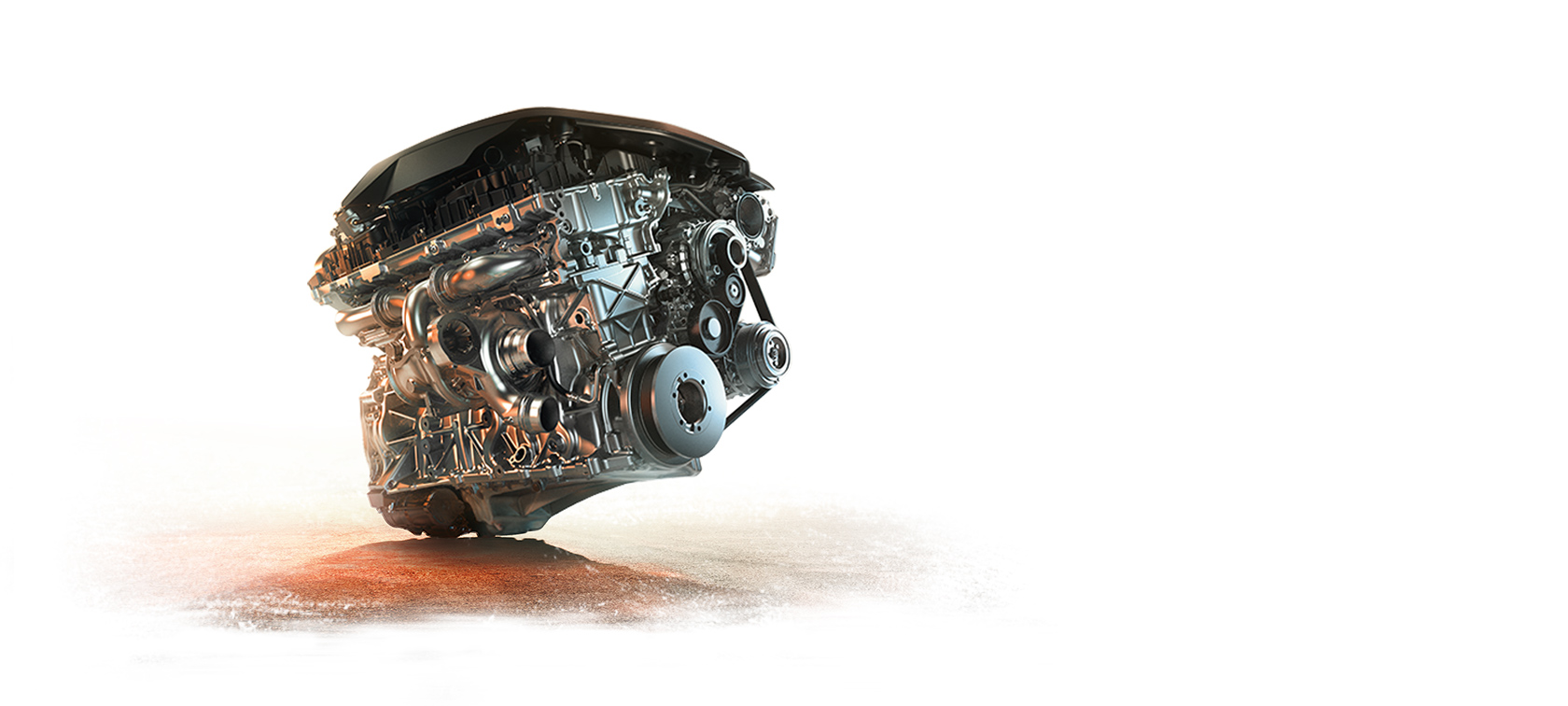 POWER PLAY FROM 6 CYLINDERS.
Six cylinders, 3.0-litre capacity. Unique agility and high everyday utility. United in one drive system that clearly shows its exceptionally sporty DNA. The M Performance TwinPower Turbo inline 6-cylinder petrol engine inspires with spontaneous response and high torque even at low engine speeds. The result is a maximum torque of 500 Nm and an acceleration that will steal your breath away. The characteristic sound of the BMW M240i Coupé also acoustically underlines the exceptional talent of its power unit.

Read more
POWER PLAY FROM 6 CYLINDERS.
340 HP
The BMW M240i Coupé is an unmistakable statement of impressive performance, compressed into the compact proportions of a sports coupé. Its honed design, the powerful engine output of 340 hp (250kW) and the steering and chassis properties optimised down to the finest detail define the rebellious driving sensation from the outset. All components are tuned to each other, with each detail developed in order to enjoy pure driving pleasure. Every day, in the midst of daily life.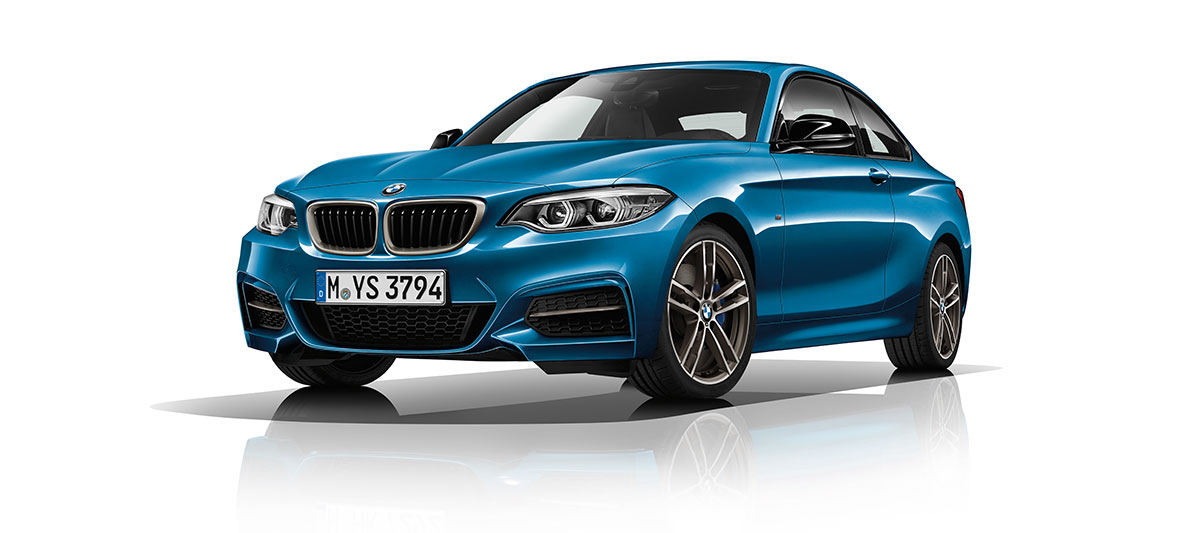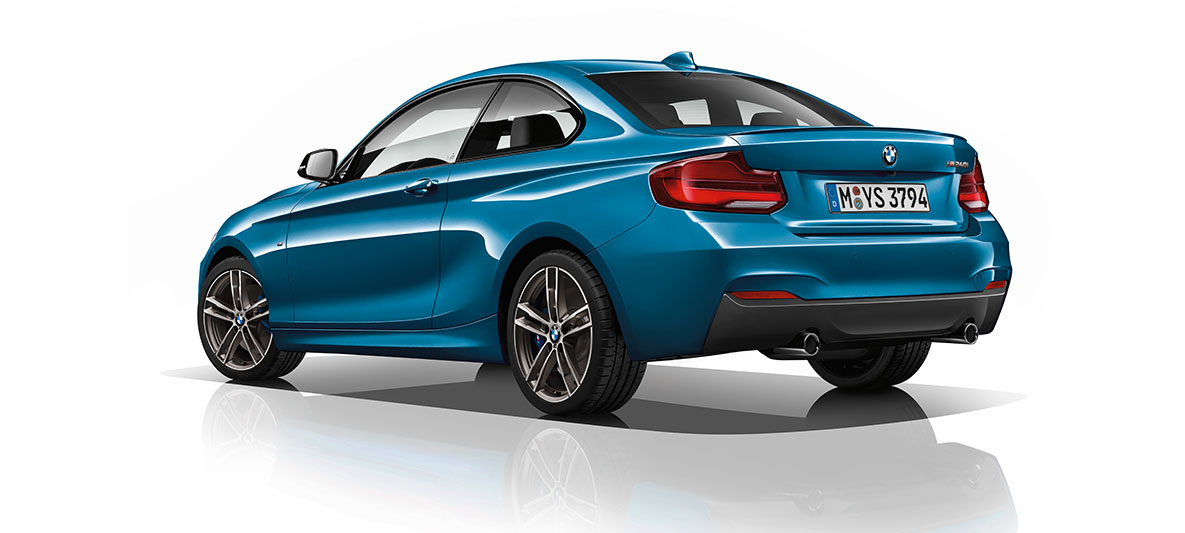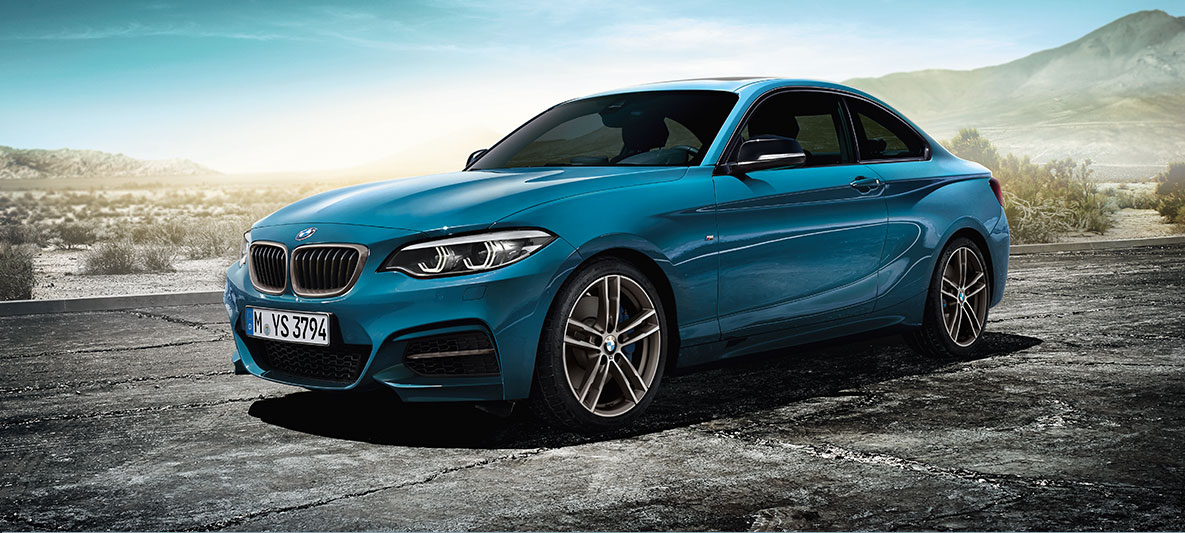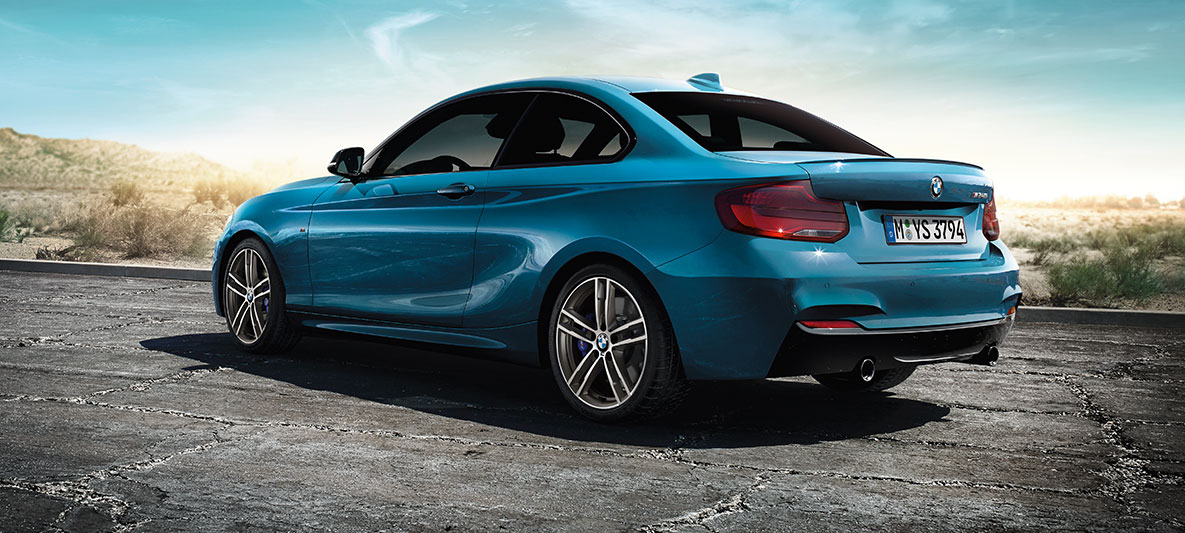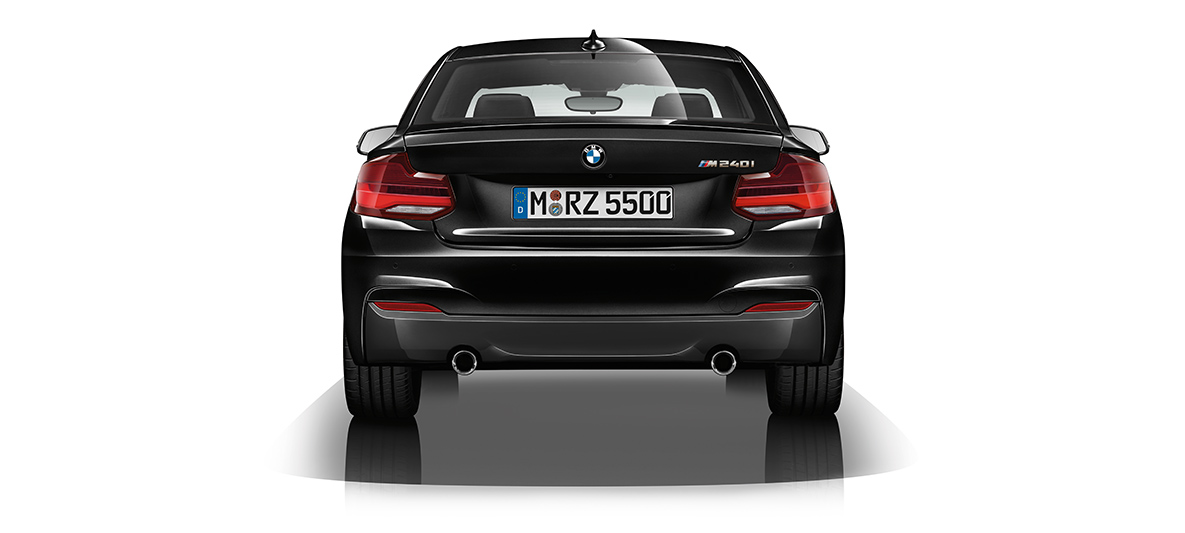 REPRESENTS EXTREMELY SPORTY VIEWS.
Apart from a distinctive double kidney grille and the full-LED headlights, the front of the BMW 2 Series also features the impressive enlarged air inlets of the standard-feature M aerodynamics package with design elements in Ferric Grey. Ideally complementing this colour scheme are the 18" M Double-spoke wheels in Ferric Grey 436 M styling which provide a thrilling interplay of braking operations and acceleration thanks to the M Sport brakes supplied as standard. The aerodynamically shaped mirror caps in Ferric Grey and the model designation on the rear underline the close relationship to the automobiles of BMW M. Adding to this effect are the exhaust pipe finishers on both sides in black chrome: they are firstly a sign of powerful performance and secondly an indication of the modified exhaust system without middle silencer and with air vent control.

DEFINED BY TOP PERFORMANCE. INSIDE AS WELL.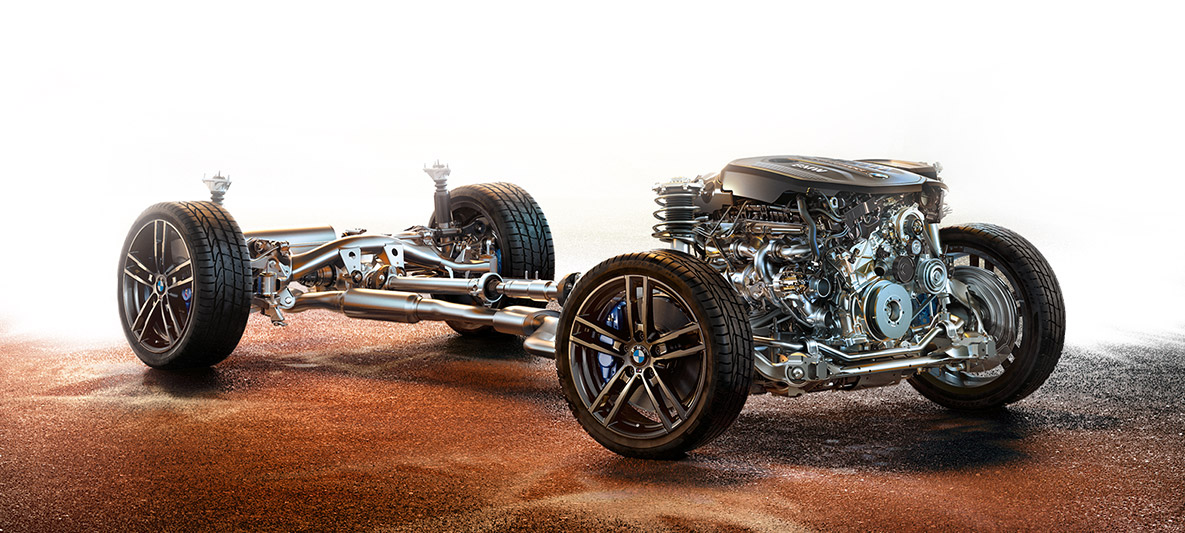 THRILLING PERFORMANCE. MAXIMUM PRECISION.
Powerful dynamics translated into thrilling driving pleasure: M Performance specific suspension tuning settings make the BMW M240i a top athlete in its class. These include individually configured spring and damping systems as well as specific elasto-kinematics for the front axle. A further contribution comes from the Variable sports steering, which enables highly precise handling of the mighty output.

Variable sport steering

The Variable sport steering with Servotronic creates a direct and agile steering response and ensures less physical effort is required to turn the wheel. It reacts to the angle of the steering wheel with varying steering ratios. This improves handling when driving more dynamically and reduces the effort needed to steer when parking and turning.


M Sport suspension

The M Sport suspension is characterised by sport suspension settings, and on cars with rear-wheel drive, it includes a chassis lowered by around 10 millimetres. It features shorter suspension springs and tighter damper settings, as well as harder stabilisers. Together these result in even more direct settings that facilitate a particularly dynamic driving style.


xDrive

The intelligent BMW all-wheel drive system xDrive distributes the propulsive force smoothly and variably to the front and rear wheels – for a bonus in traction, driving dynamics and safety in all situations. To further improve agility, this electronically controlled power distribution also counteracts any understeering and oversteering when cornering.


8-speed Steptronic Sport transmission

The 8-speed Steptronic Sport transmission permits very sporty gear shifts. Both as an automatic version as well as manually by selector lever or shift paddles – for comfortable cruising or a very dynamic driving style. In SPORT Mode and with the selector lever in the left-hand shift gate S/M, the gearshift sequences are designed for maximum performance.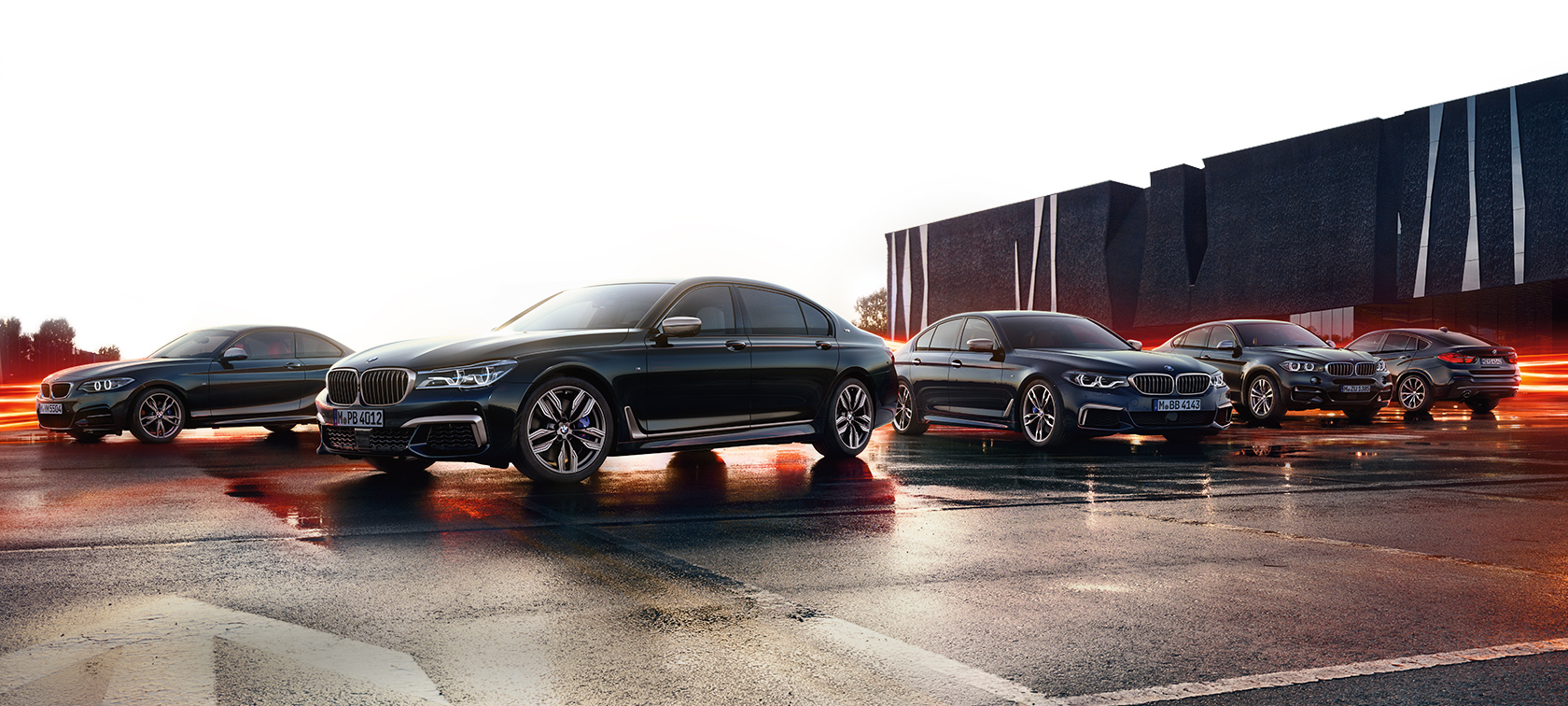 INTENSIFIED DRIVING PLEASURE.
M Performance Automobiles impress with their powerful output. Deliver maximum driving dynamics without sacrificing comfort. Yet despite all the athleticism, still demonstrate style with a progressive design. BMW M Performance. Driving pleasure intensified.

Read more
INTENSIFIED DRIVING PLEASURE.